Have you compiled your travel bucket list?
We are pleased to introduce you to 5 luxury villas for the holiday of a lifetime.
Whether you are looking for something special for a memorable birthday, a milestone event, a special time together with your loved ones, or whether you are simply searching for the ultimate holiday experience, these villas certainly set the bar really, really high.
You won't be disappointed.
Rates from €3900/night
Sleeps up to 26
Location: Mykonos
A 13 luxury bedrooms home overlooking three of the most stunning beaches on Mykonos.
The perfect place to entertain, relax, commemorate and celebrate together with your extended family, friends and entourage.
Equipped with a professional gym, a massage room, plenty of outdoor space and even a chapel.
A professional team will look after all your needs, wishes and desires. You just need to wave the magic wand.
Rates from US$14400/night
Sleeps up to 12 guests
Location: Berry Island, Bahamas
Featured in The Times in February '17 as one of "The 30 best secret islands" in the world, this Bahamian private island is as private as it gets.
It has its own private air strip so you can land in absolute style and begin an unforgettable experience.
The island is equipped with everything for the most enjoyable and relaxing vacation for the entire family, with pool, tennis court, harbour, flotilla of boats for fishing, cursing and a large selection of water sports.
13 members of staff will look after all your needs and ensure you will never want to leave!
Rates from €3215/night
Sleeps up to 10 guests
Location: Capri
Did you know that Ulysses, sailing past the island of Capri, escaped the fate of those who heard the Sirens calling?
Capri, playground of the rich and famous, from the Onassis to Clarke Gable, from Neruda to Tom Cruise and anyone in between, is a mesmerising, mythical, romantic island.
We are giving you the opportunity to experience Capri as a true local, staying in an elegant villa with pool, a few metres from the world-famous "Piazzetta". Very Jackie Onassis!
Rates from €20250/week
Sleeps up to 22 guests
Location: Menorca
This luxurious private property, immersed in a 250 acres estate, was opened in 2015, and represents the most luxurious property on the island of Menorca. A full service villa offering facilities and amenities of a luxury boutique hotel. A dedicated in-house concierge team are on-hand to take care of your needs, both prior to and during your stay.
With 11 bedrooms en-suite, the villa can accommodate up to 22 guests.
It is the perfect setting for private events, retreats, weddings, business meetings as well as family gatherings.
Amilla Maldives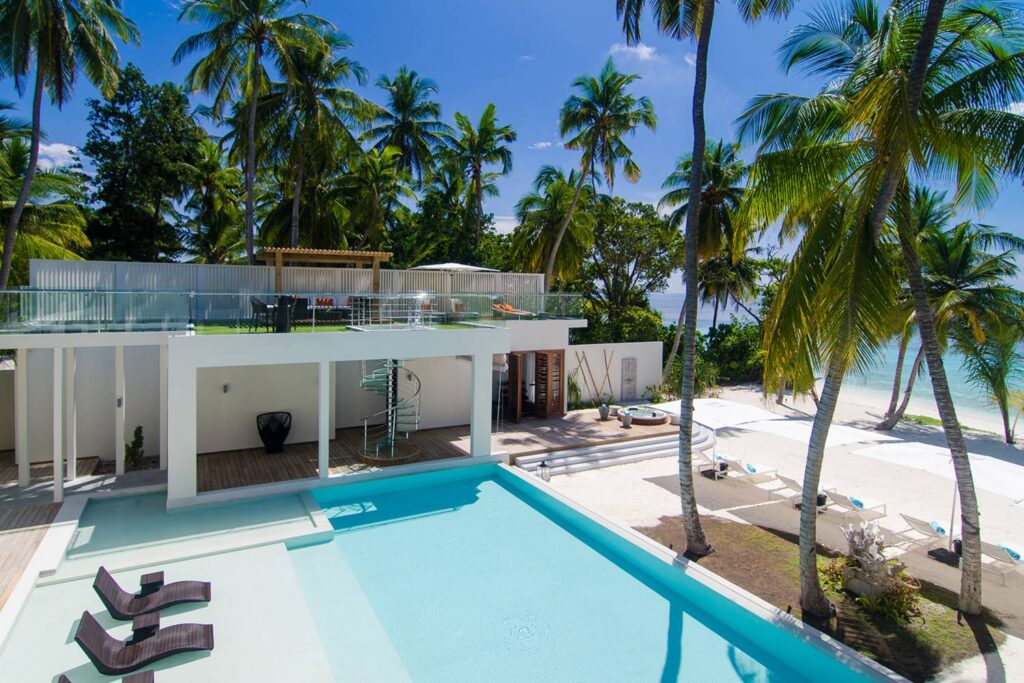 Rates from US$25230/night
Sleeps up to 11 guests
Location: Baa Atoll, Maldives
Celebrities, VIPs and discerning travellers will perfectly feel at home at The Amilla, located in the Baa Atoll, a UNESCO World Heritage Biosphere Reserve.
An outstanding 6-bedroom property, an hyper-luxury residence surrounded by one of the world's most spectacular natural sceneries. The perfect sanctuary for those looking for luxury combined with relaxation and reconnection with nature.
About Passepartout Homes
Passepartout Homes, the boutique luxury villa rental agency, matches owners of unique private residences with highly discerning guests to create exceptional inclusive experiences. Properties are carefully selected and holidays are created to provide the perfect communal experience for large groups and special occasions. Passepartout Homes has properties in Europe, Asia, Africa and North America.
Telephone: 020 8144 9120
Email: booking@passepartout-homes.com
Twitter: @PassepartoutHom
Facebook: https://www.facebook.com/PassepartoutHomes
Instagram: https://www.instagram.com/passepartout_homes/