Ibiza has some of the most beautiful sunsets in the world! Every year, thousands of people flock to the island just to witness them.
The wondrous vision of the sun going down is the serene quiet moment before the island, famed for its parties and clubs, gets pumped up and a little more lively. While the sunset strip of bars in San Antonio might be popular for this, they can also be expensive and fairly crowded.
Check out our interactive map below to see where the best sunset spots in Ibiza are, and feel free to embed it on your own site as well!
And don't forget to read right to the end for our top tips on chartering a private boat in Ibiza.
Benirrás Beach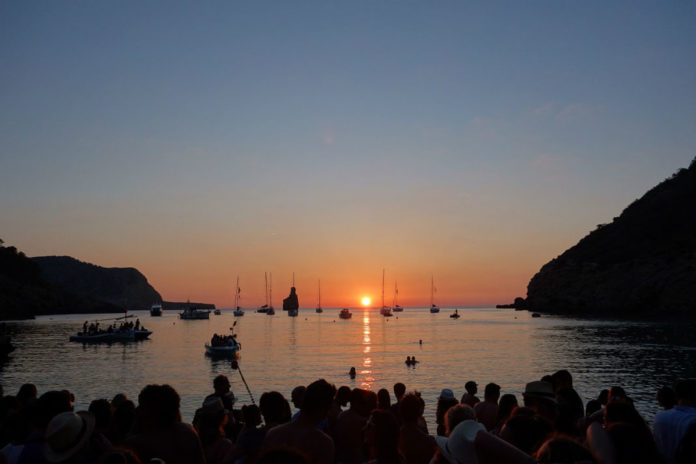 A popular beach for sunset spotting, as you can see above. This is due, in large part, to the drummers who visit every Sunday to play the sun out as it sinks below the horizon.
Be sure to get down early to grab a good spot. Sure, you'll be able to see the sunset from almost anywhere, but you'll have a hell of a time parking near the packed beach.
Na Xamena Cliffs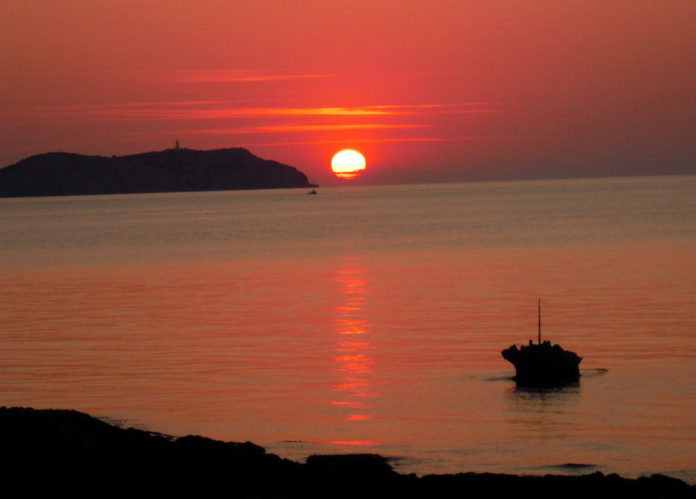 Rather than settling on one of the island's many beaches, the Na Xamena cliffs allow you to see from a higher vantage point, giving you a unique view of this incredible sight.
If you want to enjoy the beauty of this area from the comfort of your room, you can do much worse than the beautiful Hacienda hotel.
Cafe Mambo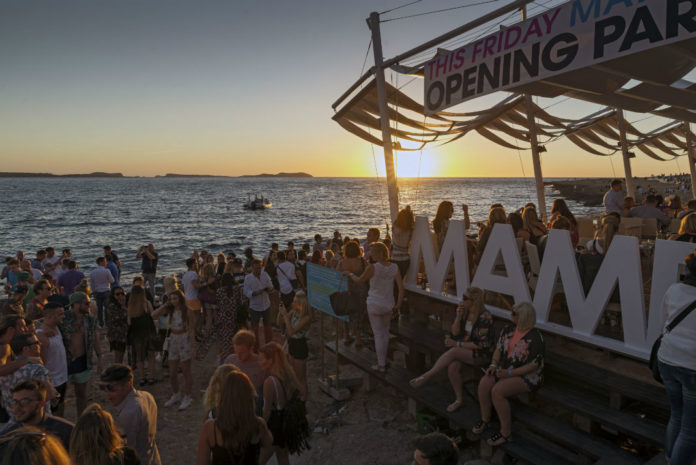 This world-famous restaurant and bar is home to more than just the soup of the day.
Enjoy a spot of lunch and a cocktail in the daytime, or arrive before sunset to see some incredible entertainment from the resident DJs, and maybe even a celeb or two.
One of Fatboy Slim and David Guetta's favourite spots.
Cafe Del Mar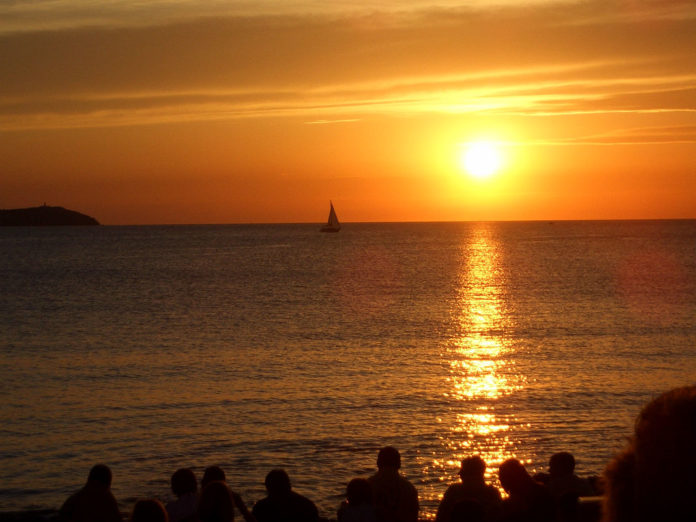 Known as The Home of Chillout, Cafe Del Mar was established so that people could enjoy the sunset in a relaxed environment.
An Ibiza staple since 1980, the location is now iconic and there are few other places in the world that the sunset and the soundtrack go hand in hand.
Cala Conta Beach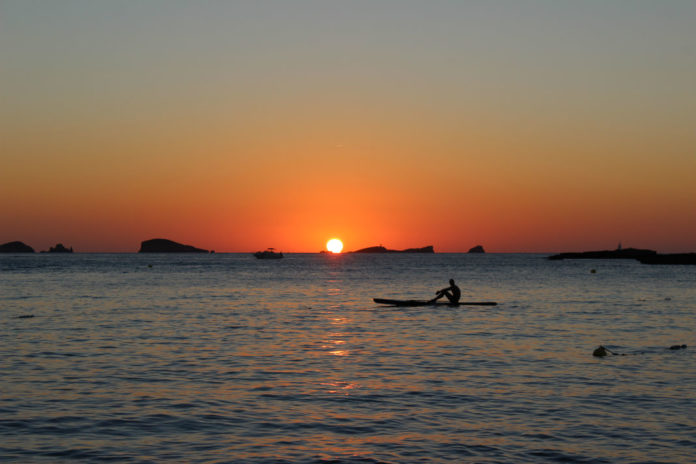 A picturesque paradise made all-the-more beautiful at sunset.
The beach can get extremely crowded in the summer, so we'd recommend taking to the ocean itself and enjoying the view from the water.
Es Vedra Rock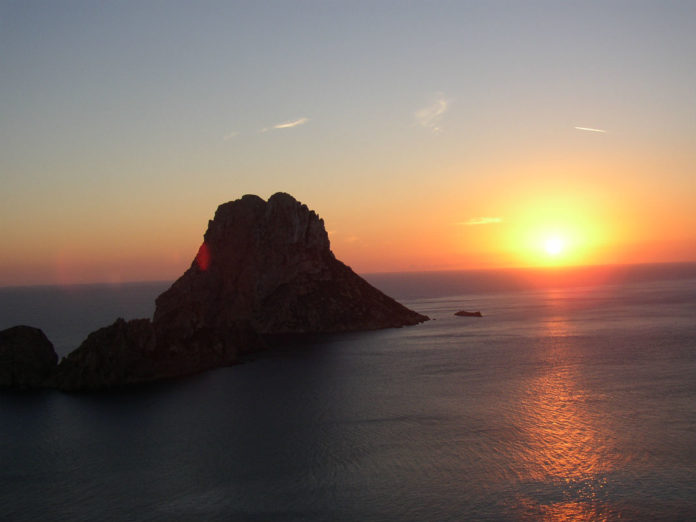 This small rocky island is surrounded by myth and legend. The third most magnetic spot in the world, the island was also home to the sirens and sea-nymphs described in Homer's Odyssey.
After the sun goes down, look out for paranormal goings-on — many people compare it to the Bermuda Triangle!
Renting a Boat in Ibiza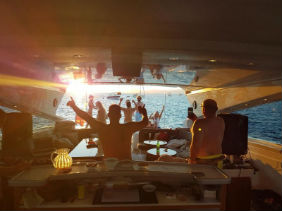 If you want to take your Ibiza adventure even further, you can do much better than chartering a boat on the Ibiza coast! There's nothing quite like gliding across the Balearic on a private Ibiza boat charter!
Chartering a boat in Ibiza has never been more popular. In fact, private Ibiza boat charters are now firmly on the island's 'must do' list of activities. Ibiza has had many crazes over the years but unlike the private villa parties of the past — which are now much more strictly controlled by local authorities — the private boat hire in Ibiza is here to stay!
Private hire boats are well ahead of the game as there are no noise restrictions out at sea. That's why you'll find powerful sound systems on some larger yachts, plus USB connections are standard on all boats, meaning you can rock that yacht with your own personal playlist. What more could you ask for?
"But isn't chartering a private boat expensive?" I hear you cry.
It doesn't have to be!
Of course, there are options that suit the rich and famous, but private boat hire in Ibiza is affordable for all! Groups of nine, for example, can currently take out a super cool Rinkespeedboatat for less than €100 each. That includes a whole day (7hrs) out on the water, watersports gear (wakeboard, waterskis, snorkels, donut etc), captain, instruction, IVA, two hours fuel and unlimited beer, wine and soft drinks.
For a sunset trip (3.5hrs), the price goes down to less than €60 per head for a group of nine, with all the same perks included.
What's more, these are high season prices. Come mid-September, the prices get even lower.
So if you're considering chartering your own private boat here are 10 top tips!
DO choose a reputable, well-established company. Look out for the TripAdvisor Certificate of Excellence – a good indicator of quality.
DO check the price carefully – common extras include fuel and VAT (IVA) at 21%.
DO book in advance. You're much more likely to get your preferred date and boat.
DO ask about different routes (Formentera? Es Vedra? Hidden secrets?). Take advantage of your company's local expertise and keep your eyes peeled for dolphins!
DO check whether unlimited drinks are included in the price — obviously a huge bonus!
DON'T thrown rubbish overboard — it's dangerous and poisonous to marine life.
DON'T forget your suntan lotion — the sun is powerful out at sea.
DON'T wear your shoes on the boat.
DON'T ask your captain to anchor over Posidonia seagrass or tolerate anyone doing this — the Posidonia is a World Heritage site and it's highly illegal to damage it in any way.
DON'T forget to charge your phone — you'll be gutted to miss out on photos.
Visit Boats Ibiza to find out more!
Embed This Image On Your Site (copy code below):