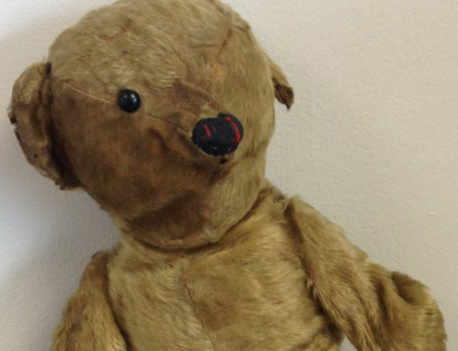 Bristol Airport has identified the family of an antique teddy bear following a public appeal to try and trace the owner.
The bear was found in a carrier bag in the airport's departure lounge in February 2012, together with other items, including a photograph of two children with the bear dated 1918.
On the reverse of the photograph – sent to "our darling daddie" – bear the names Dora and Glyn.
Bristol Airport police and security tried to trace the passenger, but to no avail, so they asked the public for help.
Since the appeal the airport has received "a lot of interest from around the world", with teddy bear manufacturers, photographic studios, historians and members of the online family history forum RootsChat.com all getting in touch and offering to help.
Airport staff said the children in the photograph, named as "Dora and Glyn", came from south Wales, but they have been unable to trace any living relatives of the children.
Bristol Airport spokesperson Jacqui Mills said: "We have now been able to source the history of the photograph and we think we have found the family that the bear belongs to.
'Darling Daddie' refers to Nicholas James Baker who was killed in Baghdad in World War One, only months after receiving the photograph and the little children referred to are Dora and Glyn Baker from the Abergavenny area of south Wales.
The children were sending the postcard to their father who was serving in the First World War.
"We just want to try and find a relation today who might know some more history about who the bear belongs to. We believe there are living relatives but we haven't yet been able to find them."
Ms Mills added that BBC Antiques Roadshow expert Hilary Kaye thought the teddy bear was made by the British manufacturer Farnells, and was of the type that inspired A.A. Milne's Winnie the Pooh stories.