Whether you're visiting a city for the first time or the hundredth time, planning what to see and do can sometimes feel like a huge challenge. What neighborhoods do you want to explore? How can you see the top attractions without falling into the tourist traps? Where can you find the best vintage market or artisan roasted coffee? That's where the helpful people at City Unscripted come in. After launching in London in April 2016, City Unscripted also now operates in Paris, Amsterdam, New York, Tokyo, San Francisco, Madrid, Barcelona, Bologna, Rome, Edinburgh, Manchester and Berlin with more cities to follow in the coming months!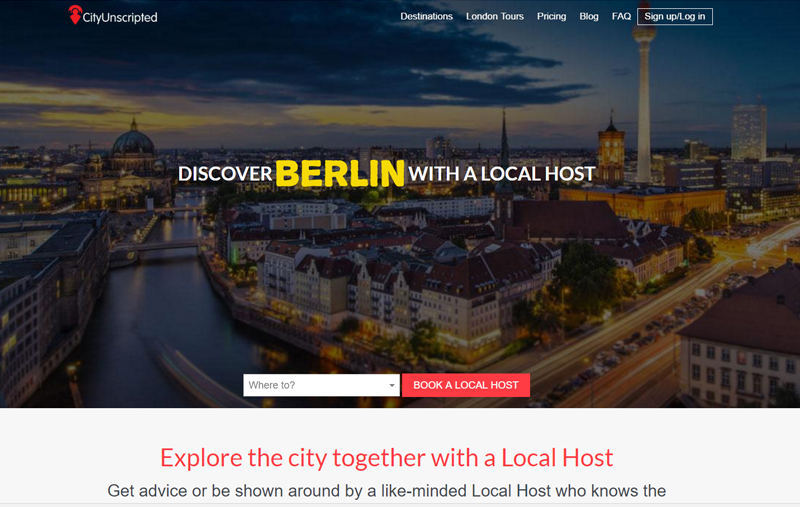 City Unscripted is personalised travel service offering immersive city experiences designed to help you discover the best of the city. Not totally sure what this means? This unique concept connects travelers who want to be discoverers not tourists with Locals in the know, moving away from tick-box tourism and towards authentic city experiences. Through an insider community of over 500 Locals in 13 cities, you can book a Local get advice or be shown around by a like-minded Local host who knows the city intimately and shares your interests.
 The best city breaks are often those to visit family and friends who know both you and the city inside out, meaning they can offer advice and show you places they know you'll love. It was from this concept that City Unscripted was born. The only difference is, it's a like-minded Local and not a family member who'll be showing you around! Their inspiring community of vetted Locals have a wide range of backgrounds, ages and are collectively fluent in over 25 languages so travelers can connect with their Local host culturally as well as with their personality. There are two distinct ways of connecting with a local: the first is choosing them yourself after browsing the profiles on the website, or the City Unscripted team will match you with a Local who they feel would be a good fit! But whichever way you choose to do it, you'll meet a Local who you can connect with through shared interests and backgrounds so you can really get to the heart and soul of a city, seeing only things that inspire at a pace that suits you.
 Maybe you've been to London before but this time around you want to visit the local neighbourhood of Brixton, only you don't really know where to start with your explorations. Or maybe it's your first time in Barcelona and you want to see La Sagrada Familia but don't want to have to eat some very sorry looking (and overpriced!) tapas afterwards! This is where your Local host comes in. Based on your likes, dislikes, interests and passions, your host will create a bespoke itinerary for you and show you the very best of what the city has to offer, whether it's the most authentic local tapas bars in Barcelona or loved by locals independent stores in Brixton. It's up to you whether you'd just like advice, in which case you can meet up with a Local for an hour or two and pick their brains, or you can opt to be shown around the city by them!
 The flagship Book A Local service is hugely popular not only with guests but with the Locals themselves. Each Local is passionate about sharing their city and helping travelers discover the best of what's on offer, whether it's the iconic attractions or more secret, off the beaten path spots that only Locals in the know could share with you! Yorick, one of City Unscripted's Locals in Amsterdam described being part of City Unscripted's inspiring community as "the best job I have ever had!" Who could argue with that? And traveler Callum said of his experience, "I treated my girlfriend to a private trip around Barcelona which is how we met David. He tailored the tour to our needs and we absolutely enjoyed spending time with him as his passion for the city shines through."
 The service is completely trustworthy, safe and secure as each Local is individually vetted, verified, insured and trained by the City Unscripted team. Bookings start from £30 an hour for 1-2 adults, children are free. For more information about City Unscripted's exciting and innovative concept, please visit www.cityunscripted.com.