Coming from an international family and being a mother to very energetic 5 and 6-year-old boys, I was literally thrown into the deep end when preparing for travelling with, initially, two babies, then toddlers and now spirited school-aged children.
The first holiday was a long-haul flight to North Cyprus, which ended up being a nightmare. Everything that could have gone wrong, did go wrong.
We lost our sippy cups, forgot the snacks, were late for the plane, and we had a very antsy 6-month old baby who had a tummy upset — on a 5-hour flight! Imagine how many times I had to go to the tiny in-flight toilet cubicle in those five hours…
By the time we got to the end of the flight and into our hotel, my husband and I had no energy to enjoy the rest of the day. Frazzled and fed up, we vowed to never make such silly mistakes when flying with kids again.
Our next flight was far more plain sailing and the key was planning and preparation. Here are Motherhood Diaries' tips and travel secrets on how to have a stress-free and enjoyable flight with kids in tow:
Plan Your Flight Booking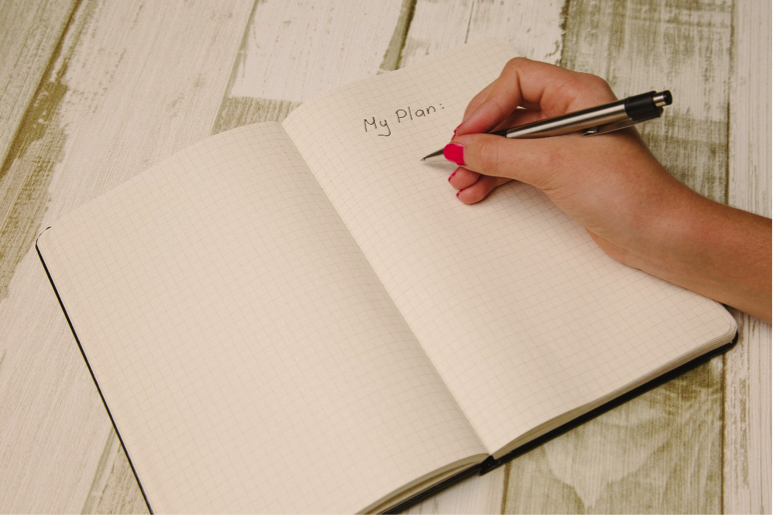 I have travelled with the boys more times than their ages and we find non-stop flights as opposed to connecting flights the most preferable.
This is because you will want to try and minimise the take-off and descent due to the air pressure, which can affect ears. Children struggle to equalise their ears on their own and so if you must stop during your flight, that is two descents that you would have to worry about and lots of attempts to try and ear-pop.
Also, with non-stop flights you only need to sort out your hand luggage at the beginning and at the end. You also avoid the risk of having a flight delay, which can bring on more boredom and frustrated kids. Avoid flying during peak hours too, I typically prefer to travel at night because this is when the children normally sleep and the flights tend to be emptier.
It is also worth checking the airline's policies when it comes to discounted seats for children. Check to see whether you can bring car seats and strollers on board and what the policies are on baggage allowance.
Check also if your flight includes a meal service, as you may be able to request a special meal for your child. Ensure to check at least 24 hours before take-off to allow the airline to meet specific requests.
Check Passports Well in Advance
This may be obvious to some, but my husband and I made the mistake of not checking our eldest's expired passport until one week before we were scheduled to leave.
As it was too late for the premium one-week service, my husband and son had to set off by themselves, while I stayed back with my eldest, begging and pleading for the passport to be renewed via fast-track.
We managed to set off the next day, but all this could have been avoided if we had just checked our passports at least six months in advance. So, CHECK YOUR PASSPORTS!
Check In Early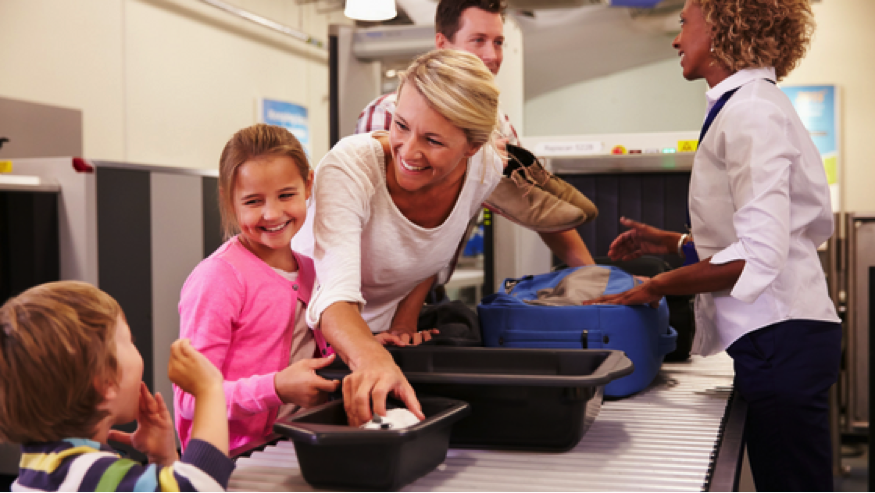 Checking in early maximises your chances of sitting together on the plane. We normally pay extra for check-in so we eliminate the risk of seats filling up. But, if you don't want to spend the extra money, make sure you check in as soon as it opens.
Checking in early also helps you to plan and prepare for the flight. You can print your boarding pass early or load it onto your phone, so you only need to drop your bags at the airport and head straight to security.
Pack Light
You'll have little hands, the kids' travel bags, possible strollers and car seats to hold onto before and after the plane ride, so make sure you pack very light for all the hand luggage you'll be carrying with you on the plane.
The kids will need a rucksack each and you'll need a bag with your emergency kit, snacks, spare clothes and electronic devices. You don't need much else than that.
Pack surprise gifts for the children to bring out during the flight if they are bored with their travel bags or they get antsy. These gifts will be your bargaining tools and your chance to pass the time for a little while longer on the flight.
Pack a Surprise Travel Bag for the Kids
The kids will no doubt get bored on the plane, so they need to be kept amused throughout, whether that's by using their brain with activities or their mouth through snacks. Don't let the kids pack their bags as they'll most likely think with their hearts than their minds. Rather than carrying 8 cuddly toys on the plane, here are a list of things I normally pack for the kids, so they feel responsible for looking after their own bag, but enjoy having their own possessions at the same time:
Spare set of clothes, including underwear and socks rolled up into a tiny tube
A small lunchbox that includes fruit, cheese, teacakes, homemade banana bread and thin sandwiches.
A bottle of water or a Sippy cup, depending on age
A mini pencil case with crayons, mini colouring pencils, a pencil, a rubber and a ruler
Activity pack that includes wordsearches, picture crosswords, colouring pages and other fun games
Two of their favourite small toys
A couple of small books, including a blank A5 notebook
It sounds like a lot but I manage to pack everything neatly into one rucksack-style bag that has wheels, so they can wheel their bags on the ground like suitcases. I never let them see what is in their bags until they are seated on the plane, so they are literally kept amused for hours. When they get bored with their bags, it's onto the surprise gifts, electronical devices or the snacks.
Pack an Emergency Kit
An emergency kit is a little Medi-kit that I like to carry with me in my hand luggage which may help for any emergency incidents on the plane. Some items may need to be bought at the airport, but otherwise, they should be safe to bring with you:
Calpol/Ibuprofen because you never know when they'll have tummy upsets or a temperature
Some plasters in all shapes and sizes
Allergy medication for foreign bugs and critters.
Some electrolyte solution or powder like Dioralyte to rehydrate in case of an onset of diarrhoea
Antibiotic or alcohol wipes for cuts and grazes
Suncream Factor 50
Gauze to dress wounds
Any other personal medication that's needed
Wet wipes for cleaning up mess from anywhere
Antibacterial gel if there is no soap and water
Nappies/Pull ups for younger children
Arrive at the Airport Early and Prepare the Children for What's Ahead
Giving yourself plenty of time to clear security and get to the gate means that you'll feel less stressed and treat the journey more like a fun adventure rather than a hindrance. Find a play area for the kids to burn all their energy before they board the plane so they can either sleep or relax during the flight.
Reiterate to the children what your travel plans are and get them involved in what the next step is. Tell them to look out for the gate number on the TV screen and when you must board the plane. Prepare them in advance about behaviour expectations on the plane, as the 'Aeroplane Police' will be out looking for naughty children! Offer a special treat or a reward if they behave well throughout.
Make Plenty of Pit Stops Before You Board
Encourage children to go at regular intervals and just before they board to eliminate having to go in those tiny-inflight bathrooms.
Board Your Flight Early
Some airlines allow families with young children to board early, so it is best to get to the front, store the hand luggage in the overhead carriers and settle in before the other passengers arrive on the plane. That way you get to comfort and relax your children before the neighbours settle into their seats.
During the Flight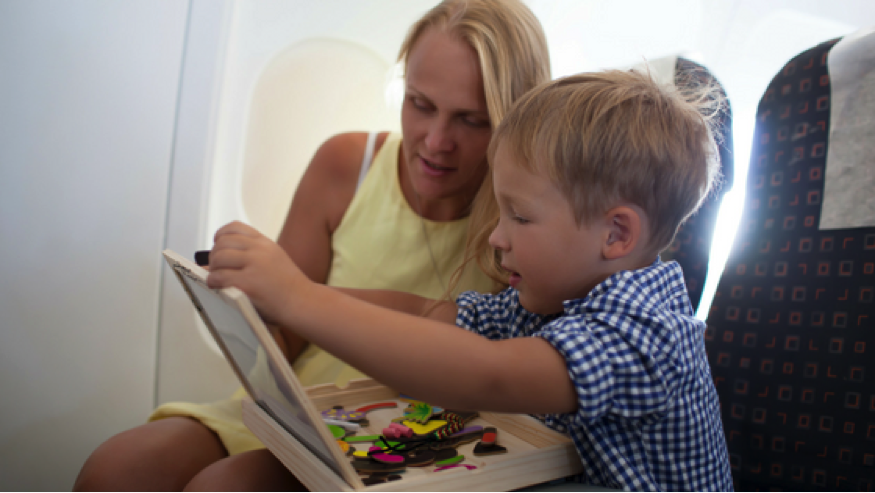 Spend time with the children. Thinking they'll be kept busy by themselves is rookie behaviour.
Use this time to connect with them and explain what's happening on the plane, from the sights you can see to the safety demonstrations. Talk about things that they want to talk about and revel in their excitement when they open their travel bags. Ask to be involved in their games. Take it in turns for one parent to take a nap while the other amuses the kids and vice versa.
The more secure and comfortable they feel the better and happier they will be on the plane. If the aisles are free, take them for a stroll to stretch their legs, so they don't feel cooped up in their seats. Who knows, they may meet other children their age and make new friends.
Remember your surprise gifts in your bag? Use them sparingly and only when the children are bored. You can even go one further and use the airsickness bags as little toys or puppets that the kids can decorate. Remember to get involved. If all else fails, bring out the electronic devices.
Prepare for the Landing
The descent is the most difficult part of the flight, due to the air pressure. So be prepared for uncomfortable kids who won't know how to relieve this pressure.
Yawning, making funny faces, moving the jaw about and drinking water from a sippy cup or bottle will help to equalise ears because of the swallowing technique.
If you are breastfeeding then encourage your baby to nurse as this also helps with ear pressure. Once you arrive at your destination, let the other passengers leave the plane so you are not in a rush. Some flight attendants are great at helping excited children and tired parents to leave the plane.
Remember that you are on holiday to make some valuable and unforgettable memories with your children. Try to loosen up the rules a bit and enjoy this magical time with the kids.
The children will see the plane ride as one giant adventure, so don't dampen their experiences. Ensure you are prepared for anything and then you can sit back and enjoy the plane ride in a relaxed and happy state.
BON VOYAGE!
By Leyla Preston, Founder and Editor of Motherhood Diaries, online parenting magazine