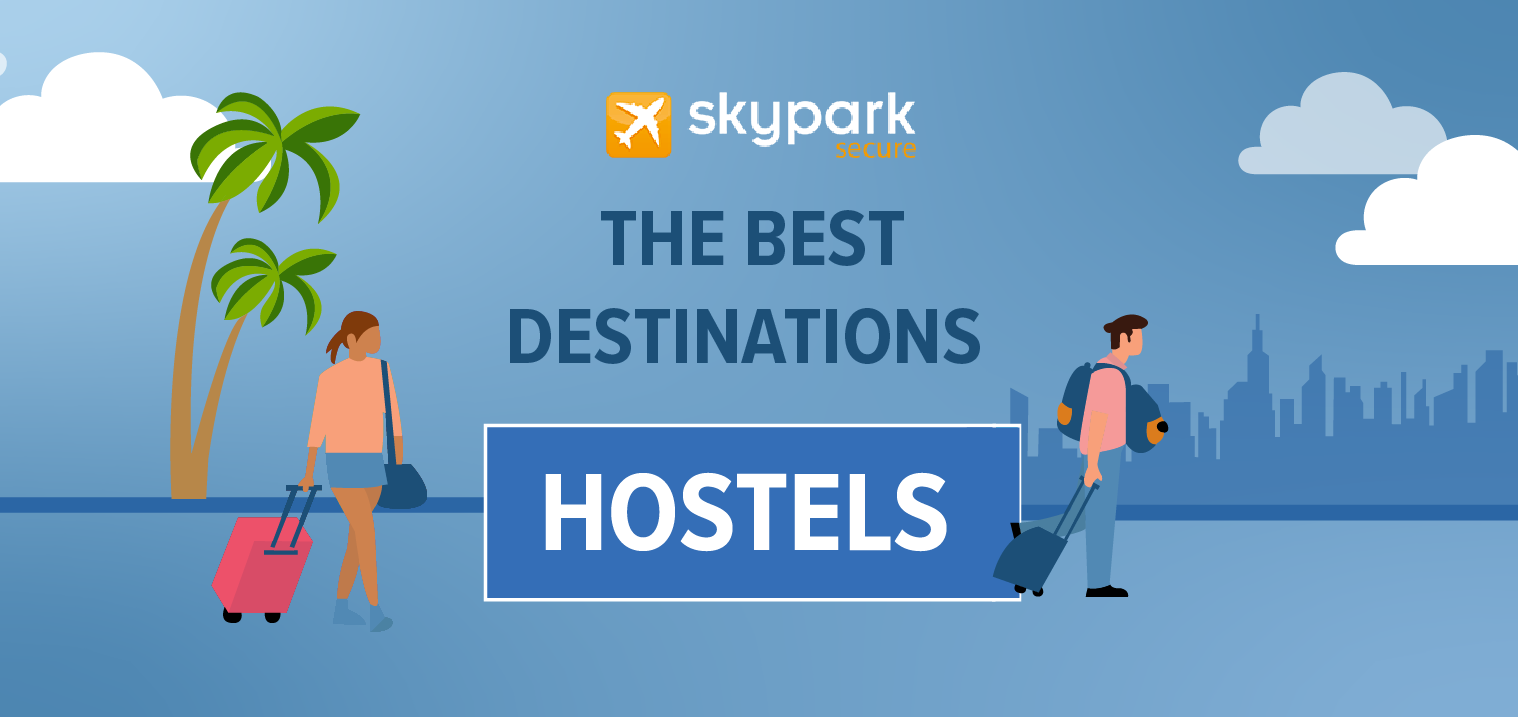 The sun is shining, spring has sprung, and you're probably dreaming of booking a holiday. If you're looking for somewhere to visit, have you considered booking a hostel? Often viewed as for backpackers only, this couldn't be further from the truth, so we're looking to change how hostels are seen, and prove they're great options for everyone!
We've analysed hostel options across the world, looking at a range of factors including ones that are family-friendly, offer 4-star plus comfort, and various amenities such as kitchenettes and pools.
So, whatever kind of holiday you're after, read on to discover the hostel hotspots of the world, and start planning your next trip!
The best destinations for family-friendly hostels
Hostels can be some of the best places for families to stay at, due to their amenities and friendliness. If you're considering booking a hostel for your next family getaway, then take a look at these locations.
1. Florence, Italy
In top place is Florence, with 27% of their hostels considered family-friendly. Not only that, but almost half of them are equipped with aircon (ideal during the summer months!), and 36% have kitchenettes, so you can easily cook yourself meals if you want to save some money.
When you're not in your hostel, make your first stop the Duomo, and if you're feeling fit, climb all 463 stairs for views of the city, before visiting the Uffizi Museum, and walking across the Ponte Vecchio, where talented jewellers sell their wares.
2. Dominican Republic
If you're looking for sun, sea, and sand, then look no further than the Dominican Republic. Almost a quarter of the hostels here are family-friendly, and 29% of them come equipped with a pool, which is ideal for the little ones.
Punta Cana is one of the best places to stay for families, due to its white sandy beaches, and number of restaurants available. However, Puerto Plata is a great alternative option – its beaches are just as beautiful, but the resort is quieter, and more laid-back.
3. Crete, Greece
The biggest of Greece's islands comes in third place for family-friendly hostels, with 22% of them equipped for families staying. Not only that, but two-thirds of their hostels are budget-friendly, making it an ideal place if you're looking for somewhere more affordable, and 56% of them have free WiFi.
If you want to stay in a city, then consider Chania's Old Town, or Heraklion, which is the capital of the island, and is home to a beautiful Venetian Port. Alternatively, for some of the best beaches on the island, head to Elafonissi, Plakias, or Stalis.
The best destinations with hostels for remote workers
With the cost-of-living crisis affecting everyday life in the UK, lots of Brits are choosing to escape the country and work abroad. If you're considering doing the same, then check out these destinations.
1. New Delhi, India
The capital of India officially has the best hostels for remote workers, with an impressive 92% all having free WiFi. Not only that, but 17% of them also have a business centre, if you want to escape the four walls of your hostel room to work!
In your downtime, you'll no doubt want to sightsee. Start by visiting Humayun's Tomb, where you'll see a huge Persian influence in the design, before exploring the Red Fort, and enjoying some bargain hunting at the flea market stalls on Janpath and Sarojini Nagar.
2. New York City, USA
The Big Apple is another great destination for remote workers, with 83% of hostels having free WiFi, and 17% of them having a business centre. In addition to that, 83% of hostels are classed as budget, so if you're counting the pennies, you'll have tonnes of options.
On your evenings and days off, you can see all the iconic attractions including the Empire State Building, Central Park, and Statue of Liberty. However, you might just decide to explore the different areas of the city, and the cute coffee shops, bars, and restaurants that the likes of Brooklyn, the Lower East Side, and Chelsea are all known for.
3. Edinburgh, UK
OK, so you're technically not escaping the country if you come to Edinburgh, but with 73% of hostels having free WiFi, it's a great city to stay in if you're a remote worker – although it's worth mentioning that none of them have a business centre (although 47% do have bars and lounges, so you could always work from there).
When you're not working, wander up the Royal Mile to Edinburgh Castle, climb to the top of Arthur's Seat, or head to one of the sandy beaches a few miles outside of the city – Portobello and Silverknowes are two of the best.
The best destinations for budget hostels
Looking for a break on a budget? Hostels are known for being cheaper compared to hotels, and these destinations have the biggest selection of budget hostels to choose from.
1. Edinburgh, UK
We're heading back to Edinburgh, which has the greatest number of budget hostels, at a huge 93%. Once you've seen all the major attractions Scotland's capital has to offer, tick some more things off the bucket list.
Watching the sunset from Calton Hill should be up there – it's one of the highest points in the city, so you'll be rewarded with beautiful views. Alternatively, walk through the Royal Botanic Garden, which is home to Alpine Houses, a pretty lily pond, and the Chinese Hillside.
2. New York City, USA
In addition to being ideal for remote workers, New York's hostel scene is also great for budget travellers too. Plus, the city has lots of free things to do, if you're looking to make your trip as affordable as possible.
Try a self-guided tour of Greenwich Village, visit the Vessel in Hudson's Yard, and walk the High Line, which connects the Meatpacking District to Javits Convention Center.
3. Paris, France
France's capital is also a great budget-friendly option, tying with New York, with 83% of hostels budget-friendly. 59% of hostels have free WiFi to keep the costs down, and 45% have their own bar or lounge.
If you're looking for free things to do in Paris, then there's plenty: have a picnic by the Eiffel Tower, head inside the Basilique du Sacré-Coeur, and stroll along the Seine, where you can soak up the atmosphere of the City of Love.
The best destinations for 4-star+ hostels
Hostels might be cheaper than hotels, but they can still be luxurious! If you're looking for the friendliness and welcoming atmosphere of a hostel, but with the amenities of a hotel, then check out these destinations.
1. Juneau, Alaska
Looking for an alternative city break? Why not try Juneau, the capital of Alaska? All of their hostels are classed as 4-star and above, to make your stay as enjoyable as possible.
When it comes to exploring the city, start by riding Mt. Roberts Tramway, where you'll be rewarded with views of Chilkat Range, Douglas Island and more; and visit Mendenhall and Herbert Glaciers.
You should also make sure that as part of your trip, you visit Admiralty Island, or Fortress of the Bears, which is named that because it's home to around 1,500 brown bears!
2. Siam Reap, Cambodia
In second place is Siam Reap, with 65% of its hostels classed as 4-star and above. A lot of the hostels come equipped with amenities too – half of them have a lounge or bar, 57% have aircon, and over a quarter have a pool.
Angkor Wat should be the first place you visit, where you can also discover the Terrace of the Elephants, and the wider archaeological park. Other things to experience include Banteay Srey Butterfly Centre, and Kbal Spean River, where you'll find carvings of Buddha in the rocks.
3. Krakow, Poland
Krakow comes in third place, with 43% of hostels 4-star and above – and 60% come with free WiFi. Wander around the Old Town and visit Wawel Castle and the Main Square, which is home to a night market. For dinner, sample some delicious Pierogi, which are Polish dumplings that come with a range of fillings, from meat to veggie.
If you're in Krakow you should also visit Wieliczka Salt Mines, where you'll get to see some incredible underground architecture; and of course, Auschwitz. It's a sobering experience, but an important one, as it helps you to understand more about the atrocities that went on at the hands of Nazi Germany.
Best cities for hostels in the UK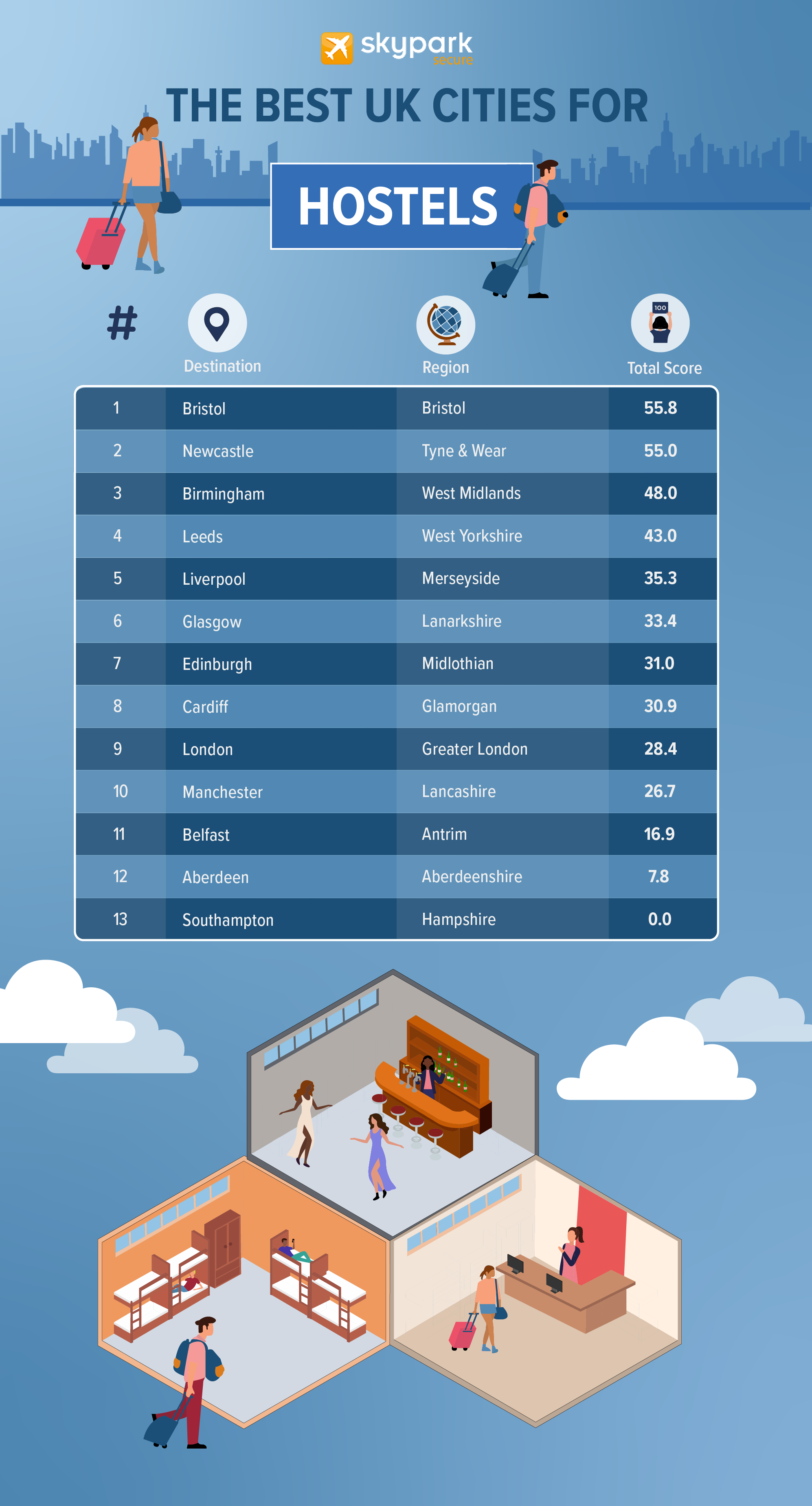 If you prefer staycations to vacations, then you'll be pleased to know that the hostel scene in the UK is thriving, and these cities are three of the best.
1. Bristol
6% of Bristol's accommodation is made up of hostels, with 42% of them budget, 17% of them 4-star and above, and 33% of them coming with a bar or lounge.
If you're visiting Bristol for a break, then once you've sampled the shopping in the city centre, admire the view at the Clifton Suspension Bridge, discover Brunel's SS Great Britain, and spend some time around the nearby waterfront, which is home to several cute bars and coffee shops, which are all housed in shipping containers.
2. Newcastle
Half of Newcastle's hostels are budget, the joint highest on our list, with Birmingham. It also has the highest number of hostels with free WiFi (67%), making it an ideal option for remote workers.
If you're there on a Sunday, visit the Quayside Market where you'll be able to buy everything from artwork to clothing and food, or for a long walk, try Jesmond Dene, which is home to lots of woodland birds.
3. Birmingham
In third place is Birmingham, with half of hostels coming with a bar or lounge (the highest on our list), and 33% equipped with a kitchenette, which is ideal if you're trying to stick to a budget. It's also the only city that has hostels with business centres, at 17%.
If you're visiting the city for the first time, then the Bull is probably the most iconic sight, but if you're visiting with kids, then you should also head to SEA LIFE and Cadbury World, where you can find out about the history of arguably the world's most famous chocolate brand (and try some free samples while you're at it!).
Leeds and Liverpool make up the top five, with Leeds coming out on top for family-friendly hostels (14%), and Glasgow the best for 4-star and above hostels (20%).
Best overall destinations for hostels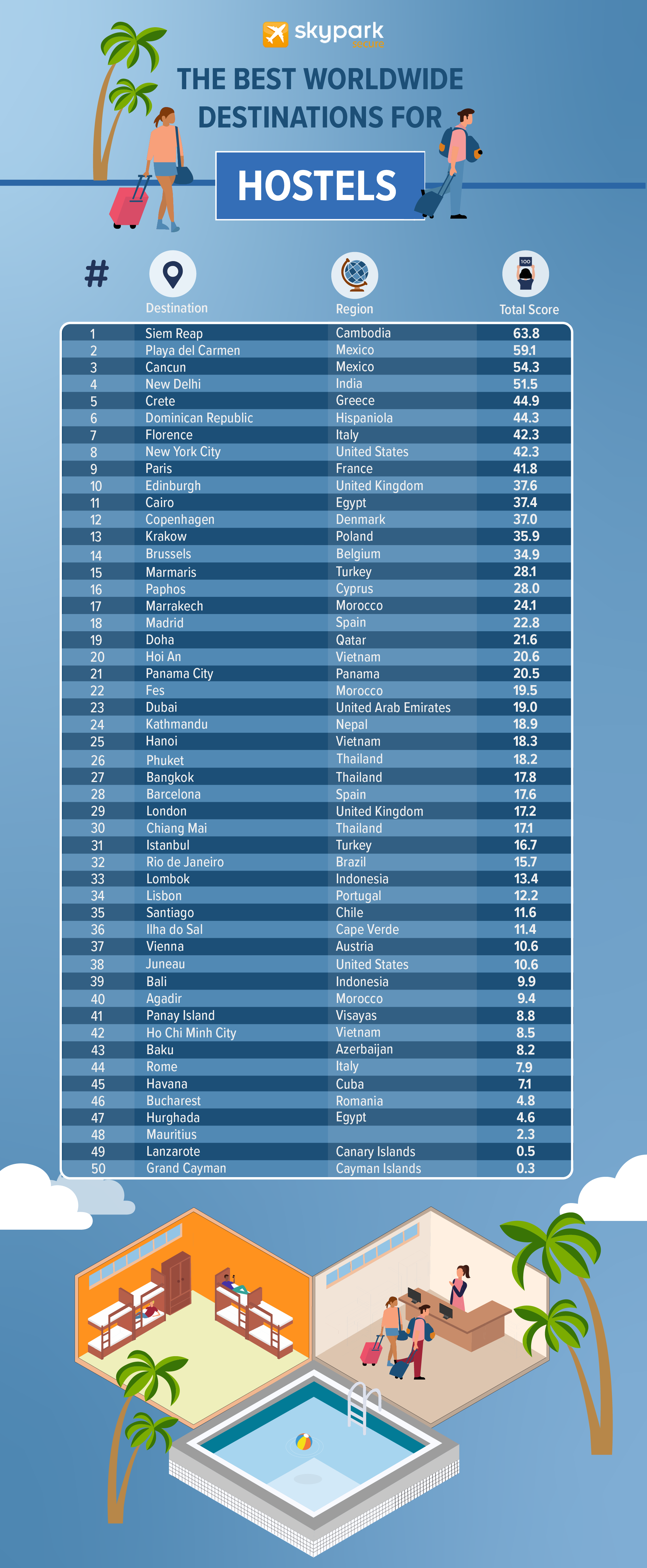 So, now you know which locations have the best hostels for families, remote workers, budget seekers, and those in search of a little luxury, which cities are the best rated overall?
Top of the list is Cambodia's Siam Reap, followed by Playa del Carmen and Cancun in Mexico, New Delhi, and Crete. And it's clear that these destinations are rising in popularity – searches for "Siam Reap hostel" has increased by 140% over the last 12 months, and "Playa del Carmen hostel" has soared by 122%.
Narrowly missing out on the top 10 are Cairo in 11th place, and Copenhagen in 12th, with Krakow, Brussels, Paphos, Marrakech and Doha all making it into the top 20.
So, will you be enjoying the beaches that Cancun and Playa del Carmen have to offer, or will you be exploring the cities of Paris and New York? Whatever holiday you book, if you're sorting flights, make sure you book your airport parking too. We have deals at airports all across the country, so no matter where you're flying from, we've got you covered.
And, if you want to start your holiday in style, why not book an airport lounge with us too? We regularly search for the best deals so you can enjoy your holiday safe in the knowledge you've saved as much money as possible.