We are quickly hurtling towards Brexit's October 31st deadline, and whether it's a no-deal or not, how we holiday after Brexit is going to be irreversibly affected.
If you're asking "But how will Brexit affect MY holiday?" don't worry!
Below we've outlined how your holidays are going to change following Brexit (to the best of our ability and knowledge at the time of writing).
If you have questions about anything else, leave us a comment below and we'll try to add it to the guide.
Your Thoughts on What We Should Do Next
In our latest email, we asked you guys what you thought should happen next in regards to Brexit.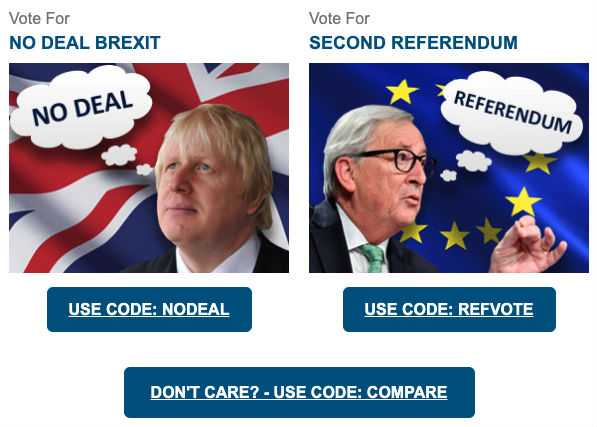 We created two new promo codes (NODEAL and REFVOTE) and asked you to compare your parking using one or the other, and then we collected the results.
And for those who are sick of hearing about Brexit, we also provided the COMPARE promo code so you could just get straight to the results page.
And don't worry — all three promo codes gave the same discount, so no influencing the vote there!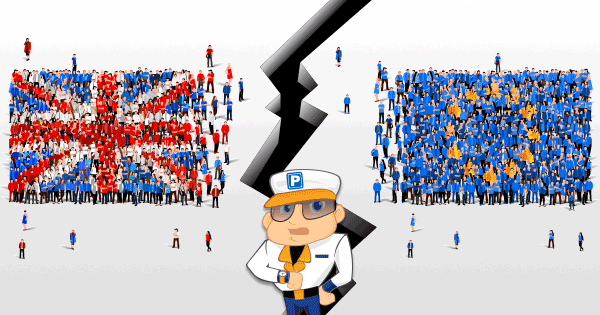 In total we had 2,216 people click through to the website from the email using one of the three promo codes.
And the results were:
No Deal – 878
Second Referendum – 873
Don't Care – 465
As you can see, it was INCREDIBLY close, just five votes in favour of a no-deal Brexit.
You could say they echo the original referendum back in 2016!
But even better than that, we can narrow each vote down to which airport people were searching for, discounting Don't Care votes.
| Airport | No Deal | 2nd Referendum | Total Votes |
| --- | --- | --- | --- |
| Total | 878 | 873 | 1751 |
| Manchester | 421 | 371 | 792 |
| Stansted | 70 | 88 | 158 |
| East Midlands | 63 | 34 | 97 |
| Luton | 43 | 52 | 95 |
| Edinburgh | 33 | 58 | 91 |
| Heathrow | 28 | 53 | 81 |
| Liverpool | 35 | 45 | 80 |
| Bristol | 36 | 35 | 71 |
| Glasgow | 24 | 40 | 64 |
| Birmingham | 33 | 45 | 78 |
| Gatwick | 41 | 5 | 46 |
| Leeds Bradford | 21 | 14 | 35 |
| Doncaster | 13 | 11 | 24 |
| Newcastle | 9 | 9 | 18 |
| Southend | 2 | 7 | 9 |
| London City Airport | 2 | 3 | 5 |
| Belfast City | 2 | 0 | 2 |
| Southampton | 1 | 1 | 2 |
| Bournemouth | 1 | 0 | 1 |
| Prestwick | 0 | 1 | 1 |
| Southampton Port | 0 | 1 | 1 |
And as you can see in the table below, it makes for a rather interesting split:
| No Deal | 2nd Referendum | Draw |
| --- | --- | --- |
| Manchester | Stansted | Newcastle |
| East Midlands | Luton | Southampton |
| Bristol | Edinburgh | |
| Gatwick | Heathrow | |
| Leeds Bradford | Liverpool | |
| Doncaster | Glasgow | |
| Belfast City | Birmingham | |
| Bournemouth | Southend | |
| | London City Airport | |
| | Prestwick | |
| | Southampton Port | |
It's notable that although votes for a No-Deal Brexit surpassed that of a second referendum, there are more locations that would prefer another say on Brexit.
What are your thoughts on the results? Let us know in the comments!
What Are the New Passport Rules After Brexit?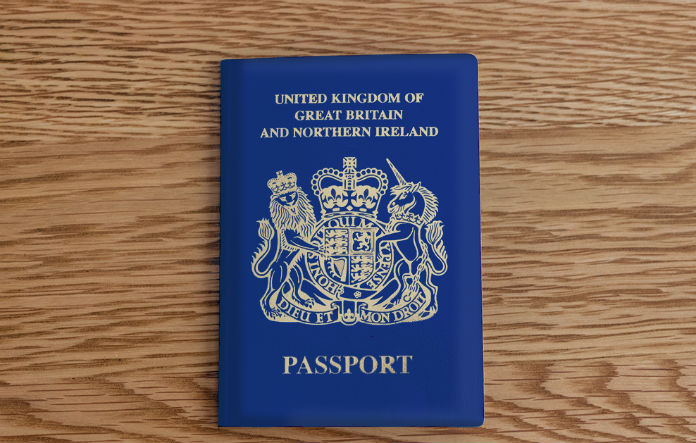 If the UK leaves the EU with no deal on 31st October 2019, the rules for travel to countries still in the European Union will change.
The major change is that you will need at least six months left on your passport from your date of arrival at your destination, however this only affects your travel to certain countries.
Fortunately, to combat any potential confusion, the gov.uk website contains a simple passport checker.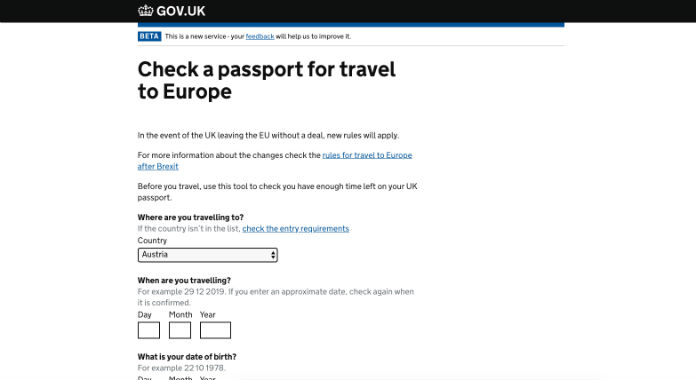 Simply enter your destination, date of travel, date of birth, and passport issue and expiration dates and the service will tell you if your passport has enough time left on it.
Will I Need a Visa After Brexit?

The European Commission has confirmed that you won't need to apply for a visa if you're travelling this year.
However, from 2021 you may be required to pay a fee of €7 to enter the EU.
The reason for this is that a transition period will take place once a deal is agreed, and this could take as much as two years.
Driving in Europe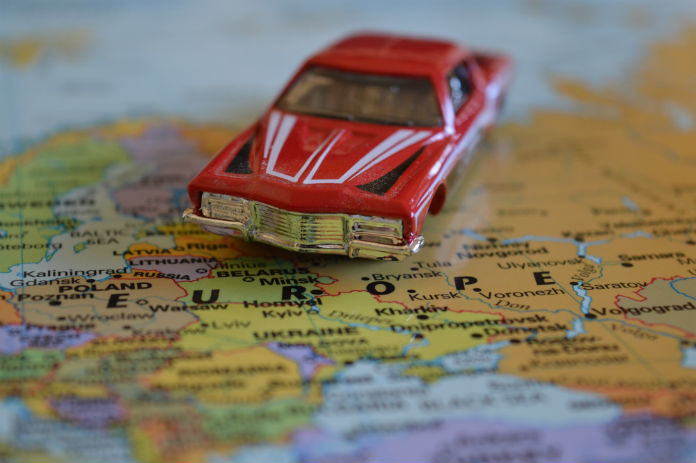 In September 2018, it was announced that a no-deal Brexit could mean your driving license is invalid in the EU.
UK drivers may need an international driving permit (priced at £5.50) to drive in some European countries.
Licenses are already required in some places such as Japan and some US states, so frequent travellers to those places will already be used to the process.
According to the UK Government's latest no-deal planning papers, "your driving licence may no longer be valid by itself" in the EU and you may be turned away at the border or have to pay a fine if you don't have the correct International Driving Permit. You may also need an IDP to hire a vehicle.
AA President Edmund King has commented: "This will be an extra burden for UK drivers wanting to take a holiday abroad. We envisage quite a rush on post offices next year for the £5.50 IDPs if no deal is reached.
"Hopefully an agreement can be reached to prevent further red tape and expense for drivers."
There are two kinds of permit that could be required depending on which EU country you are in. If you are planning to visit two countries that require different permits, you will have to have one of each.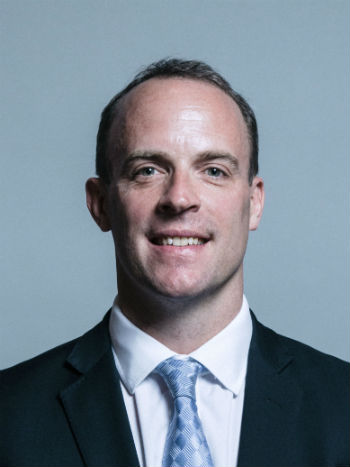 Dominic Raab, the current Secretary of State for Exiting the European Union, has advised that the UK Government is trying to secure a Brexit deal by mid-November, but was putting a contingency plan in place in case this is unsuccessful.
The official word is that: "A scenario in which the UK leaves the EU without agreement (a 'no deal' scenario) remains unlikely given the mutual interests of the UK and the EU in securing a negotiated outcome."
And on the subject of increased activity in preparation for a no-deal Brexit: "It has always been the case that as we get nearer to [the deadline], preparations for a no deal scenario would have to be accelerated. Such an acceleration does not reflect an increased likelihood of a 'no deal' outcome. Rather it is about ensuring our plans are in place in the unlikely scenario that they need to be relied upon."
There's no word on whether a similar ruling could apply to UK drivers in Ireland, although Ireland's National Driver Licence Service website does state: "As a visitor to Ireland, you can drive on a driving licence from any state outside the EU/EEA for up to a year provided the driving licence is current and valid."
The Pound to Euro Exchange Rate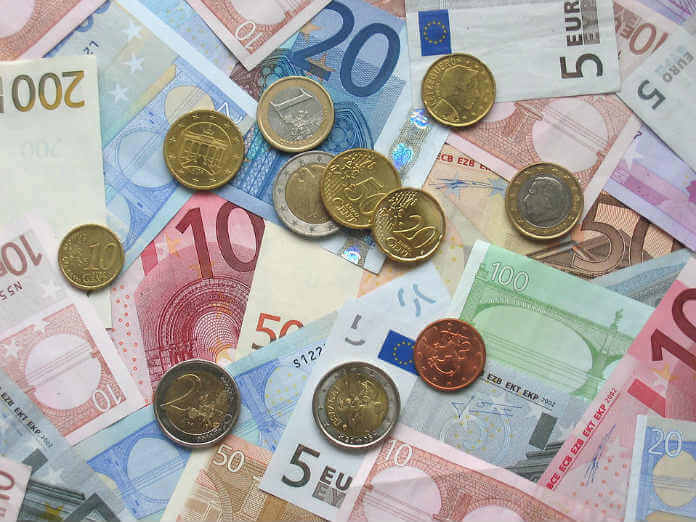 The pound is still very weak against the Euro, US and Australian dollar.
For example, when converted to the Australian dollar, £500 is worth AU$890 this year whereas it would have given you AU$1014 a year ago.
Likewise, the same amount is currently worth €565 compared to around €650 in 2016.
We spoke to Kallum Pickering, a Senior UK Economist at Berenberg who said: "A poor exchange rate is bound to have an effect on the UK travel market in 2017.
"Sterling is down on all major currencies which will force some families to stay in the UK this year. However this won't stop the majority of people travelling — a 15% growth in the travel tourism market is expected this year with Europe looking like the UK's most popular destination.
"Even though sterling is down against the euro, it's much better value than the Anglo-American currencies."
Better Value Destinations Outside the EU
Obviously, the pound has not fallen equally against all currencies — it never does.
Therefore some travel industry commentators are pointing to the best places to get value when you convert sterling.
The Holiday Money Report produced by the Post Office says that Sunny Beach, Bulgaria; Tokyo, Japan; and Algarve, Portugal are the cheapest of the major destinations it surveyed.
It arrives at this figure by monitoring the average price of common holiday purchases, including water, alcohol, dinner for two and suncream.
In 2018, they discovered that long-haul holiday hotspots have dropped the most, while prices in most European resorts have risen.
However, they do stress that 8/10 of their best value destinations are European.
Good Housekeeping also publishes a Holiday Costs Barometer which takes the cost of vital necessities like a bottle of local beer, sun cream, a cup of coffee, wine, a meal and various other things, then compares costs across holiday destinations. Sunny Beach in Bulgaria came in as the cheapest holiday choice this year, with the basket costing £43.44, closely followed by Marmaris and Algarve.
Despite these holidays still being relatively cheap, the cheapest destination is still coming in at £10 more than the cheapest place last year. Not good!
Europe's Attitude Towards Brits Abroad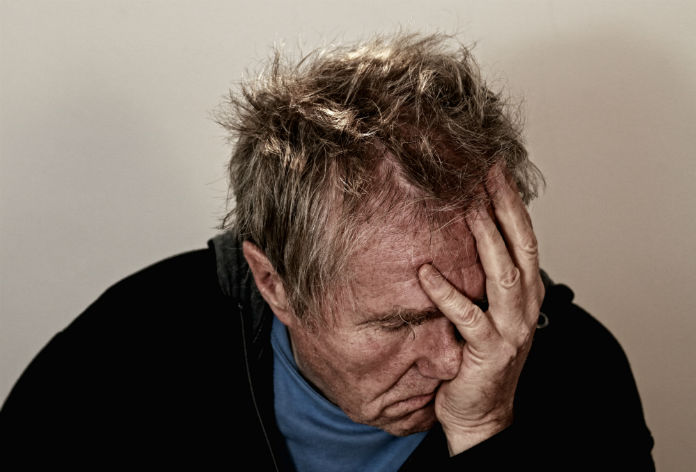 Some travellers to European destinations are worried that Brits will be looked on unfavourably because of the Brexit vote.
This is also the opinion of Brexit Expert Professor Thom Brooks, Head of Durham Law School: "The good news for UK travellers is that Brexit shouldn't affect them too much…beyond the cost.
"The uncertainty over trade and investment has fuelled a steep fall in the value of the pound making international travel more expensive.
"But it's not all rosy. Travellers from the EU coming to the UK will lack the sense of security that they can work and live in the UK long term. This is because the UK government has put the status of EU nationals in Britain on the table for negotiations — as it has very little else at hand".
However many European countries are also having impassioned debates about the future of the European Union, and in the end, they are more interested in the fact that you have come to their country to spend money, and that you will probably continue to do so in the future.
The UK's Open Skies Agreement with Europe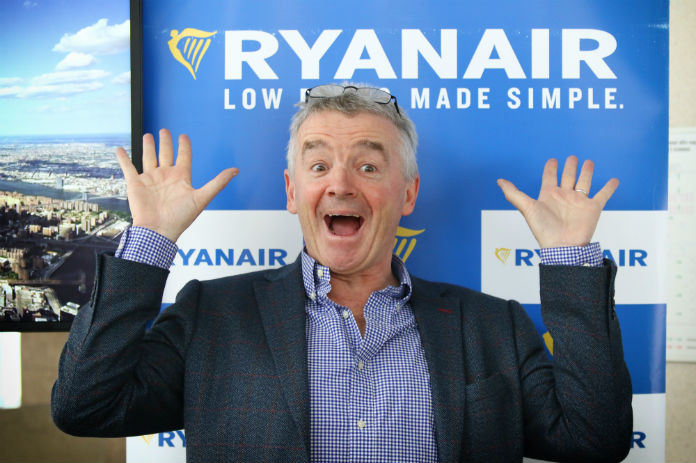 Ryanair confirmed in January last year that a Brexit clause will be included with all tickets purchased from September 2018.
September has been announced because this is typically the time of year when flights for the following summer go on sale.
The tickets will include wording that states flights are "subject to regulatory environment allowing this flight to take place".
In a press conference, Ryanair Chief Marketing Officer Kenny Jabobs explained that the company wanted more clarity on Brexit's progress and more concrete details on Britain's position outside of the EU from 2019.
The open skies agreement is a particular concern to airlines in the wake of Brexit, as this is the deal that allows aircraft to fly between any two points in Europe.
Although the Government did confirm in October that this deal with the European Union will continue, there is much uncertainty and many people are worried that there can be no guarantees.
The clause follows a similar one from Thomas Cook last year advising they won't be liable to pay compensation or reimburse expenses for delays as a result of airspace closures, although they will still provide refunds.
"We will announce our summer schedule soon enough here for the UK, but that summer schedule will have a terms and conditions saying this is subject to the regulatory environment, once we start selling tickets that will be in the post Brexit schedule from 1st of April 2019 – typically sold from September," Jacobs said.
"We're calling on Brussels and the UK government to give us a regulatory condition — we were saying this two years ago and everyone was saying that was Ryanair being alarmist.
"The situation hasn't changed for us, we have applied for a UK AOC to make sure we can fly domestic routes within the UK if we need to, we've also flagged to shareholders that we need to work out the situation in terms of ownership.
"British people are always going to travel to Europe. Europeans are always going to travel to Britain so it hasn't changed where Brits are booking for their summer holidays this year, and we would hope and we would expect a solution will be found so that travel will carry on as travel has."
Your EHIC Card
The EHIC card has been a godsend for holidaymakers in Europe since it was created in 2004.
EHIC, or European Health Insurance Card, is a free scheme that enables anyone who carries one to receive medical treatment in another member state free, or at a reduced cost.
The card is completely free, but watch out for scammers who try to set one up for you for a fee. Completing the form on the official website will prevent this risk.
However Martin Lewis, founder of MoneySavingExpert.com, appeared on Good Morning Britain this week to discuss the card's use going forward.
"The European Health Insurance Card gives you access to state-run hospitals and GPs at the same cost as a local.
"Over 5m expire this year, and everyone (including children) who's going to Europe this summer needs their own valid card.
"The expiry date of the card is on the front of it (bottom right). If yours is out of date you can renew at www.ehic.org.uk."
However, Martin says that the EHIC card's future is uncertain: "What happens after Brexit? We don't know yet."
So while time will tell on how your European Health Insurance Card will affect European travellers, it's important to remember that it's never been the be-all and end-all. Travel insurance has always been your best bet, with the EHIC card being a beneficial back-up.
Find out more about travel insurance here.
Unexpected Surcharges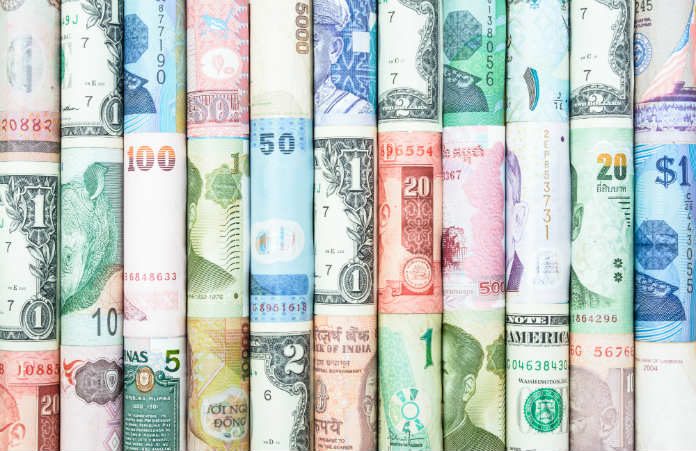 Some tour companies are adding surcharges to their advertised prices, even where people have already booked and paid. At the moment, it is largely skiing holidays that are affected but we may see this ripple out to more types of holiday as the season progresses.
Some travel companies are blaming "uncertainty" for the surcharges, as we're still not sure where we'll be when 31st October finally arrives.
Since most travel companies actually buy currency ahead, it may well be that they failed to hedge the risk properly and have found themselves caught out by currency movements. They may now be seeking to recover this money.
The extra charges can be substantial with some families having to pay out £200–£300 more than expected.
With many travellers only finding out about the surcharge a month before they are due to travel, cancellation won't help them as most of them are too near the holiday dates to be able to get a refund. It is worth checking your booking terms and conditions to see if there is a nasty little clause saying that a surcharge can be added in the case of currency movements.
Remember, this can be easily avoided by purchasing your holiday money through SkyParkSecure. There are no hidden fees or extra charges with our comparison tool!
Still Confused?

Don't worry about it, you're not the only one! Here's what it means in simpler terms…
The below information has been provided by ABTA to help UK travellers.
How will Brexit affect my holiday?
Until the UK officially leaves the EU, there will be no changes to holiday arrangements. Travellers are as free to move between the UK and the EU as they were before the vote, European Health Insurance Cards remain valid and regulations such as Air Passenger Rights remain in place.
I'm going to Europe this summer, is my passport still valid?
Yes. Until the UK officially leaves the EU there will be no changes to passports.
Can I still get compensation if my flight is delayed or cancelled?
Yes. There will be no immediate changes to claiming compensation if your flight is delayed or cancelled. The UK Government will need to implement a new law on compensation for flight delays and compensation after we leave the EU.
What about duty-free? Can I still bring goods home?
You can still bring home unlimited goods until we officially leave the EU. The free movement of goods will be part of a negotiated settlement with the EU.
What about using my mobile phone abroad? Will roaming charges increase?
There will be no immediate changes to using your phone abroad, and there won't be an immediate impact on charges. The UK Government will need to implement a new law on roaming charges after we leave the EU, otherwise the service providers will be free to set roaming charges.
Can I still take money out from cashpoints abroad?
Yes, you can continue to take out cash, as normal.
Will it be more expensive to go on holiday abroad?
Not necessarily. If you are travelling abroad and you have already paid for all of your travel arrangements, as part of a package holiday for example, then you will be protected to a large degree from a drop in the value of the pound. However, your spending power while abroad will be impacted in the event of a weaker pound, making it more expensive to buy things like meals and drinks.
What does this mean for the price of my holiday abroad?
If you are travelling abroad and you have already paid for all of your travel arrangements, as part of a package holiday for example, then you will be protected to a large degree from a drop in the value of the pound. People paying for overseas accommodation in other currencies (e.g. in euros or dollars) can expect to pay more in the event of a weaker pound.
Will the cost of flights increase?
A weaker pound may impact the cost of flights in the short term, in the longer term the UK Government will seek to negotiate full access to the EU's common aviation market, which has delivered the open skies arrangements we have today.