With summer ending, many of us will be booking and preparing for autumn and winter breaks, however you might find that cutting costs by only taking hand luggage becomes considerably trickier when you're trying to fit jumpers and woolly socks in your bag over bikinis and swim shorts.
However, with prior organisation and handy tips – it can be done, and travel experts at SkyParkSecure are here to explain how it's done!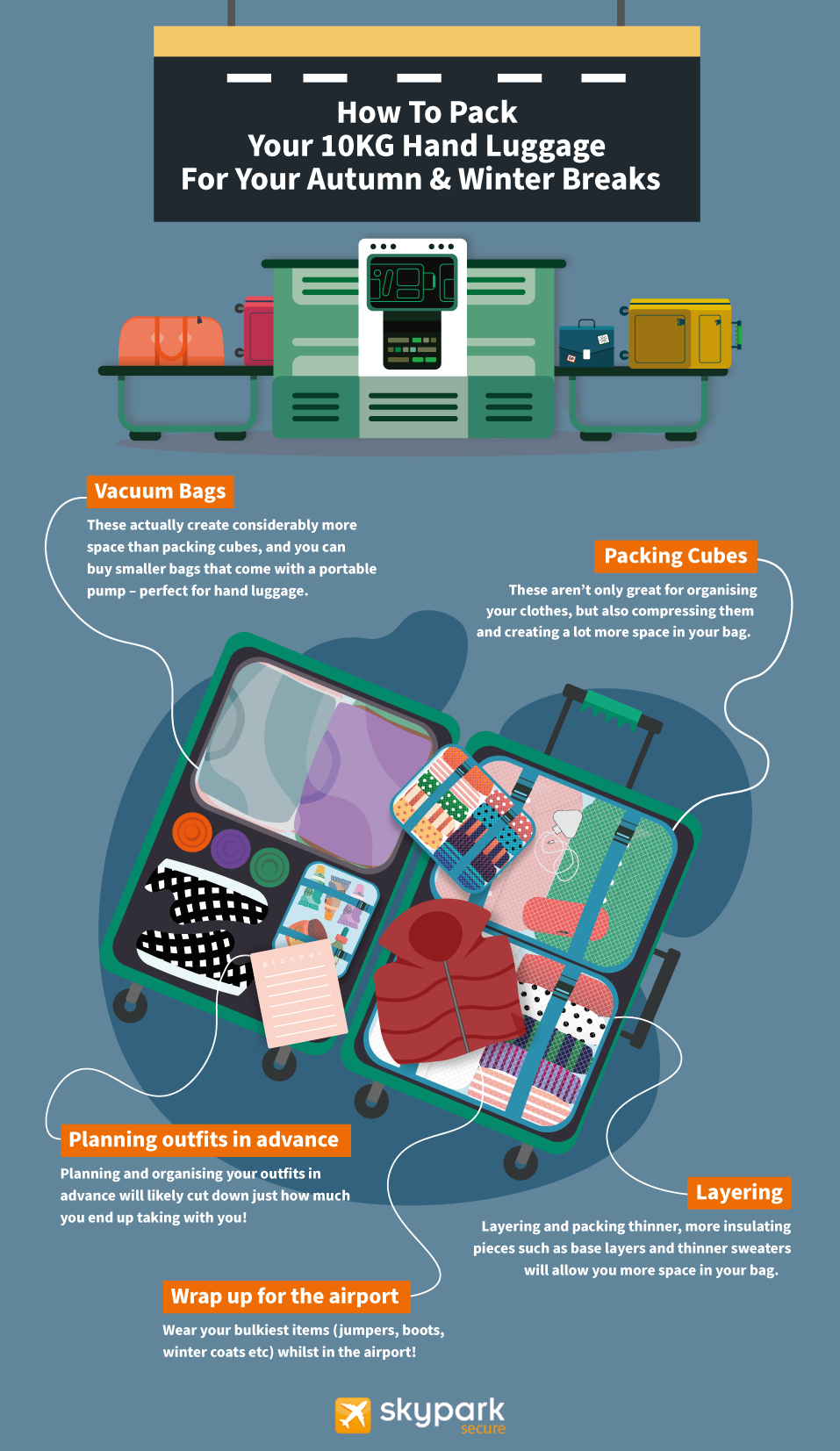 Invest In Packing Cubes
Packing cubes have skyrocketed in popularity over the last 12 months, with searches increasing by 54%**. The small cubes not only help you organise your clothes, accessories, and toiletries so you know where everything is when you arrive at your destination, but they also compress your clothes down – leaving you with considerably more space.
You can buy the cubes in varying sizes – with smaller ones being more suitable for hand luggage bags.
They also have a huge advantage when you get back from your trip – with you easily being able to separate light clothes from dark clothes, or clean cloths from dirty, making that dreaded post-holiday washing load a bit simpler.
Use Vacuum Bags
Like packing cubes, these are a great way compress your clothes down and create a lot more space in your bag – with these creating considerably more space than packing cubes.
You can also purchase mini pumps that easily fit inside your bag, so you don't have to worry about space on the way back either. However – it might be worth checking ahead if your accommodation has an iron, as they can leave your clothes a little bit creased.
Plan Your Outfits In Advance
SkyParkSecure recently found that almost 40% of Brits plan their holiday outfits in advance – and this is a great way to cut down how much you're packing and taking up unnecessary space.
For winter holidays especially, look at pieces you can wear more than once – is there one jumper or hoodie you can wear over thinner t-shirts to make room, or ask yourself – do you really need two pairs of shoes?
Be Smart With Your Materials
One of the reasons we like to pack heavy is so we don't have to re-wear the same thing over and over again – especially as many accommodation options don't come with washing facilities.
However, it's worth noting that some materials don't need washing as frequently as others. Wool especially is incredibly odour and stain-resistant and will air dry quickly if you do need to wash. Wool clothing also doesn't wrinkle or crease – especially handy if you are using methods such as vacuum bags.
Merino, alpaca and hemp wool are great options – alongside leather (which also has the benefit of being waterproof). Whilst not the best options for a colder winter breaks, linen and silk are also very odour resistant.
If you want to take a jacket that is sure you keep you toasty and warm, but not take up too much room, Down jackets are a great option – folding up small and also having the benefit of being weather resistant.
Layer Up
If you really want to take multiple options, it might be worth considering forgoing the bulky jumpers and jackets and instead packing multiple thinner, insulating layers – just because clothing is thin doesn't mean it won't keep you warm!
Base layers, thinner sweaters and long sleeve t-shirts will still keep you toasty if made with insulating material and layered up and will save you so much space in your case.
Wrap Up For The Airport
No matter how many hacks you try – if you wanted to take multiple woolly jumpers, or more than one winter coat, it more than likely won't fit in your bag. The key is to wear your heaviest clothing to travel in, such as your winter coat and thickest jumper – whilst maybe layering a few t-shirts underneath and even doubling up on socks!
You might find yourself feeling a bit toasty in the airport – but you will most likely being able to put them in the overhead locker on the plane, and you'll thank yourself when you don't fall short of clothes when you're on your holiday.