The 1,016km Pacific coastline of Costa Rica is a vast playground for scuba divers around the world.
But with so much choice, what are the five best scuba diving adventures in the area?
5) Anamaya Resort Yoga and Scuba Certification Retreat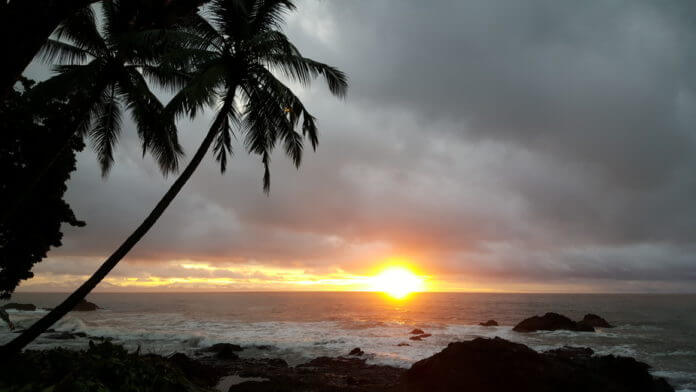 While scuba diving is a popular activity in Costa Rica, yoga can be a great addition with this aquatic sport where you can maximize your relaxation and rejuvenation.
Located in Montezuma, Anamaya Resort offers this great package to all yogis who want to be exposed to the beauty of Costa Rica's underwater realm.
This is a week-long retreat where you can do an early morning meditation on the resort's yoga deck while having a great view of the mountain cliff and the Pacific Ocean. Then you can proceed with your scuba certification and explore Montezuma's rich marine life and healthy reef system.
After your scuba certification, you will receive your Certification card sanctioned by CMAS World Underwater Federation to use on your next vacation by signing up for a dive tour or equipment rental or purchase.
The food in Anamaya is known to be one of the country's healthiest foods where you can have the option to go vegan, vegetarian or gluten free. What's best with Anamaya is you will be dining in their roof deck where Anamaya Resort is known to offer one of the best views in Costa Rica.
For more information, you can read an article on Anamaya Resort Yoga and Scuba Certification Retreat here!
4) Bat Island Dive Trip
Located 48km north west of Playa del Coco, Bat Island is one of the most adventurous diving experiences in Costa Rica.
Also known as Islas Murcielagos, your dive will usually include a one-hour boat ride and an anchor line descent once you arrive at the site. You might even come face-to-face with a bull shark!
Aside from the big boys of the deep, you can see other big marine species such manta rays, which is a little bit less scary. But despite its underwater beauty, diving in Bat Island requires a minimum of Advanced Open Water Scuba certification as your advanced skills will be put to the test.
For more information, you can read an article on Bat Island here!
3) Cano Island National Marine Reserve

393Cano Island, Osa Peninsular, Costa Rica. An unspoiled beach on a protected island in a national parkThis small island located 16km west of Punta Llorona in Osa Peninsula is one of the must-see destinations in Costa Rica.
Taking a 20-minute boat ride from Drake Bay or 80 minutes from Uvita will land you at Cano Island, where you can see whitetip sharks having a rest from their night feeding.
Aside from schools of medium-sized fish like snappers, the highlight of your dive in Cano Island is that you can encounter a giant grouper that weighs at least 500 pounds and has become relatively friendly to divers.
But be sure to make your reservation as the management of this park system only allows a limited number of divers visiting each day!
2) Cocos Island Hammerhead Sharks

Considered as the best dive spot in Costa Rica, Cocos Island is one of the few places on Earth where you can go diving with hundreds of hammerhead sharks.
The good thing about this experience is that you can have a close interaction with hammerhead sharks courtesy of the cleaning station where they lie motionless while being cleaned of dead skin, parasites and bacteria.
Due to the 550km distance from the mainland, you will go diving in Cocos Island by signing up through a liveaboard cruise. The hammerheads can be found in the 20 dive sites surrounding this offshore Costa Rican island.
1) Wreck Dives of Montezuma/Tortuga Area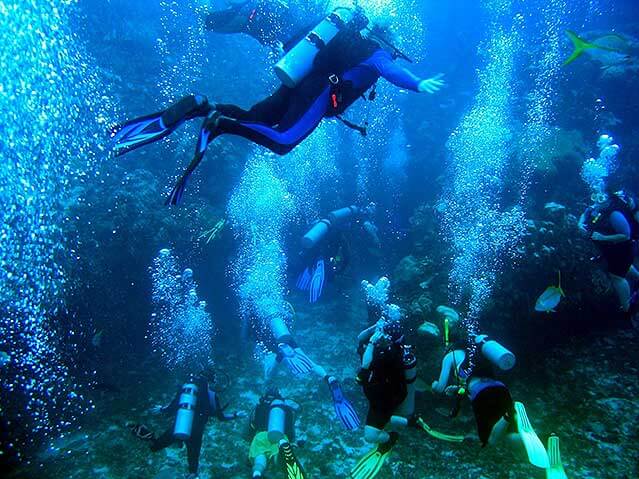 Located in the southern Nicoya Peninsula, Montezuma is famous for wreck diving, as it's the only place in Central America where you can explore multiple shipwrecks at one site.
To be exact, there are six shipwrecks in the entire Montezuma area. Two of the three remaining shipwrecks are located in the protected areas of Cabo Blanco National Park, which includes the Grand Ranger deemed to be largest Costa Rican shipwreck.
If you are lucky to visit Montezuma on a calm day, you can go diving in the wreck located in a shallow and rocky area. Regardless of what shipwreck you want to explore, there is one thing common between them: they are all filled and encrusted with marine life.
For more information, you can read an article on Wreck Dives of Montezuma / Tortuga Area here!
So the moment you arrive in Costa Rica, don't waste a minute! Gear up and be ready to get wet as you explore these five great diving adventures.