This week, Steve and the team at SkyParkSecure attended the Business Travel Show 2018.
The Business Travel Show is an annual event held at Olympia London, where businesses from across the globe convene to interact with each other, as well as show the commercial world what they have to offer.
The SkyParkSecure team was out in force, and it was great to speak to so many peers about just what we can offer, and how we can benefit each other.
While we were there, we kept hearing some of the same questions crop up time and again, so we thought we'd go over them here on the blog in case you've ever wondered them yourself!
Here we go:
Which UK Airports Do You Cover?
We cover all 28 major UK airports. A full list is available right here.
Do You Offer European Parking?
Outside the UK, we currently have an office based in Poland and have plans to expand further into Europe over the next five years.
Do I Need a Business Account to Make Bookings?
No, if you're happier just booking on a case-by-case basis, that's absolutely fine!
Since everyone benefits from our fantastically low prices, we usually recommend business accounts for companies making higher volume bookings, as they allow invoicing and purchase order number allocation to help with your own internal expenses.
However if you'd rather just input a promo code and take advantage of great value airport parking, feel free to do just that!
If you caught us at the show you can use the exclusive promo code to get a great discount for your business travel.
If you'd like to find out about this code or our other discounts email us at info@skyparksecure.com.
Is There a Minimum Spend for Business Accounts?
There's no minimum spend, but we would only recommend having a business account if you exceed a certain volume of bookings.
Are You Integrated with Any Expense Platforms?
We have full integration with the Concur platform.
If you already have accounts with both SkyParkSecure and Concur, you can easily link the two together.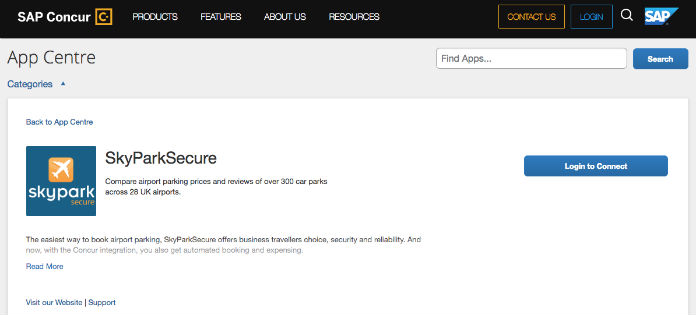 Simply log in to Concur and then select the option to connect your SkyParkSecure account.
If you have a Concur account already, but not a SkyParkSecure account, click this link and you can create one in seconds.
And that's just about everything!
If you have any other questions for us, whether it's for business or personal airport parking, please contact us today!
And enjoy the rest of our gallery below!