Many travel guides are dedicated to romantic adventures and trips with the family. But what about those of us that prefer our own company?
We've outlined our favourite destinations that you should explore without your friends and family.
So what exactly are you looking to do?
Experience the Local Culture at Your Own Pace
It's nice to go on a group trip to see the local sights, but how often do you find yourself being dragged away from something you're enjoying? Or spending loads of time seeing things you're not that interested in?
When you're on a solo trip, there's no such issue!
Let's begin with somewhere pretty close to home to start with. Paris is packed to the rafters with museums and art galleries, all of which you can explore at your own pace.
Now, since there's so much to see and do, it can work out pretty expensive. But if you buy a Paris Museum Pass, you'll get to see more than 50 museums for less than 70 quid!
Other than that, there's absolutely tonnes to see in France, and since you're not too far from home, the homesickness won't be too great.
However if you are feeling a little braver, why not venture to Bhutan? Although it shares a border with China, the culture shock is likely to be absolutely massive, so dive in feet first and do it solo.
Pre-book a tour and see a place that's so far removed from the commercialised West it's almost unbelievable! Plastic bags and tobacco have both been banned, and home comforts such as roads and even electricity are a fairly recent introduction to the area.
This is the ultimate way to let go of your inhibitions and your familiarities. A trip like this with a friend or partner will take away some of that fish-out-of-water experience, so this is one best enjoyed alone.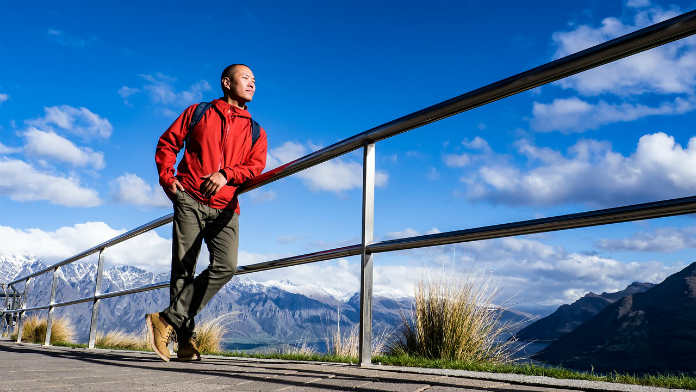 Last but not least you can take a trip to Queenstown, New Zealand which has the perfect balance of adventure and familiarity.
Any Brit will feel right at home in this English-speaking country, and Kiwis are famously friendly as well. Things you'll struggle to do back home include bungee jumping among the country's sweeping hills, or visiting the real-life Hobbiton.
Plus, there's plenty of natural scenery to admire if you're visiting purely to relax and reflect (and maybe write that novel you've been planning).
Meet New People
Just because you're travelling alone, it doesn't mean you have to stay on your own.
Many people enjoy travelling solo in order to forge new relationships and make memories with completely new people, but whereabouts is best to do just that?
Seville in Spain is as hospitable as it is hot! The city lives and dies on the streets, and many say that if you hang out outside long enough, adventure will find you.
There seems to be a never-ending stream of parades, carnivals and celebrations, and in a country as hot as Spain, no one wants to be cooped up indoors.
As well as the ridiculously friendly locals, it's also popular with other travellers, so if your Spanish is a little rusty, it's not difficult to strike up a conversation with someone.
Of course there are hundreds of locations where the locals welcome you with open arms, but we want to suggest a couple of places in North America.
New York is known as The City That Never Sleeps, and once you visit you'll find out why.
You're spoiled for choice when it comes to bars, breweries and clubs, and even more so when it comes to people wanting you to join their party. Let the drinks flow!
Or, head to Alaska where almost a fifth of tourists make the trip alone.
If could be the glacial scenery or the incredible sights when you go whale watching, but there's something about Alaska that'll take your breath away. And with so many others flying solo, you won't struggle to find a buddy to share your adventure with.
Hang With the Locals
There's a difference between seeing the sights and really experiencing the local culture, and it lies with the people who live there.
Because what is a city without its inhabitants?
Melbourne, Australia is one of the most popular spots in the country, with a perfect mix of stunning beaches and a thriving city. Most Aussies will welcome you with open arms, even if they take the mick out of you first, and it's super easy to make friends.
Meanwhile, the Mayan ruins of Guatemala are unlike anything you'll see anywhere else, and there's no limit to the number of adventure activities you can take part in.
But if you really want to try something new, Guatemala is a brilliant opportunity to get deeply involved in the local culture. Learn the language, do a bit of volunteering; you can even head out into the jungle and see an active volcano! How's that for trying something new?
On the less death-defying side, Bangkok has always had a bit of a reputation for the exciting and the unusual. Despite the hustle and bustle, it's surprisingly easy to make friends with the locals, who are normally enamoured with visitors and more than willing to show you the sights.
So there you have it! Have we encouraged you to step out into the world on your own? Where's the first place you'll hit? Let us know in the comments!