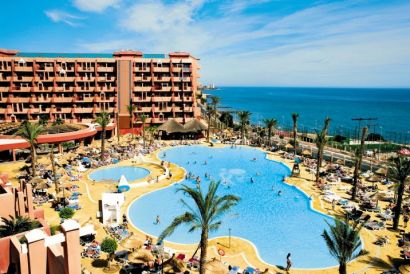 If you look around for reviews on the Holiday Village at Benalmadena they are a very mixed bag. People seem to either love it or hate it.
I had a bit of a worry before we went because when someone tells you 3 days before you go on holiday that your chosen hotel is 'brilliant, just like Butlin's in Spain' it can have one of two effects on you. If you like Butlin's the effect is likely to be one of unbridled joy. If you aren't so keen, it can make you feel a little quesy – especially given the hefty price tag.
Perhaps unfairly, given that I've not been in years, I have a certain image in my mind when it comes to Butlin's; it isn't a pretty one and it involves getting either ill or beaten up, or indeed both.
More specifically, my concerns were that firstly, the food would be dreadful, given that it was likely to be mass catering.
Secondly, the entertainment would be shocking and would involve me being dragged onto a stage in front of a large crowd to show the world how I look in some stranger's wife's dress. It wouldn't be the first time.
My biggest concern however was based on some of the accomodation I've stayed in at Butlin's down the years. If I were to describe it as a pig-sty, I would be doing a disservice to the one that I found on my return home (lesson #1: never let a student house-sit).
My concerns were, thankfully completely unfounded.
The rooms were spacious, comfortable and very clean.
The food was very good – not exceptional (try a Riu Palace for that!) but it was good. Other reviewers comments about there being nothing but fried food are complete nonsense. You could quite easily eat nothing but fried food but there are plenty of other options. There are different themed nights which provide a wider range of food and they're a bit of fun. These were mostly ok.
The kids loved the chocolate fountain on Gala Night and I nearly did a Geraldine Granger and went in.
The entertainment was fine – I'm not really into that kind of entertainment at all but it was really good for the kids and they loved it.
The kids club and facilities for the kids were spectacular – always something brilliant to do. My daughter did 3 days in Stage School, my son did archery, raft building etc etc. Both aged 7, they just had a great time.
The pools are quite something. After a bit of a schlep over a bridge to the Beach Club you're greeted by pool after pool with a great range of facilities and plenty of sun beds. The pool by the main hotel filled up very quickly and was difficult to find a spot by, but over the road there was always plenty of sun beds, despite it being one of the busiest weeks of the year.
All in all the Holiday Village is a great place for a family holiday. I don't think I'd put it at 4 star just because I've stayed at other 4 stars in Spain that are far superior, but it is nice and clean. Anyone with kids will have a great time.