Planning a long weekend in Barcelona? Wondering what you should prioritise to make the most of your trip?
We've put together a 3-day itinerary especially for y10ou to make sure you see and do a bit of everything!
DAY 1
First Stop – Mercat De La Boqueria
The best place to start your trip is at Barcelona's central produce market.
Situated on La Ramblas, the array of smells and explosion of vibrant colours spilling from the stalls will be sure to put you on the right tracks for a great trip.
With Knowledge of La Bouqueria dating back to 1217, it's safe to say it's now a tourist attraction in its own right, however locals still flock to the market every day. Some of the city's finest restaurants even source their meat here.
Grab yourself a bite to eat and get ready for your next stop!
Second Stop – La Sagrada Familia
After filling up on some of the best food the market has to offer, one of our favourite things to do in Barcelona is to head over to the jaw-dropping La Sagrada Familia, a Roman Catholic church designed by Catalan architect Antoni Gaudí in 1882.
Gaudi said that his clients were 'in no rush' and he wasn't wrong — the church is still not finished today and isn't expected to be finished until 2026, 100 years on from Gaudi's death!
However, this takes nothing away from its unrivalled beauty. There is no building like it — a must see in any visit to Barcelona.
Third Stop – Razzmatazz
Barcelona has a huge selection of places to choose from when heading out for the night, however our favourite here at SkyParkSecure is Razzmatazz.
With five rooms to choose from, it's like going to five clubs all at once. Head downstairs for some indie rock at the Razz Club, or wander over to the Pop Room or Rex Room for some assorted pop, electro and disco music.
But the crowning jewels are the techno and dance flavours of Lolita and The Loft. This immense space with a banging sound system and superb atmosphere regularly hosts house and techno's biggest names and there's no better environment to experience them.
DAY 2
First Stop – The Beach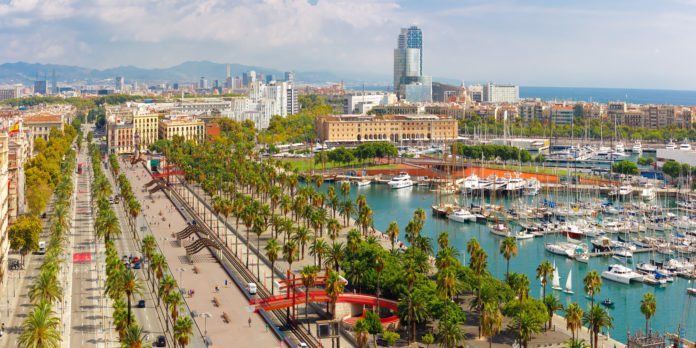 After a late night at Razzmatazz, why not get up a little bit later and relax on the beach?
Barceloneta Beach is in the traditional fishing district, and is one of Barcelona's oldest and best-loved beaches. And it has loads of surrounding bars and restaurants where you can grab some excellent tapas.
If you're looking to avoid the big crowds then go in search of Bogatell Beach, a serene beach that's cleaner and calmer than the Barceloneta stretches. It's just a 15-minute walk from Bogatell Metro Station.
Second Stop – Camp Nou
No trip to Barcelona would be complete without at trip to Camp Nou.
Home of the legendary Barcelona Football Club, the stadium — built in 1957 and enlarged for the 1982 World Cup — is one of the world's biggest, holding nearly 100,000 people.
Take a tour and have a look in the dressing rooms, the bulging trophy room, walk through the tunnel or learn about the greats like Messi, Ronaldiniho and Maradona.
If you're lucky enough to be here on a match day, then be sure to grab some tickets. Attending a game amid the roar of the crowds and watching some of the best players on the planet is sure to be an unforgettable experience.
Third Stop – La Rambla
Still some time left in the day to fit something in? Take a stroll down La Rambla, Barcelona's most famous street.
La Rambla is a pedestrian boulevard, bustling with activity until the early hours. See incredible street performers, buskers, mimes and living statues, then sit down and have a bite to eat in one of the many restaurants.
DAY 3
First Stop – Park Guell
Another one of our favourite things to do in Barcelona is explore Park Guell.
Park Guell is a public park system composed of gardens and architectonic elements located on Carmen Hill. Guadi was originally instructed to build a miniature village of houses for the wealthy but the project flopped and in 1922 the city bought the estate and opened it as a public park.
Park Guell is a truly remarkable place and a must see if you're heading to Barcelona. Take a stroll around and be blown away by the beauty of the architecture on show, such as the Serpentine Bench, Doric Temple and the Hansel and Gretel Gates.
Second Stop – Museu Picasso
Need a break from Gaudi? Then the Picasso Museum will be perfect.
You would be crazy to come to Barcelona and miss out of this — the museum concentrates on Picasso's more formative years but does give a good insight into his later and more known work.
The collection, which includes more than 3500 artworks, is strongest on Picasso's earliest years, up until 1904, which is apt considering that the artist spent his early creative years in Barcelona.
Third Stop – Montjuic's Magic Fountain
To end an unforgettable trip it has to be the magic fountain!
Designed by Charles Buigas and first shown at the Great Universal Exhibition in 1929, the fountain is still as magical today.
A spectacular display of colour, light, motion, music and water acrobatics is sure to end your trip in style.