Travelling to a new destination is always inspiring: after all, you're getting to experience a whole new culture, see new sights, and sample different cuisines. And, with holidays creating tonnes of everlasting memories, it makes sense that you might want to commemorate one of your favourite places in the world by naming your child after it.
With a rise in popularity of naming children after cities and countries, we decided to take a look at ONS data for England and Wales over the last 20 years, to see which of the most popular names could have been inspired by some of the world's most iconic landmarks, cities, and countries.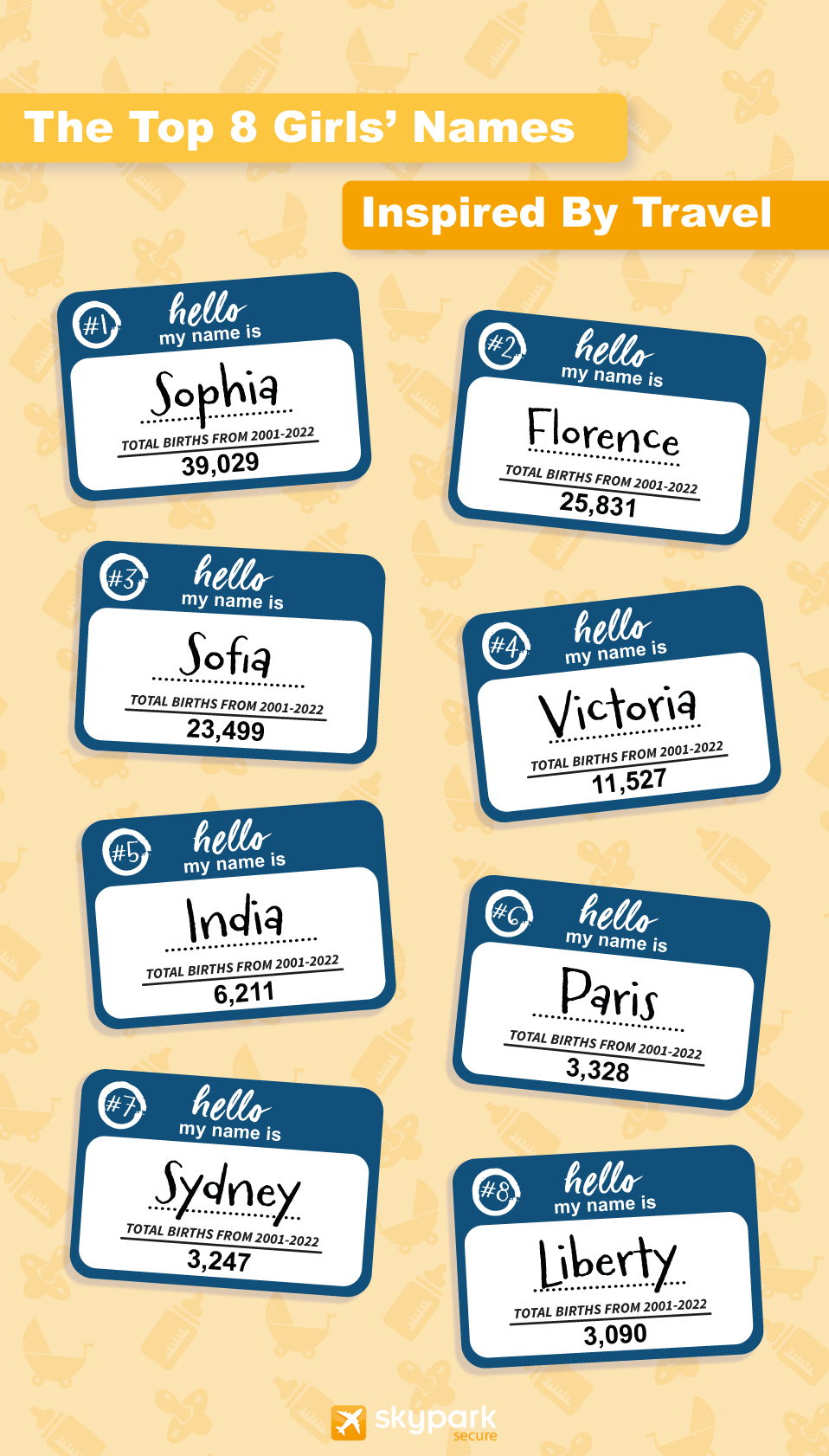 Top girls' names inspired by travel
With 39,029 Sophia's born over the last 20 years, this beautiful name has made it to the top of our list, and could have been inspired by Istanbul's ornate mosque: Hagia Sophia, which is nestled in the heart of Istanbul's old city.
In second place, is the pretty name Florence, with 25,831 names registered over the last 20 years. Located in central Italy, Florence is well-known for being picture-perfect, from its famous duomo that looms over the city, and the Uffizi, which is known to be one of the best galleries in Europe; and could have been the namesake for thousands of children across the country.
In third place is the alternate spelling of our most popular name, Sofia, which could have been inspired by Bulgaria's capital, Sofia (23,499 registrations), which is known for its ornate buildings, including Alexander Nevsky cathedral, and the former mineral baths.
Victoria is in fourth place, with 11,527 registrations, and could refer to a number of destinations, including Victoria Falls, which can be found on the border of Zimbabwe and Zambia, the capital city of Canada's British Columbia, as well as a region in Australia, where Melbourne is located. The other potential Australian-inspired name to make our list is Sydney, with 3,247 registrations.
Paris is the other name on our list that could have taken inspiration from European cities, with 3,328 registrations respectively. Aside from the iconic socialite Paris Hilton, babies named Paris could have been named after the city of love (and fashion), home to some iconic sights, including the Eiffel Tower, Champs-Elysees, and the Louvre.
With 6,211 registrations, India comes in fifth place, and if you've been to this beautiful country, you can see why you might want to name your baby girl after it – from the awe-inspiring Taj Mahal, to the majestic Sri Harmandir Sahib, and the golden beaches of Goa, there's no end of wonders in this country.
The final name that makes it into our top eight list is Liberty, which could have been inspired by New York's iconic Statue of Liberty.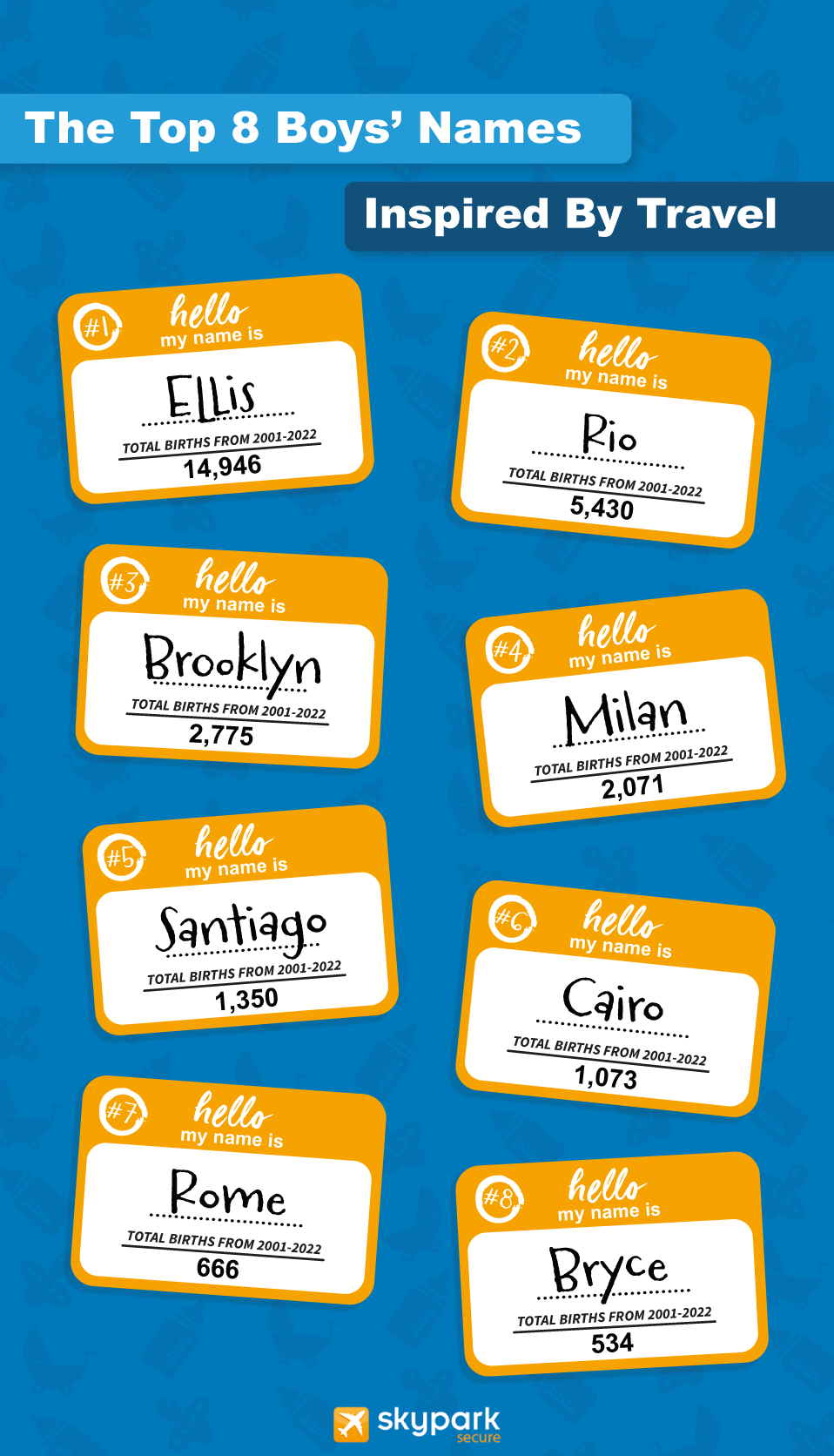 Top boys' names inspired by travel
If we then look to the most popular boys' names over the last 20 years, we can see there could be a huge influence coming from North and South America.
With 14,946 registrations, Ellis comes out on top, which may take inspiration from New York's Ellis Island, which is famous for being the entry point for more than 12 million immigrants who were looking to start a new life in the USA in the early 1900s.
With 5,430 registrations, Rio is in second place, which could have taken inspiration from one of Brazil's biggest cities, which is known for its many iconic attractions, including Copacabana Beach, Christ the Redeemer, and Sugarloaf Mountain… not to mention its unrivalled party scene.
Heading back to New York, Brooklyn makes it into third place – perhaps partly inspired by David and Victoria Beckham's oldest child, but also the edgiest suburb of New York City. Santiago and Bryce are the final names that could have been inspired by this part of the world, with Santiago taking inspiration from Chile's capital, which is surrounded by the snow-capped Andes, and Bryce from Bryce Canyon National Park, in Utah.
Milan and Rome are the two boys' names that could potentially take inspiration from Italy, whereas Egypt's capital may have inspired 1,073 people to name their children after it. Often known as the gateway to the pyramids of Giza, Cairo's rich history of pharaohs makes it a powerful, majestic name.
Whether or not you're looking for some baby name inspiration, have we convinced you to book your next holiday? Whether you love a long-haul destination, a weekend city trip, or a relaxing beach break, there's no end of places in the world to discover.
Once you've booked your flights, don't forget to sort your airport parking – or, if you're catching an early morning flight, why not take a look at our airport hotels with parking? It'll take the stress out of getting to and from the airport, meaning you can spend more time relaxing and enjoying yourself.
Methodology
Sources:
Methodology:
Data for all newborn names for boys and girls across England and Wales between 2001 and 2021 was collected from the ONS. Newborn names with 2 or less occurrences were excluded for data privacy reasons. This list was then cross referenced with names of countries, popular cities, and popular landmarks, to identify how many newborns could be named after them. The data provided is split by gender and years, for each year between 2001 and 2021. Three percentage change calculations are also included for each gender table, to see how the popularity of certain names has grown or fallen. One is for the last 20 years, one is for the last 10 years, and one is for the last 5 years.