As you will already know, the Coronavirus pandemic has made all those things we look forward to difficult this year. One of those events being the Munich Oktoberfest.
Unfortunately, due to the events of 2020, the celebration has been cancelled this year, but it doesn't mean you can't enjoy some of the best German beers which are normally featured at the event!
Munich's Oktoberfest is the biggest and best beer festival in the world, and it's also one of Germany's most popular tourist attractions.
On average, the festival serves 7.3 million litres of beer — that's enough to fill three Olympic-sized swimming pools!
But with such uncertainty about the event before it's cancellation, the official Oktoberfest website launched a delivery service just in time to get your beer fix!
The event normally runs between September and October, and so we have found the best way to try all those beers and traditional snacks is in the form of a treat box, all the way from Germany.
If you are overseas, the website offers international delivery, so you don't have to feel like you are missing out!
What's So Special About the Beers at Oktoberfest?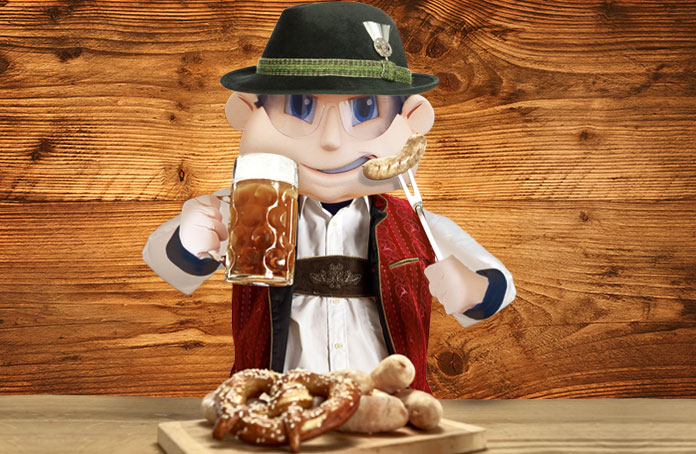 Beer served at Oktoberfest has to be brewed within Munich, and it must conform to the Reinheitsgebot (or the "German Beer Purity Law").
The Reinheitsgebot is basically a series of regulations which dictate which ingredients can be used in beer. It's based on a 1516 Bavarian law which stated the only ingredients permitted were water, barley and hops. Yeast was later added to the list as its existence became known.
The revised Vorläufiges Biergesetz (Provisional Beer Law) of 1993 replaced the earlier regulations and is a slightly expanded version of the Reinheitsgebot.
It stipulates that only water, malted barley, hops and yeast can be used for any bottom-fermented beer brewed in Germany. The law also allows the use of powdered or ground hops and hop extracts, as well as stabilization and fining agents such as PVPP.
The Beers
At Oktoberfest, there are six breweries that brew beer in Munich and conform to the Reinheitsgebot:
Augustiner – 5.2%
Augustiner was founded in 1328, with its most popular beer being Helles, a pale beer known for its long fermentation. Augustiner beers are normally available at the Fischer-Vroni and Augustiner-Bräu tents. The Oktoberfest website doesn't currently have any Augustiner as part of a gift box, however Beer Hawk currently has stock which can be shipped straight to your door!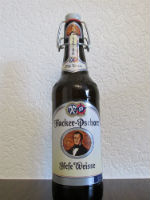 Hacker-Pschorr – 5.8%
The newest brewery at Oktoberfest, the Hacker and Pschorr breweries were previously established but only merged in 1972! Back in 1810, what would go on to be Hacker-Pschorr created a beer for the wedding celebration of Prince Ludwig I of Bavaria and Therese of Saxe-Hildburghausen.
This single event marks the origin of Oktoberfest and would go on to be celebrated each year! Hacker-Pschorr is available on the online Oktoberfest shop and includes a Stein and other Oktoberfest treats alongside it.
Hofbräu – 6.3%
You can't get much more Munich than Hofbräu as this Brewery is actually owned by the Bavarian state government. The reason is that it was founded as the Kingdom of Bavaria's royal brewery, and many of the original beers are still made today.
Hofbräu's beers are normally available at — surprise surprise — the Hofbräu tent, however the online Oktoberfest shop has a box available for Hofbräu with other goodies tucked inside this year.
Löwenbräu – 6.1%
Löwenbräu means lion's brew in German, and the brewery was established back in 1383. Their signature brew has the honour of featuring at every Oktoberfest since the first back in 1810. The Oktoberfest online shop has put together a special box for Löwenbräu fans, which includes the traditional glass it is consumed in, as well as a gingerbread biscuit and other snacks!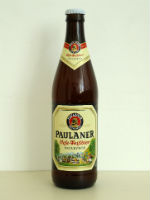 Paulaner 5.5%
Since 1634 Paulaner was brewed by monks, and the name even refers to the order's founder Francis of Paola. Paulaner was one of the first brewers at Oktoberfest and is one of the most successful breweries in all of Germany. You can purchase a Paulaner box from the online store for this year's Oktoberfest instead!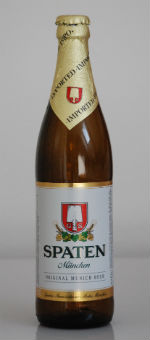 Spaten-Franziskaner – 5%
The monk-fronted Spaten-Franziskaner brewery is known for its range of beers, including its pils and weissbier. The Oktoberfestbier is normally available available at the Marstall, Schottenhamel and Ochsenbraterei tents. However this year, due to the event's cancellation, the online Oktoberfest shop has a treat box available similar to the other beers which can be purchased instead.
The Oktoberfest treat boxes vary in price and for a lower price, you can instead purchase any of the beers with pretzels instead. Much like the Hacker Pschorr which comes with 2 traditional large pretzels and a bread board.