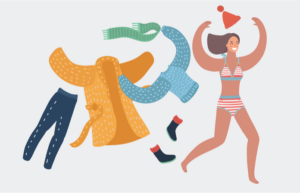 So we've arrived in 2021 and it seems like that glorious summer of freedom in 2019 was decades ago.
Here's to hoping we can get some well-needed vitamin D soon! Provided we are out of lockdown, here's the best places to visit when we are (hopefully) free again in March.
So whether you want to travel for four hours or 14, we've found the world's best locations for hot weather in March.
Ready to find that winter sun? Let's go!
4 Hours Away – Rabat, Morocco – Highs of 20°C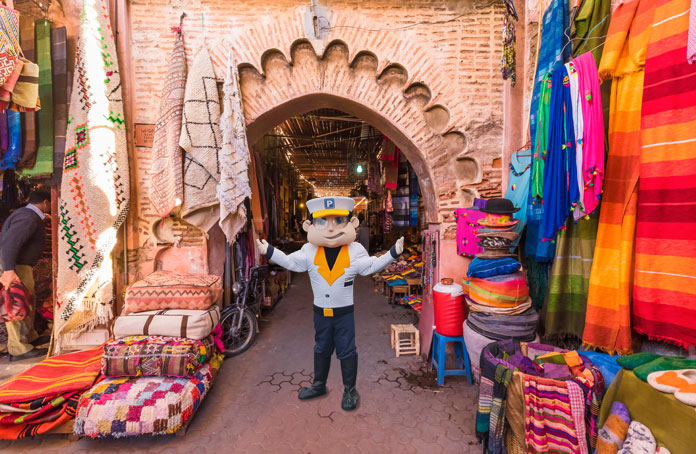 Morocco's capital may not be its best-known city, but there's still plenty to see and do in the comfortable 21° heat. The city centre is pleasantly compact, and its position on the coast means you can enjoy both the beauty of the beach and the hustle bustle of a thriving centre.
Must See: Hassan Tower
An UNESCO World Heritage landmark, this minaret of an unfinished mosque is a historical marvel that will send you back to another time.
Must Do: Le Dhow
Le Dhow is a boat restaurant and bar that's guaranteed to give you a unique experience. Don't leave Morocco without taking enjoying the fantastic views of the Bou Regreg river.
5 Hours Away – Cairo, Egypt – Highs of 24°C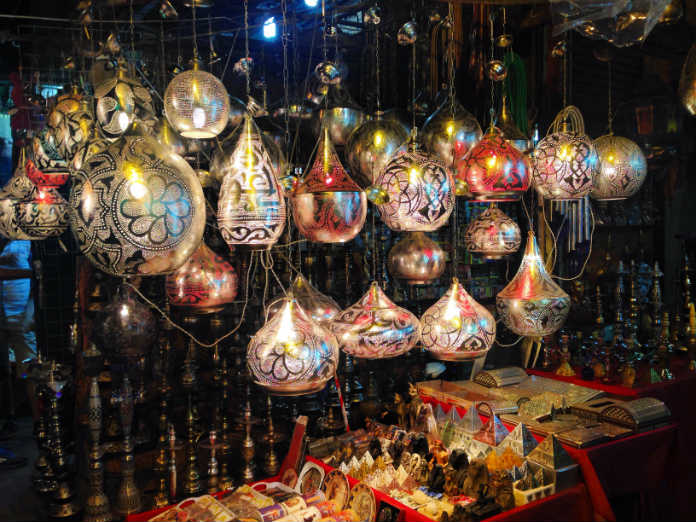 This capital is commonly associated with hot deserts, and even in winter it's still warm at a comfortable 21°. Old Cairo is a refreshing look back at the city's history and art buffs should see what exhibitions are happening at the Townhouse Gallery.
Must See: Pyramids of Giza
This may be cheating a little bit, but they're just 20 minutes down the road and across the Nile! If you're visiting Egypt for the first time, you can't miss these world-famous landmarks.
Must Do: Khan el Khalili
This open-air market can be a bit hectic, but that's part of the fun. Just make sure you've mastered the art of bartering before you enter.
6 Hours Away – Banjul, The Gambia – Avg temp 34°C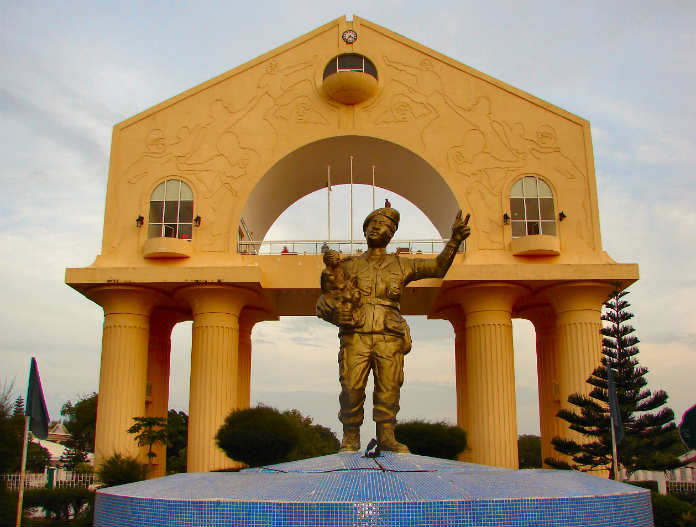 The Gambia is a brilliant destination if you want to save a bit of cash on your winter holiday, and it's definitely very hot in March. From Albert Market to Abuko Nature Reserve, there's a little something for everyone.
Must See: Arch 22
This famous arch sits above Independence Drive and was built to celebrate the military coup on 22 July 1994, where former President Dawda Jawara was overthrown. Be sure to take a look inside all three floors.
Must Do: Gambia National Museum
Also located on Independence Drive along with several other attractions, the National Museum is a great place to discover The Gambia's history and contribution to African culture.
7 Hours Away – Abu Dhabi, United Arab Emirates – Highs of 28°C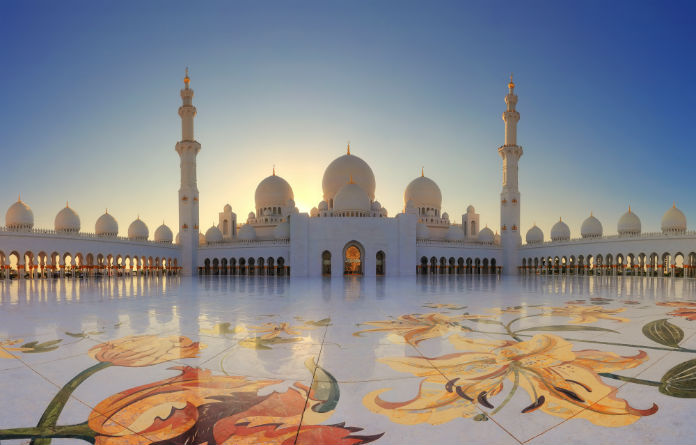 The city that's renowned for its extravagance also has hidden depths. Visit the incredible Sheikh Zayed Grand Mosque in the daytime and then admire the amazing contemporary skyline at night.
Must See: Sheikh Zayed Mosque
It's all about size with this place of worship. The largest mosque in the United Arab Emirates can hold more than 40,000 worshippers and the carpet in the main prayer hall is 60,570 sq ft!
Must Do: Ferrari World
Whether it's roller coasters or racing cars, thrill seekers should ensure they visit Ferrari World. It's home to Formula Rossa, the world's fastest roller coaster.
8 Hours Away – Muscat, Oman – Highs of 29°C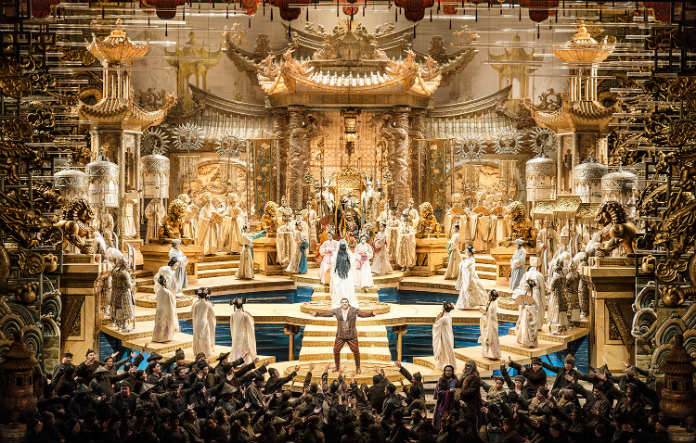 UAE's next-door neighbour Oman might not be as flashy, but it's got some amazing beaches and a slightly hotter climate that might make it worth that extra hour if you're looking for somewhere hot in March.
Must See: Big Bus Tour
Okay this is something to do rather than see technically, but it's the fastest and easiest way to take in as much as possible when visiting Muscat. Find out more about the Big Bus Tours.
Must Do: Royal Opera House
Take in a little culture by seeing a show at the Royal Opera House. Not only can you catch something a little different but it's an absolutely stunning building to boot!
9 Hours Away – Bridgetown, Barbados – Highs of 29°C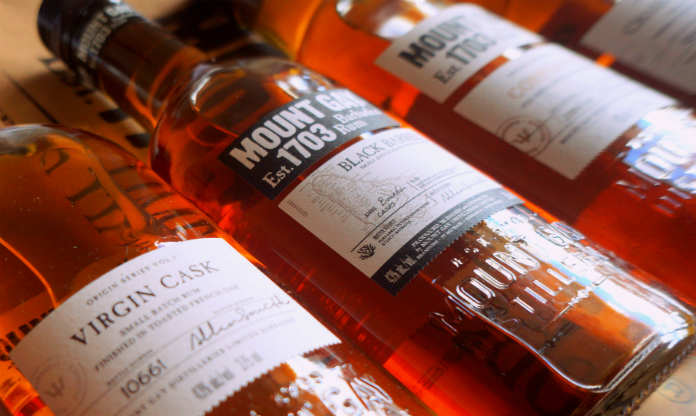 A city of two halves, Bridgetown is equally comfortable looking back at its past as it is building its future. Make sure to take a stroll down the boardwalk to see how the city got its name.
Must See: Carlisle Bay
Calm, serene waters that are perfect for swimming in or even scuba diving in the winter sun! This beach is so picturesque it doesn't look real.
Must Do: Mount Gay Signature Rum Tour
You can't visit the home of pirates without learning a little bit about how rum's made. Visit the Mouth Gay Visitor Centre and take a tour of the distillery.
10 Hours Away – New Orleans, USA – Highs of 23°C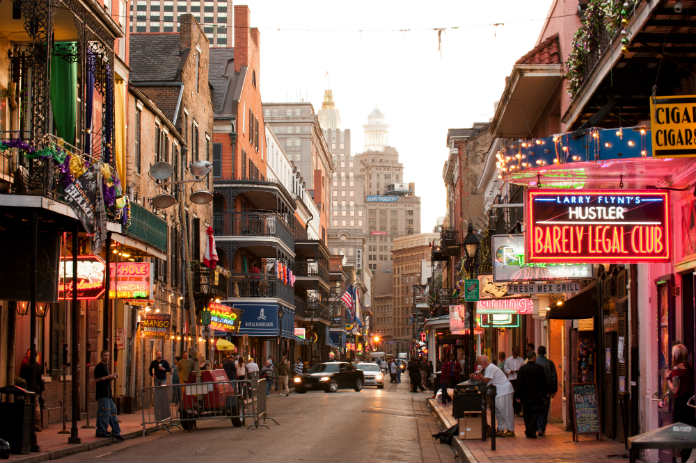 A little chillier than some of our closer locations, but New Orleans is truly a sight to behold, with the world's most famous carnival — Mardi Gras — taking place on 5th March in 2019.
Must See: Bourbon Street
Located in the heart of the French Quarter, this is the kind of street you picture when you think of New Orleans. Littered with bars, restaurants and…more adult establishments…this is the real New Orleans.
Must Do: Aquarium of the Americas
See some of the 15,000 animals that call the Aquarium of the Americas their home. It's located along the banks of the Mississippi River, just a 10-minute walk from Bourbon Street.
11 Hours Away – Cancún, Mexico – Highs of 29°C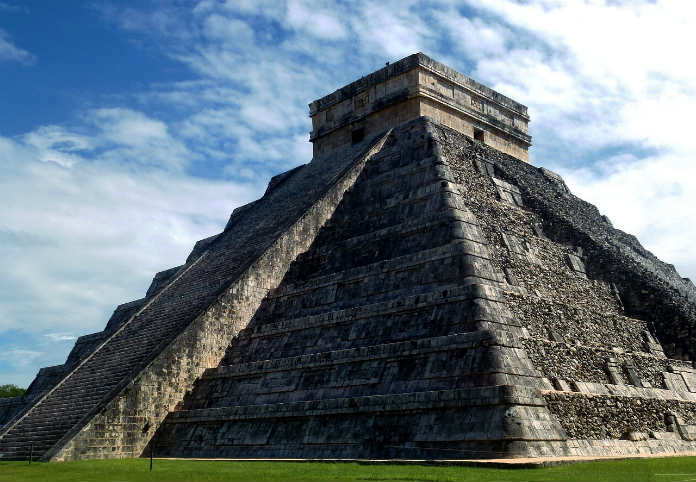 Cancún boasts 14 miles of white sand beaches, unreal ruins and exhilarating water sports. In a word, it has it all. And with an average temperature of 32°, there are fewer hotter places when it comes to winter sun.
Must See: Chichen Itza
Another UNESCO World Heritage Site, these ancient Mayan Ruins are staggering to look at, and even more breathtaking to climb, with 91 steps on each side.
Must Do: Jetpack Adventures
From jetpacks to hoverboards, there are plenty of water-based experiences available with Jetpack Adventures. Strap a water jetpack to your back and feel like you're flying!
12 Hours Away – Cape Town, South Africa – Highs of 27°C

There's so much to do in Cape Town, you'll still be squeezing activities in hours before you're due to come home. Be sure to visit the Victoria & Alfred Waterfront for shopping and events.
Must See: Table Mountain
Make your way up Table Mountain and you'll be rewarded with a view of Cape Town that's unparalled by anything else in the world. You will not be disappointed.
Must Do: Robben Island
The 'home' of Nelson Mandela for 18 years was on Robben Island, where he was imprisoned before being moved to Pollsmoor Prison. The tours here are carried out by former inmates, so there's a definite authenticity to this experience.
13 Hours Away – Singapore – Highs of 32°C

Singapore is a small island state with a big personality. It combines towering skyscrapers and a thriving nightlife with quieter moments of contemplation in areas such as Little India.
Must See: Gardens by the Bay
Gardens in the Bay is a horticultural attraction unlike anything you've seen before. Entertaining and educational, the gardens are a must see for all the family.
Must Do: Universal Studios Singapore
It may seem strange to recommend Universal Studios for a trip to Singapore, but the charm of the park is undeniable, and you'll get to experience the world's tallest duelling coasters in the Battlestar Galactica ride.
14 Hours Away – Santo Domingo, Dominican Republic – Highs of 30°C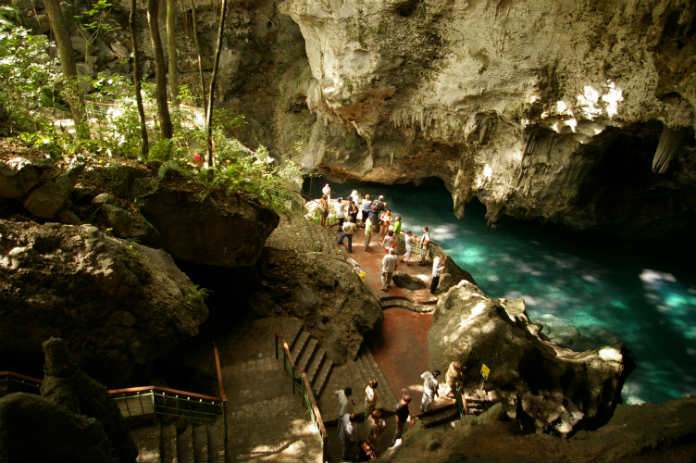 Not your average beach resort, Santo Domingo is the most populous city in the whole of the Caribbean! Be sure to stop by the statue of Christopher Columbus in the square.
Must See: Ciudad Colonial
The Colonial City is the oldest European settlement in the whole of North and South America. The sheer amount of landmarks means you simply have to head over here as soon as you can.
Must Do: The 3 Eyes National Park
You never know what you might find in these national park caves. Bats are a common sight, and the guided tour around the park is as interesting as it is exciting.
It's important to keep in mind that all these recommended places will still have restrictions in place for certain sightseeing locations. Remember, hands, face, space! Wash hands regularly, wear a face covering when needed and keep your distance from other tourists and residents.
That was our rundown of where's hot in March, whether you're in it for the short haul or the long haul. Where are the hottest places you've visited in the winter that you'd recommend to others?