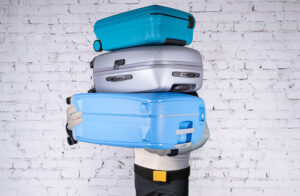 Packing for an exciting getaway is one of those tedious things that just has to be done.
But even after you've crammed everything and more into your suitcase, there's one thing you might have forgotten — checking your baggage weight!
Overlooked by even the most veteran travellers, making sure your luggage is under the weight restriction is crucial. We've all been there — arriving at the airport ready to jet off on a luxury holiday, only to discover that we have to pay a ridiculous amount of money for being 4 pounds overweight.
To avoid this unnecessary travel cost (and stress), you've got to keep your luggage as light as possible. It's one of the many hacks to keep your travel costs to a minimum. Here are ten ways on how you can make your baggage 15 pounds lighter for that next flight.
1) Choose a Lightweight Bag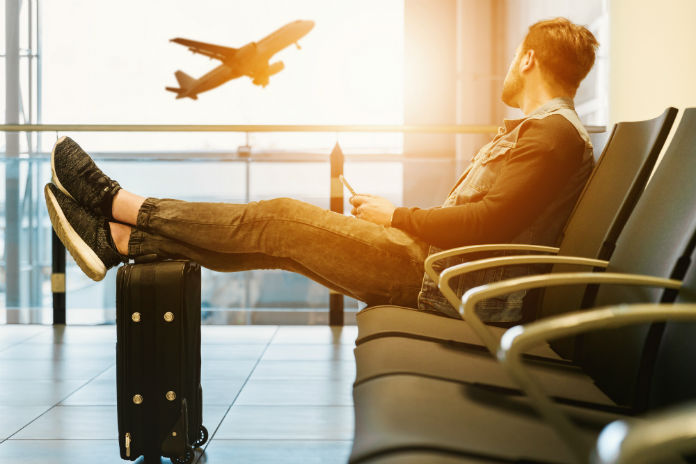 Sometimes it's not even the content that's making your baggage so heavy. It's the suitcase itself!
Invest in a lightweight bag that's durable, light and not bulky. Travellers are often deceived into thinking they need a big travel bag with all the bells and whistles, when a large duffel bag is really all you need.
When choosing a bag, it's important to consider the nature of your travel. Are you a wanderlust traveller who'll be walking with everything you own on your back? If that's the case, you'll need a lightweight backpack that can fit all the basic necessities.
If you travel more for business or luxury holidays, a hard-shell, lightweight suitcase with wheels is the answer. They're a breeze to transport, make you look stylish and weigh very little.
2) Pack Only Necessary Toiletries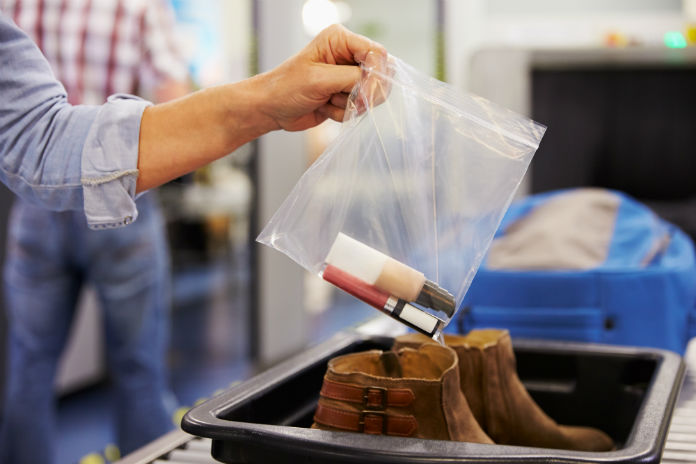 Toiletries can add a whole lot of heaviness to your baggage — a weight that's not really necessary.
It depends where you're off to, but chances are your standard shower gel, shampoo and conditioner will be available at your destination. So purchase toiletries once you've arrived at your journey's end.
In the case that you're anxious about not finding suitable products, decant some into a small bottle. Or if you have travel sized toiletries, that's even better. You can then put these small toiletries in your hand luggage and make your checked-in suitcase even lighter.
3) Make an Itinerary and Pack Accordingly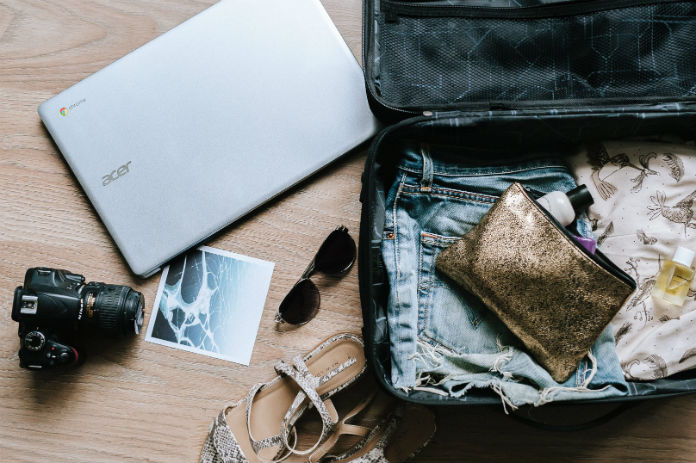 It's tempting to pack a lot more clothes than necessary. As you're packing, you start to come up with absurd 'what if' situations. What if my shoes break? What if it suddenly gets freezing in the Bahamas? What if I spill coffee on my shirt every day?
To ensure you don't pack unnecessary items that weigh down your bag, create a general itinerary for your travels. How many days will you be there? Are you going to be doing any physical activities like hiking? Or will it be back-to-back business trips?
The answers to these sorts of questions will keep your packing in check and your baggage as light as possible.
4) Put Some Things in a Backpack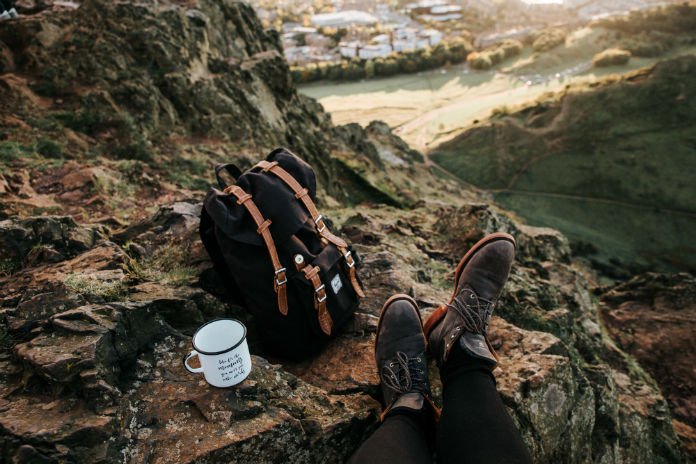 A sneaky way of making your checked-in baggage lighter is to put some of your items in a backpack and take that as your carry-on hand luggage. You might be tempted to pack some of the heavier items such as toiletries but don't forget the rules and regulations for liquid restrictions when going through security.
It's also a good idea to check the luggage restrictions for the airlines that you are flying. Some airlines allow you to carry a handbag as well as hand luggage, but some do not. Do your research before your departure date, so that you don't get caught out!
5) Try to Pack Your Lightest Clothes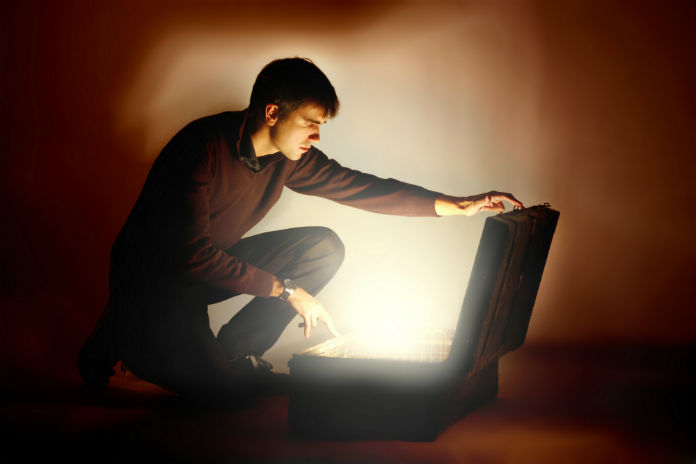 When packing your bag, take note of the material of the clothes you are packing. It goes without saying that some material weighs more than others.
This may seem like an insignificant amount when you're looking at just one t-shirt, but put ten t-shirts together and it really adds up.
If possible, pack clothes made of thin cotton and lightweight fabrics such as chiffon and satin. Avoid packing heavy materials like denim and wool. Of course, that doesn't mean you have to leave your favourite pair of jeans behind. Which leads to the next point…
6) Wear Your Heaviest Clothes on the Plane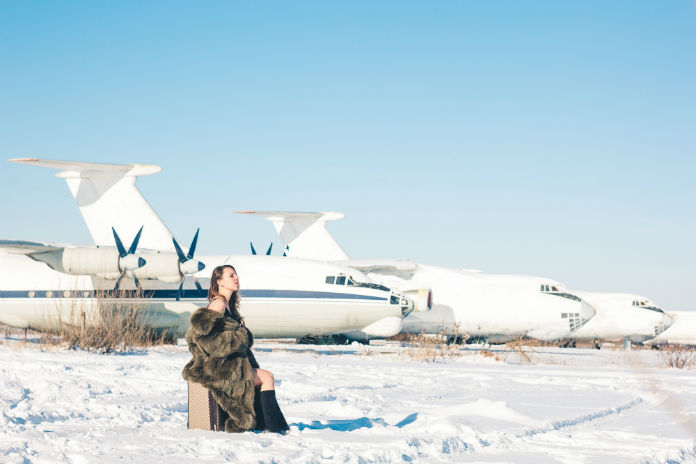 It's one of the oldest tricks in the book – wearing your heavy clothing on the plane. Often the heaviest clothes are the warmest, so wear your jeans, your bulky sweaters, and your boots.
You might feel a bit silly carrying your fur coat with you on the plane when it's warm, but it's a great way to make sure your baggage is light and within the weight restrictions. Plus, it always gets chilly during the flight so your furry coat may come in handy!
7) Use Your Clothes as Luggage
Wearing your heavy items has another added benefit — it doubles up as an extra place to stash your belongings. Coats and hoodies generally have large pockets in which you can stuff those bits and bobs that are small in size but relatively heavy.
This can be anything from electronics such as your phone, iPad and portable charger, to heavy pieces of jewellery. Having these valuable items on your person is also a great way to keep them extra safe!
8) Spread the Weight with Friends and Family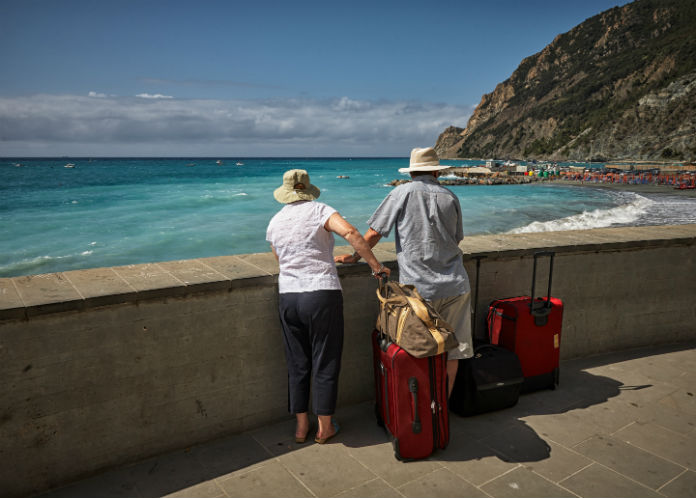 If you're travelling with other people, try and spread out the weight between each of you. In some cases, one person's luggage is the only overweight one, while everyone else has plenty of space and are under the weight limit.
To avoid the awkward shuffling around of your belongings in public at the airport, buy a luggage scale that you can use at home. This way you can check to see whose baggage is overweight and whose isn't.
9) Clean Out All Your Bags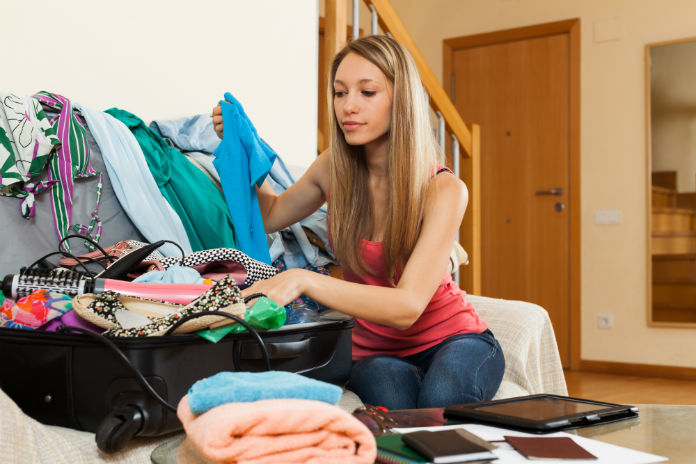 The only thing worse than packing for a trip is unpacking. Because you've arrived home and the travel hype is over we tend to forget to clean out our bags. If you're not careful, you could end up lugging around unnecessary junk on your next trip.
Wallets, handbags, and toiletry bags are the usual suspects. Empty your old wallet of any old receipts, loyalty cards and random foreign currency you won't be using. Double check your toiletry bag for empty bottles and additional beauty products.
10) Roll Your Clothes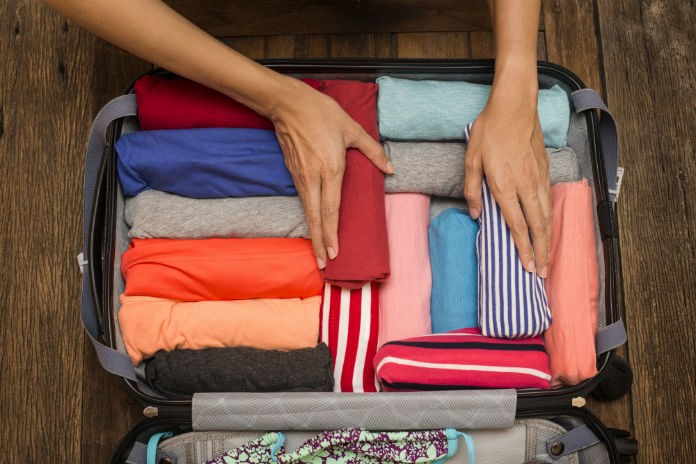 Rolling your clothes technically doesn't make your baggage lighter. But it does save room.
By compressing your clothes, you'll need less space to fit all your things. This means you'll be able to take a smaller, lighter bag, over a bigger, heavier and bulkier suitcase. Making your overall luggage much lighter!