Whether you travel frequently or whether it's once a year, it's important to protect your clubs when they travel in the cargo hold. Many airlines prefer the use of certain types of golf gear travel bags. You should keep in mind that you could either save some money with a cheap cloth travel bag or to splash out on a hard case.
Picking The Right Golf Travel Bag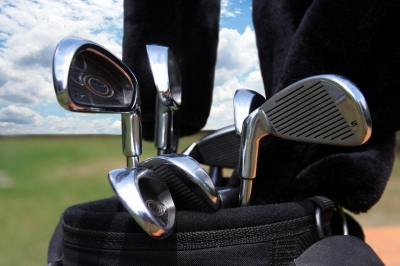 You can't take your golf bag on the air plane as your hand luggage, which means it has to go in the hold and putting your investment in the hands of baggage handlers. Of course most baggage handlers are great and they do there job fantastically, there will always be a few that simply throw bags around. Do you really want to take that risk? If you're going to travel with your gear then surely it'll make sense to protect the investment you've made with a quality golf bag.
The key things you need keep in mind for purchasing yourself a golf travel bag is firstly price, decide how much you would like to spend on your golf travel bag. They range anywhere from £50 to £300 on a bag. The high-end travel bags come with perks of course. One of the main thing you should look for is the padding to protect the heads of your golf clubs because of course that is the most vulnerable. Most travel bags will be more or less the same length due to most golfers carrying clubs that have shafts up to 45 inches long. Travel bags are in the 50- to 55-inch range so you need to make sure the top of the bag is padded for it is a reduced chance of chips and breaks.
In my opinion a hard shell case will be your best option if you are travelling by air. Mainly due to the airlines not guaranteeing the safety of your clubs unless they are in a hard case. Its always hard letting your golf clubs go into the hands of someone you don't know, how are we to trust that the bag doesn't get thrown around. You are better off making sure your clubs are safe in a hard shell case. Soft bags are more for car travel because they aren't get thrown about and you'll be able to keep an eye on them.
Travel Insurance
It is assumed by a surprisingly large amount of people that their travel insurance will also provide insurance for their golf equipment. Unfortunately, a large portion of policies do not protect your golf gear. Therefore, it is essential that you thoroughly examine your insurance documents and, if necessary, take out a sports specific policy, which will insure your goods in the event that they are damaged, stolen or lost.
One major problem with some travel insurance policy is that they don't all cover the same things. For example, several insurance companies will only cover what is personally yours; meaning damage or theft to any rented equipment will not be included in the policy. You need to watch out for these things otherwise you'll be kicking yourself later.
If you have any other thoughts on this topic please leave them in the comments