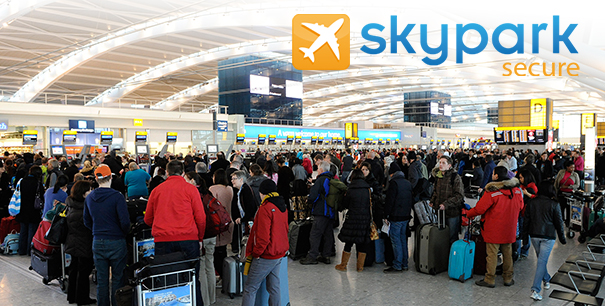 Holidays are expensive, and there's no better example of this than at the airport. Whether you're paying £6 for a pint or having to pay extra for your hand luggage, it can sometimes feel like you're being shortchanged.
But it doesn't have to be that way SkyParkers!
We're always visiting the airports so we can improve our relationships with them and continue to get you the best deals.
And that's not all:
We've also picked up a few tricks of the trade when it comes to catching a flight, three for before your trip, and the rest for when you're actually at the airport. So follow our guide and you'll be saving cash before you know it.
1. Avoid the Train Service If You Want to Save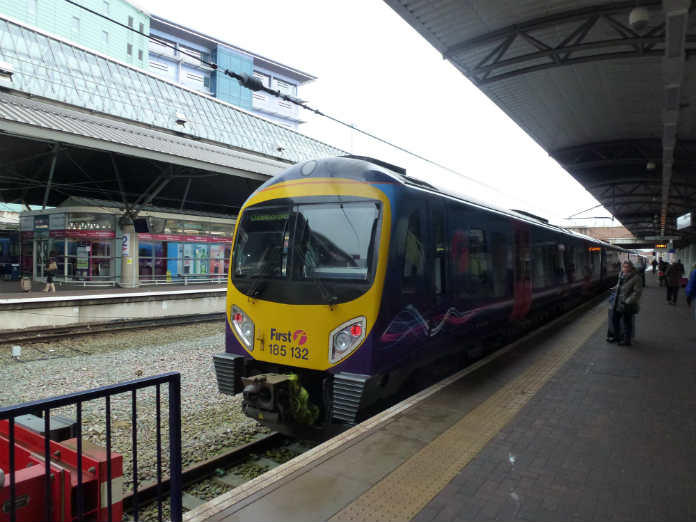 If you're in a hurry to get to a London airport, expect to pay through the nose.
With single fares from Paddington priced at £21.50 in economy class, the Heathrow Express is, pound-for-pound, Britain's most expensive above-ground train service, clocking in at nearly £1.50 per mile.
A return journey costs £35 — slightly cheaper per mile, but still more than £1 for each of the 15 miles travelled!
2. Pre-book Airport Car Parking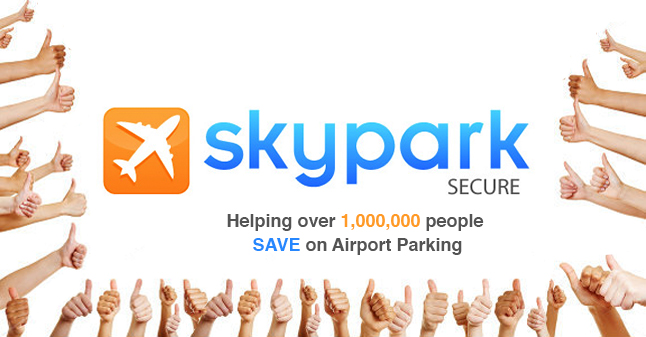 To avoid those rip-off rail fares more people are deciding to drive and use an airport car park.
But be careful to avoid heavy on-the-gate prices when you turn up on the day. The most expensive was found to be Heathrow, with charges of up to £51.80 for 24 hours.
To help you save up to 60% on Airport Parking make sure you pre-book your parking in advance.
Our SkyParkSecure price comparison tool makes this process very easy:
1. Visit www.SkyParkSecure.com
2. Add your airport and travel dates
3. Click search prices
We'll search while you SAVE on airport parking, including both official and off-airport parking options. Our infographic shows just how much you can save when pre-booking your airport parking.
Pre-book airport car parking to save up to 60% off the price on the day. #AirportSavings
Click To Tweet
3. Getting a Lift is an Option (Sometimes)
So you ask a loved one to ferry you to and from the airport.
But even that comes at a price…
…and we don't mean the emotional blackmail.
At the time of writing, just eight airports allow you to be dropped off at the airport terminal free of charge. These are:
| Airport | Free Duration | Cost Thereafter |
| --- | --- | --- |
| Belfast | 10 mins | £3 for 30 mins |
| Birmingham | 30 mins | £5 for 35 mins |
| Heathrow | Unloading only | N/A |
| Leeds Bradford | 1 hour | N/A |
| London City | Unloading only | N/A |
| Manchester | Unloading only | N/A |
| Southend | 15 mins | £4.50 for one hour |
But be aware that if you run over how long you're allowed, you'll be faced with heavy charges or a fine. At every other UK airport, you're charged even for taking a minute to drop off.
Some particularly bad offenders are East Midlands at £3.50 and Gatwick at £3.80.
But it gets worse:
At Luton and Stansted, you pay £3.50 for 10 minutes, but for every minute over that you're charged an extra £1!
Don't always assume the drop off is your cheapest option!
Only 8 airports allow free drop-offs. You'll be charged through the nose everywhere else. #AirportSavings
Click To Tweet
4. Be Aware of WiFi Charges…
Britain's airports are lagging behind their European counterparts when it comes to offering free WiFi. Almost half (24) of Europe's 50 busiest airports — including Amsterdam, Copenhagen, Dublin, Frankfurt, Istanbul, Munich, Paris Charles de Gaulle, Prague and Rome — offer unlimited WiFi for free.
Meanwhile in the UK, you're only in luck if you're flying from Aberdeen, Edinburgh, Heathrow, Leeds Bradford, Newcastle and Southend.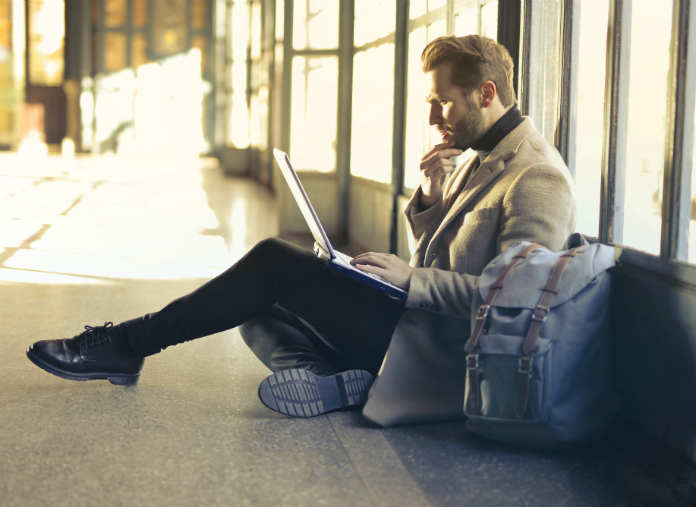 Everywhere else gives you a limited free period (between 30 minutes and four hours), and then you'll be charged anything up to £5 per hour after that!
So make sure you check the airport's WiFi policy before bumping up your 3G allowance in case it's free!
Check the airport's WiFi policy before you bump up your 3G allowance. #AirportSavings
Click To Tweet
5. …And Smoking Charges…
Passengers at Aberdeen, Belfast and Leeds Bradford have to pay £1 if they wish to access the dedicated smoking area!
So get your fill of nicotine before you head through security.
Or to really save some cash at the airport, consider giving up entirely!
6. …And Clear Plastic Bag Charges!
Remember to pack a clear plastic bag for your toiletries next time you're heading to the airport.
If you're flying from Newcastle, Durham Tees Valley, Belfast International, East Midlands, Bristol, Glasgow, Liverpool or Doncaster Sheffield, you could be charged up to £1 per bag.
If you are bringing your own bags, make sure they're transparent, resealable and measure 8 inches by 8 inches.
#AirportSavings Toiletry bags must be transparent, resealable and measure 8
Click To Tweet
7. Bring Your Own Butties (And an Empty Water Bottle)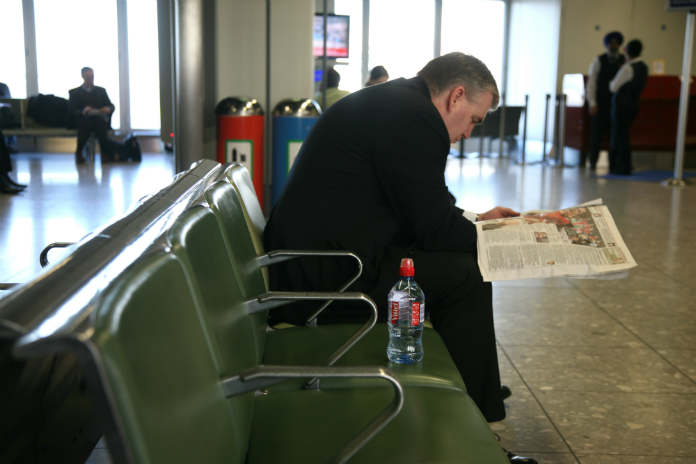 The liquids rule also means passengers must purchase water and other drinks after they've passed through security (very few airports have installed drinking fountains, despite calls from MPs).
And the price of mineral water is truly staggering, with one US retailer recently slated for charging $5 (£3.20) for a 12 ounce (340ml) bottle. Food can be equally costly.
The solution?
Make a packed lunch and carry an empty bottle through security ready to fill at a drinking fountain. Many UK airports have fountains to fill up at, but if you're unfortunate enough to be flying from Belfast, Newcastle, Liverpool, Leeds Bradford, Aberdeen or Southend, try asking at a cafe instead.
Bring an empty water bottle & fill up at a fountain after security. #AirportSavings
Click To Tweet
8. Decant Toiletries into Smaller Bottles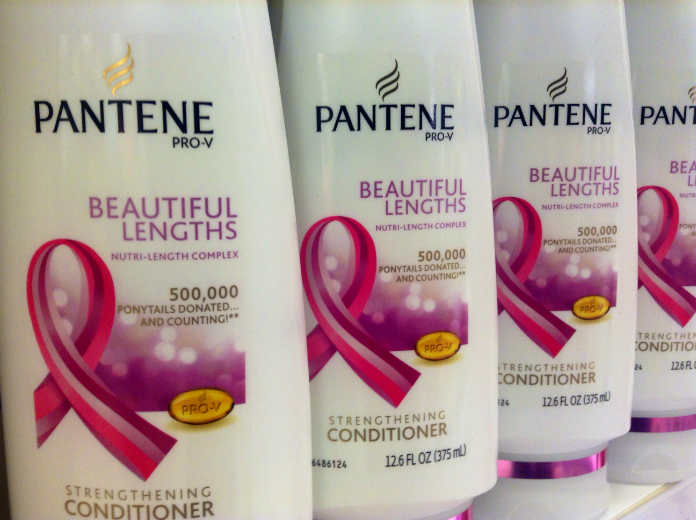 Yet another way that retailers have cashed in on heightened airport security.
Those tiny toiletries might beat the 100ml liquids rule, but they cost a small fortune. It has previously found that travel-sized toiletries can cost up to 750 per cent more.
Instead, buy some empty bottles that are under 100ml and then decant your regular toiletries into these.
9. Watch Out for Excess Baggage Charges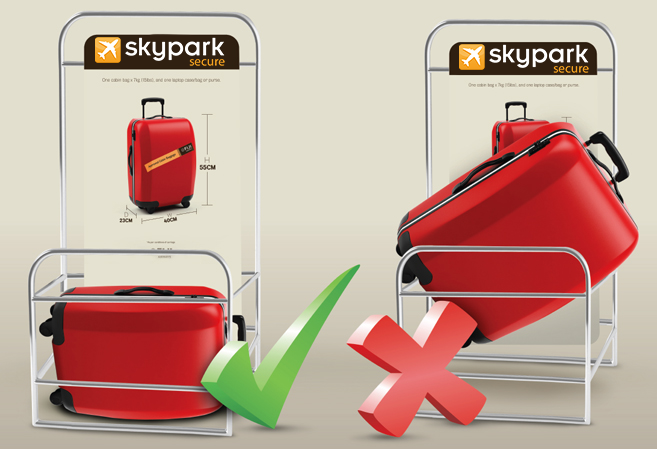 Those costly baggage fees don't end when you get to the airport.
If your case is over the weight or size limit, things are about to get even more expensive.
Virgin, for example, charges £40 if you exceed the upper limit, while Ryanair charges £50 and British Airways a whopping £65!
A simple solution for this is to check your airline's baggage restrictions online and weigh your case at home before setting off.
10. And Always Bring Your Boarding Pass!
Forgot your boarding pass? Ryanair will print out that piece of paper for you at the airport — for £15!
So try not to forget your boarding pass, and if possible use mobile check-in and store the pass on your phone.