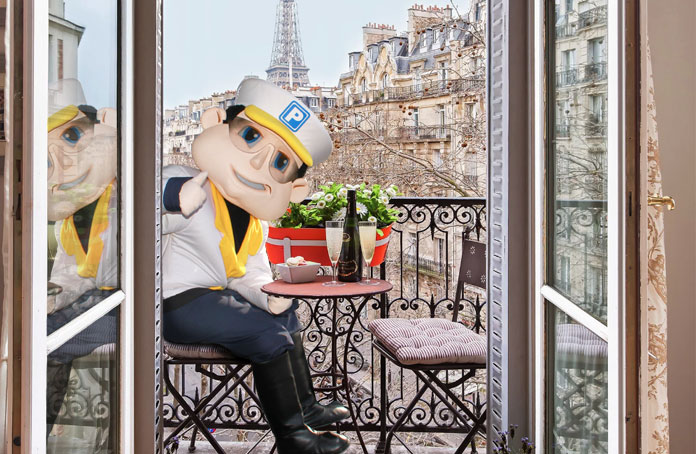 Paris..What more is there to say about this beautiful city that hasn't already been said? Despite all the articles and guides its still difficult to figure where to stay in Paris, so to help you on your journey to this vibrant city we have broke it down to help you decide on which Arrondissement & why you should stay there!
9th arrondissement – Montmartre
Montmartre was the centre of the Belle Époque. In the later 19th century and early 20th Montmartre played home to all the bohemian artists that Paris has become synonymous with.
It is in Montmartre that the famous, or perhaps infamous, Moulin Rouge is found. As well as this you have the beautiful Sacre Couer, which offers some of the best views around Paris. Go there at night, bring a bottle of wine, sit on the steps and enjoy la vie de Boheme.
Montmartre still tends to be the cheapest place to stay and many of the hostels are located here. It is the perfect balance between budget and location, travelling into the centre is easy and Montmartre should be considered when thinking about where to stay in Paris.
8th Arrondissement
The 8th arrondissement is where the centre of the city is. From the Champs Élysée to the Louvre museum, the 8th offers the best location for museum and gallery lovers.
You will be within walking distance of the biggest and best museums in Paris. The Louvre, Musée d'Orsay, Musée de l'Orangerie, Invalides amongst others will all be walkable.
Many of the expensive shopping boutiques and restaurants are located here and so the places to stay tend, also, to be more expensive. Choose to stay here and you will not be disappointed.
5th Arrondissement – Latin Quartier
The famous 'left-bank' is towered over head by Notre-Dame cathedral. The 5th arrondissement was the home and hangout for many 20th century writers and artists including Hemingway, Fitzgerald and Joyce.
Staying here makes for a great base for walking around the city. As well as Notre-Dame you have the Pantheon and the beautiful Luxembourg Gardens, as well as others.
This area will suit a mid-range budget offering a great selection of restaurants, bars and cafes.
Price Ranges:
Expensive:
La Reserve (£809-£1,195)
– Located near the Champs Élysée, this hotel offers a great deal for a large budget. The location is excellent offering all that the 8th arrondissement has on your doorstep. The hotel is beautiful and offers a pool, breakfast and heated floors.
Mandarin Oriental (£560-£1,116)
– Found in the 1st arrondissement, the Mandarin Oriental offers a classy mix of Paris and The Orient. This hotel has a pool, gym and spa and is just as well located for walking to the museums as the 8th arrondissement. This is a particularly well located hotel if you like your shopping.
Mid-Range:
– Hotel Esmerelda (£74-£112)
This small, quirky hotel in the 5th offers a great location, right next to Notre-Dame and the Seine, for a mid-range budget. It is perfect for walking around and excellent for a warm, cosy stay in Paris.
– Le 10 Bis Hotel (£121-£318)
In the 17th arrondissement, this hotel is a little out of the way, but still has a great deal to offer. A lovely, small and quiet hotel, you will have the Bois de Boulogne very near by which is stunning to stroll around. As well as this you will have easy access to the city center and will be walking distance to the Arc de Triomphe.
Hostels:
– MIJE Fourcy Fauconnier Maubuisson (£21-£65)
Offering dorms and private rooms in the 4th arrondissement, this hostel offers a great location right next to the Pompidou centre. This hostel is clean, provides breakfast, wi-fi and a free continental breakfast. There are many bars and cafes around offering all you need to enjoy Paris.
– The Loft Boutique Hostel (£20-£67)
In Belleville this hostel provides an alternative location. In the heart of the 'student' district, Belleville offers the most trendy area for young travellers. Further away from the usual tourist traps, this up and coming district of Paris has a great selection of bars and cafes. The Loft is a clean hostel with good prices for dorms and private rooms and has a vibrant atmosphere.
Recommended:
– Expensive: Maison Souquet (£263-£956)
This luxury boutique hotel located in Montmartre offers a great deal of character and is filled to the seams with the feeling of the Belle Epoch. The decor is all styled around the great period of Paris and feels like a luxury 19th century soiree. This is the perfect place to stay in Montmartre. Within walking distance of all you need and offering a pool, lounge, spa, bar and restaurant you will want for nothin at this hotel.
– Mid-Range: Hotel Monge (£163-£237)
In the 5th arrondissement this hotel offers the greatest balance between location, luxury and budget. Providing you with a bar, lounge and spa at the centre of the ex-bohemian left-bank this hotel is a fantastic option. It is charming and small leaving you feeling at home. This really is luxury on a budget.
– Hostel: Woodstock (£23-52)
The Woodstock hostel is full of character. Decorated as it is, you will feel like you've walked into a hippy paradise. The hostel is very trendy, very clean and very well located. It offers you the choice of dorm or private room, and there is a garden out the back for you to sit and have a beer and meet fellow travellers, and the atmosphere is always fantastic. There are many bars and cafes nearby and for the morning after they offer a free continental breakfast.
Travel Tips for Paris
Now you know where to stay in Paris, here are some tips.
– Buying a carnet of 10 metro tickets will save you money in the long run and is highly reccomended.
– If you can walk there, you should. Walking around Paris is one of the most enjoyable things about the city. Walk around and see everything it has to offer.
– If you are looking for the best coffee or best croissant, avoid the touristy areas and head to the back-streets where the locals go.
– Pick up a metro map. The metro is very easy to use but make sure you know where you are going.