Bad news if you like to get the train to the airport. Data analysis by Which? has found that Gatwick Airport train station has the third highest percentage of delayed trains, with less than half running on time.
They also reported that 5% of services at the station are cancelled altogether!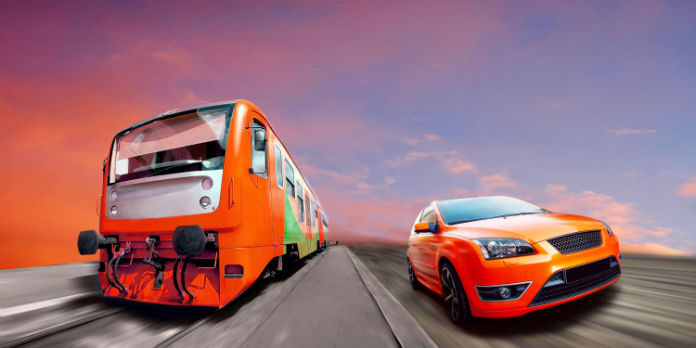 With so many cancellations and delays at Gatwick train station, we thought we'd compare the price, speed and convenience of travelling to the airport by train vs by car.
And if that wasn't enough, we'll also show you how one man bought a car for a journey because it was cheaper than the train!
Let's get started.
How Much Does it Cost to Get to Gatwick?
So this is the biggie — how much will it actually cost to get to the airport.
Cost of a Train to Gatwick
The price of a train is pretty easy to figure out: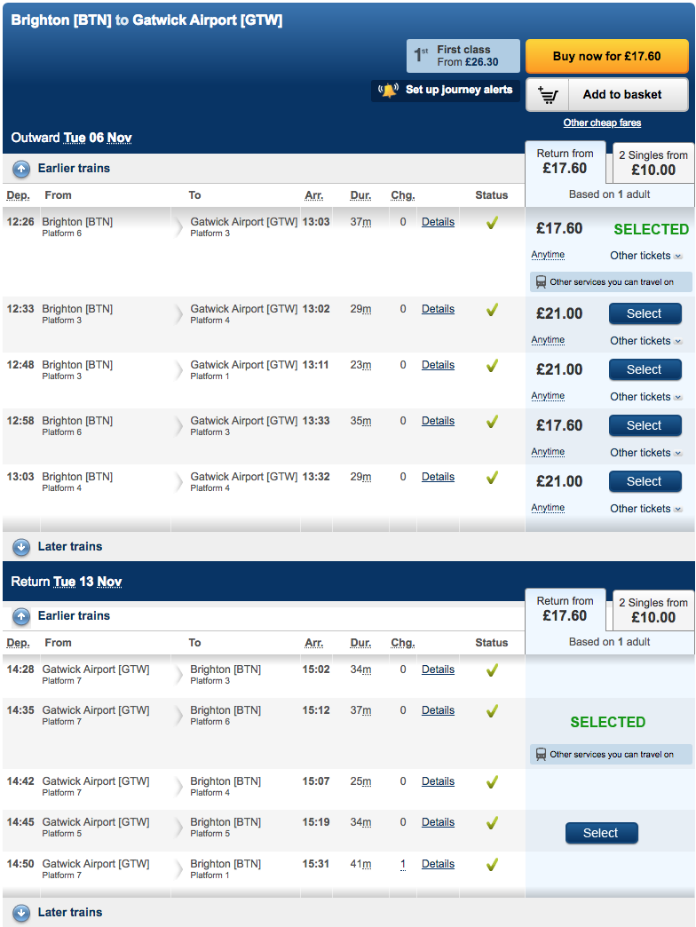 The train from Brighton to Gatwick Airport is between £17.60 and £21 return, not including any buses, taxies or lifts you might have to utilise in order to get to your local train station.
Let's be kind and go with the lower figure of £17.60.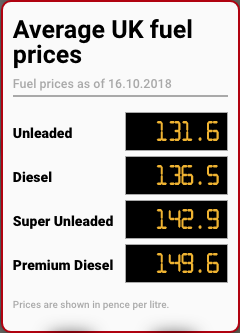 Cost of Driving to Gatwick
To work out the cost of the car journey, we need to know the price of the car journey + airport parking.
First, how much will our petrol cost?
At the moment, we can see that unleaded petrol costs 131.6 pence per litre according to PetrolPrices.com
Then if we feed that information, plus the distance to Gatwick, into a fuel calculator, we can get the price of our journey as well.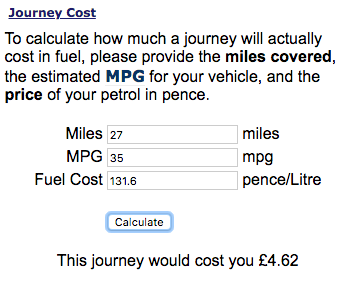 Next, we add the price of our airport parking onto that.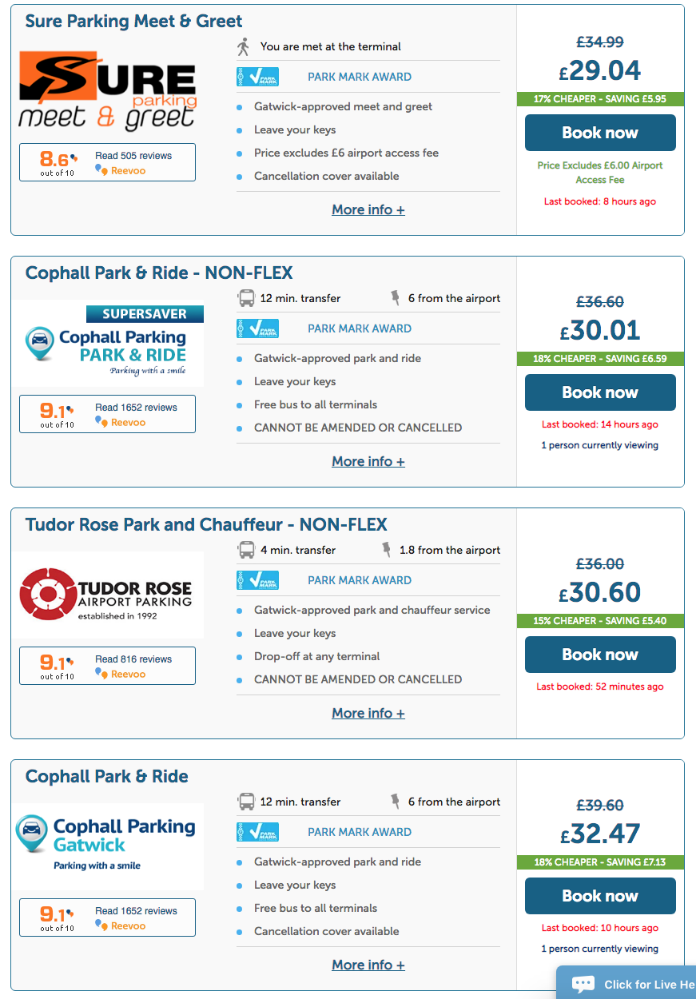 We used the exclusive email promo code to get the cheapest parking for a week at Gatwick — Cophall Park & Ride – NON-FLEX at just £30.01.
Remember to sign-up for email offers at the top of the page to benefit from disounts of up to 20% yourself.
So the cost of driving is:
Parking – £30.01
Petrol – £4.62
Total – £34.63
Car vs Train to Gatwick Price
So that's:
Train – £17.60
Car – £34.63
A victory for the train, right?
Only if you're travelling alone.
Price of a Train to Gatwick
| Amount of People | Cost |
| --- | --- |
| 1 | £17.60 |
| 2 | £35.20 |
| 3 | £52.80 |
| 4 | £70.40 |
| 5 | £88 |
Winner: Car, unless you're travelling alone.
Speed
Okay, so if there are three or more of you going, airport parking is a no-brainer, but with traffic, surely it'll be quicker to get the train…
Not exactly.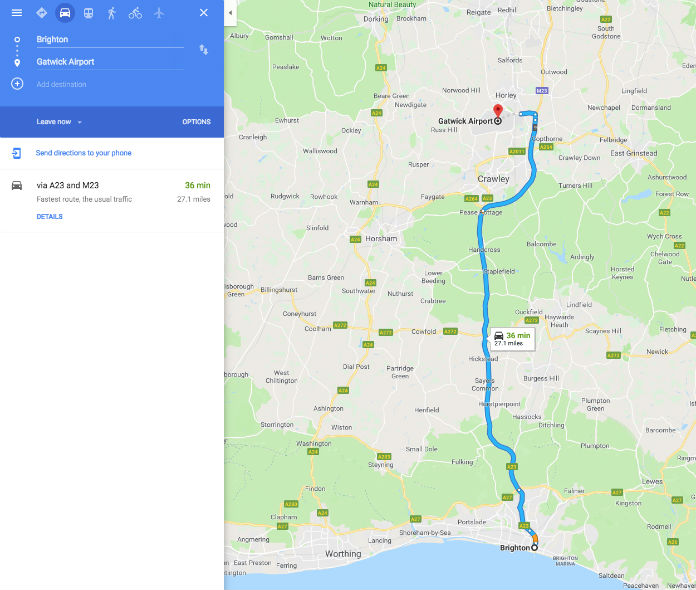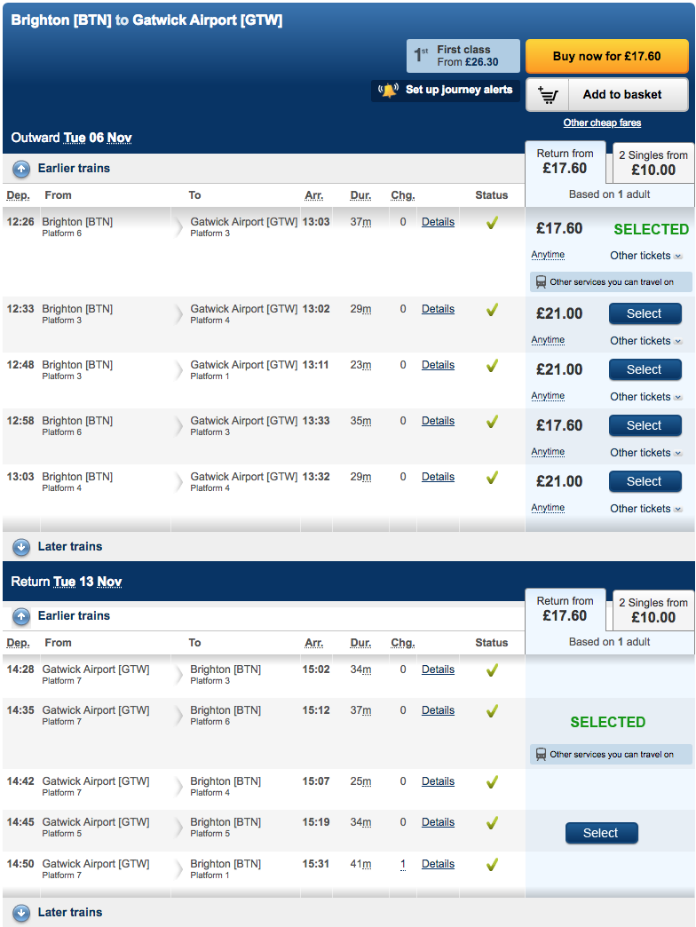 It takes around 36 minutes to drive from Brighton to Gatwick, while it's between 25 and 41 minutes to get the train.
And that's providing your flight co-ordinates with the train times. If you have to get a train that 30 minutes to an hour early, you're adding on a considerable amount to your waiting time.
Plus, as we can see from the Which? data and BBC News, trains into Gatwick are delayed around 60% of the time and cancelled around 5% of the time.
Add into that the chaos we saw back in May with people waiting for two hours, and there's a considerable amount of risk if you have to be at check-in for a certain time.
Winner: Draw — many trains are marginally quicker if they run on time, but this is never a sure thing.
Convenience
This is where a clear winner starts to emerge!
With a car, you're a master of your own domain. Set off exactly when you want to, no waiting around for trains or taxis, and there's no travelling to your local train station first before you've even started your journey!
It's truly a door-to-door method! You can even drop your car off right at the terminal with meet and greet parking if you want.
Winner: Car!
Outcome: Car 3 – 1 Train
It's a clear choice in favour of driving yourself, particularly if a group of you are travelling!
Don't believe us? What about the guy who ended up buying a car because it was cheaper than the train?
Did One Man Really Buy a Car for a Single Journey?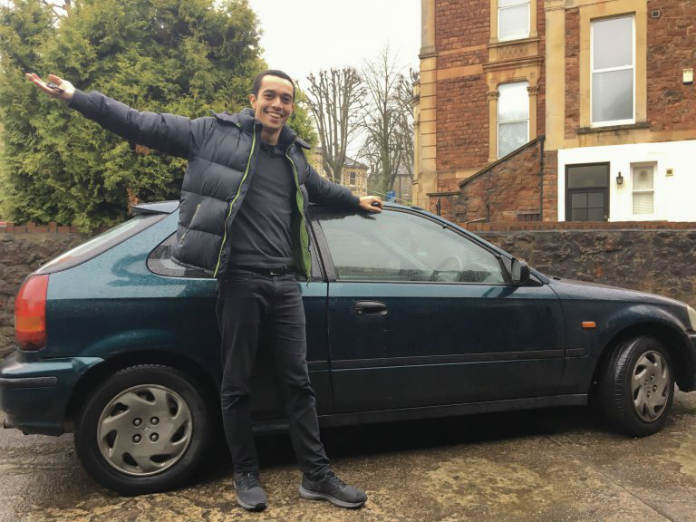 Despite the convenience of driving to the airport at whatever time you see fit and just parking up, some people prefer to get the train because they think it saves money.
But Tom Church may have just inadvertently proved that assumption wrong!
A bargain hunter by trade, Tom is one of the founders of Latest Deals, and with this story he really highlighted the high price of rail travel in the UK.
When he wanted to visit a friend in Bristol, he worked out that a return train journey for the 200m round trip would cost him £218.10.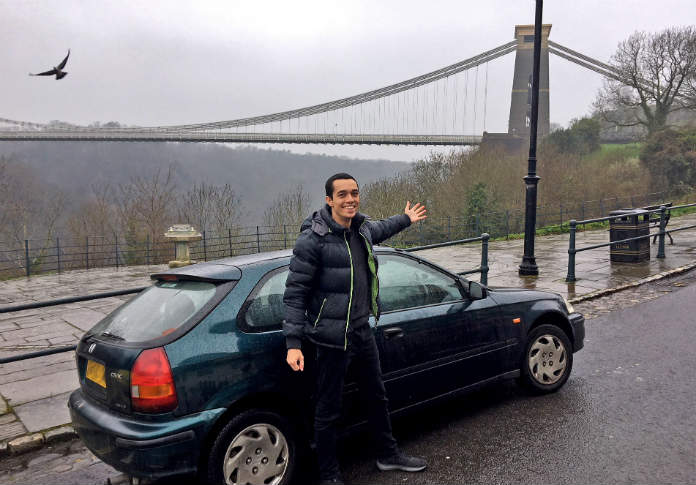 Thinking he could do a lot better than that, Tom found a unique solution.
Online he saw a 1997 Honda Civic with 135,000 miles on the clock for just £80, and that's when the idea struck him! Could he get on the road for less than his £218.10 train ticket?
| Total | £206.81 |
| --- | --- |
| Car | £80 |
| Road Tax | £81.38 |
| Insurance (One Day) | £20.43 |
| Petrol | £25 |
Yes, Tom actually managed to pay for, tax and insure a car for less than the cost of a train ticket!
Plus, he still has a car at the end of it!
Makes you think twice about paying for the train…
"I found the car on Gumtree," Tom said. "The lady I bought it from, Sutinder, was basically selling it for scrap. It's a very old car, 1997 Honda Civic, but the MOT was fine. Plus, the engine was small enough that I could get the cheapest road tax: a minimum of six months for £81.38.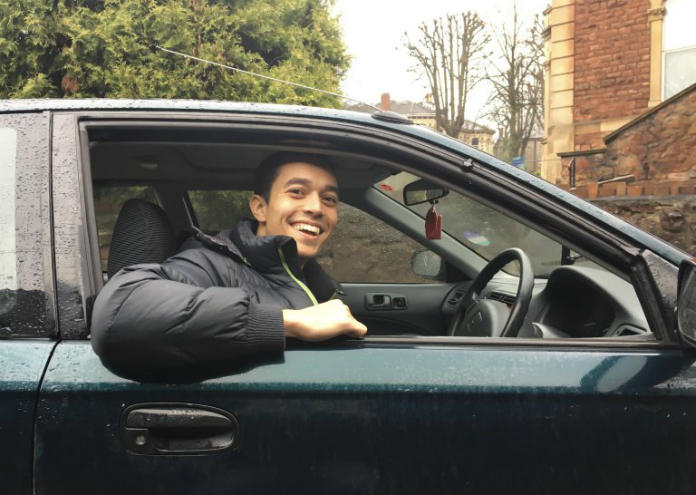 "The total cost was £206.81. Less than just one train ticket. And I still have a car at the end of it!
"Yes, it is still expensive. The point is to show how mad train ticket prices are. Sometimes you have to think outside of the box to save money.
"At the end of the trip, I still have a car. I'll probably sell it again. After some TLC, I think I can get £200. You get your unused road tax refunded so I might even be in profit! That's real bargain hunting for you."
To view our range of Gatwick airport parking providers click here and pre-book today!