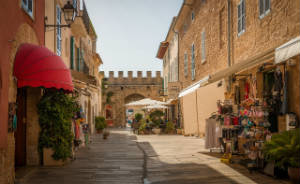 Alcudia is a holiday resort in Majorca that's set to be more popular than ever in 2018.
Due to the warm weather, fantastic eateries, friendly locals and relaxed atmosphere, it attracts everyone from young couples to whole families.
To help you plan your trip, we've put together this guide on things to do in Alcudia, Majorca. And it's all from first-hand experience, as you can see from the video below!
Activities in Alcudia, Majorca
We're easygoing, but we don't like doing the same thing all week. Holidays like that can get boring fast! One of the things that attracted us to Alcudia was the wide range of things to see and do.
Relax on Amazing, Sandy Beaches
When we felt like a lazy day sunbathing, we headed to the beach. It has a relaxing atmosphere and is surrounded by little cafes where you can grab a bite to eat.

Relaxing on the sandy beaches of Alcudia, Majorca
Explore the Local Culture
We also visited the Old Town to soak up some culture and local life. We spent wonderful afternoons walking round the narrow streets, marvelling at parts of the town from 1300! We spent a day walking round the local market where friendly stall-owners displayed a range of souvenirs, trinkets, food and clothing. We also spent time in the old bell tower and church before stopping off at a nearby restaurant to tuck into some mouth-watering fish. It was so fresh it must have been caught hours before!

These towers stand as the main entrance to the Old Town of Alcudia, Majorca.
Whizz Down a Water Slide
Now to inject some fun and excitement into the holiday. You can have a great time at the island's water park zooming slides. Then wind down in the wave pool afterwards. We rented a couple of sun loungers and caught some rays whilst eating a packed lunch. Local breads and cheeses from local store — yum! Visit alcudia-waterpark.com for more information.

The slippery water slides of Alcudia Hidropark
Nightlife in Alcudia, Majorca
Average beer price (500ml draught): €1.50 (local), €3 (imported)
Average wine price (175ml glass): €2.50
Average main meal price: €8.50
Alcudia is the kind of resort that attracts a family friendly crowd. So it's not as popular with the clubbing scene as much as places like Magaluf. However, there is a good selection of cool bars and clubs that are open into the small hours, as I found out for myself.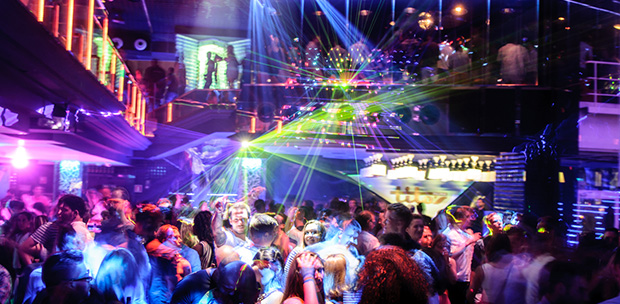 Banana Club, Alcudia
Best Club in Alcudia, Majorca
We found the Banana Club while walking along the Alcudia Port. Because of its popularity with the locals rather than with tourists, it had a different vibe to many of the bars around town. The focus was on dancing and having fun rather than drinking as much as possible. We absolutely loved the atmosphere and will be heading here again on our next visit.
Best Place for Bars & Restaurants
When we wanted a more chilled night, we headed to the Alcudia Marina. It's a great little area with lots of choice. Enjoy fresh fish at a restaurant or have a chat with friends in a trendy bar. The view is spectacular at night with the combination of the lights and the parked boats making the marina one of the most picturesque places in the whole of Alcudia.
Weather in Alcudia
From June to September, the temperature averages between 27°C and 30°C. We found it to be a bit windier than expected, so it can be chilly on cloudy days. However, it's also great for cooling down after too much sun!
Thankfully for us, it was sunny for the entire week and we were able to really top up our tans!
Getting to Alcudia, Majorca
We got a flight from Manchester Airport in the afternoon which took 2 hours and 40 minutes. Once we'd gone through security and got all of our bags from the carousel, we hopped onto our pre-booked bus transfer. The time it takes to get from the airport to your hotel will depend on the size of bus you are on, as more drop-offs will obviously mean the journey will take longer. As a rule of thumb, I would say you can expect to be on the coach for 60–90 minutes.
Our hotel!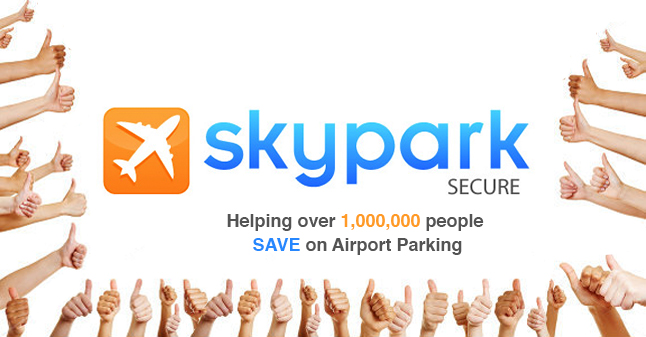 Get an unbeatable quote on Airport Parking now! Visit SkyParkSecure.com and use our 'STEVESPECIAL' discount voucher.