When choosing where to stay in Amsterdam, it can be easy to feel the pull of the city centre.
With its winding boat filled canals, beautiful parks, acclaimed art museums and plentiful coffee shops, you might wonder why you should leave at all.
However, the many varied neighbourhoods of Amsterdam can surprise you.
There's so much to explore in this 'big-little' city! Here are just a few of the more culturally diverse places for you to explore on your travels.
Amsterdam Noord
This is the area you should choose if you want somewhere a little different.
There is an energetic artist community here and an ever-expanding variety of bars and restaurants. The large area hosts festivals, exhibitions, pop-up craft fairs, dance parties and a wide variety of other events in its unique surroundings.
Where to Stay in Amsterdam Noord:
Crane Hotel Faralda – Price: Expensive.


A well-known spot amongst DJs, celebrities and even royals, this unique hotel won't disappoint those with a large budget. Situated inside a crane, with two panoramic elevators, a wide range of rooms and security guarded entrances — this is truly an insane and intriguing place to stay!
Thalassa B&B – Price: Mid-range
For a cheaper stay in this neighbourhood, there is a docked boat named the Thalassa, which contains 16 rooms. There are facilities on board, as well as a bar, and it's a stone's throw from the main ferry that takes you to the city centre.
The area hosts a wide range of things to do. Visit the largest flea market in the world at the IJ-Hallen — held once a month in the building in the wharf.
Pllek cafe offers some of the best panoramic views of the River IJ — its post-industrial setting and community feel offers an inclusive vibe for the young and old.
For lovers of the mismatched, check out Noorderlicht; nestled in a huge crystalline greenhouse, it has one of the most unique cafe bars in Amsterdam.
Noord is a good place to stay overnight if you wish to avoid the tourist traps, as the main attractions are a boat ride away. However, if you wish to be in the hustle and bustle of the city, this might not be the area for you.
Oud Zuid
Oud Zuid is home to some of the world's best museums and combines high-end shops and leafy lined streets with some of the most beautiful parks in Amsterdam.
Known for its stylish shops and trendy goods, this is a good place to lay your head if the charm and expense of high-end living is your preferred lifestyle.
Close to the centre, the area is bustling with tourists, shoppers and cultural explorers. The nearby Vondelpark is a playground for tourists (be warned it is also a pickpocket haven) and houses the best museums in the city.
Where to Stay in Oud Zuid:
InterContinental Amstel – Price: Expensive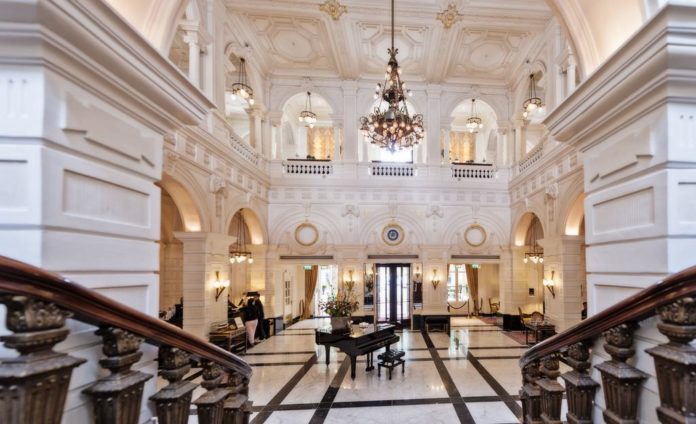 With its magnificent colonnaded entrance and gorgeous original regal interior features (such as 19th century staircases, chandeliers and elegant marble floors) this is the place to be if you wish to spend your stay in the lap of luxury.
The Flying Pig Uptown – Price: Cheap hostel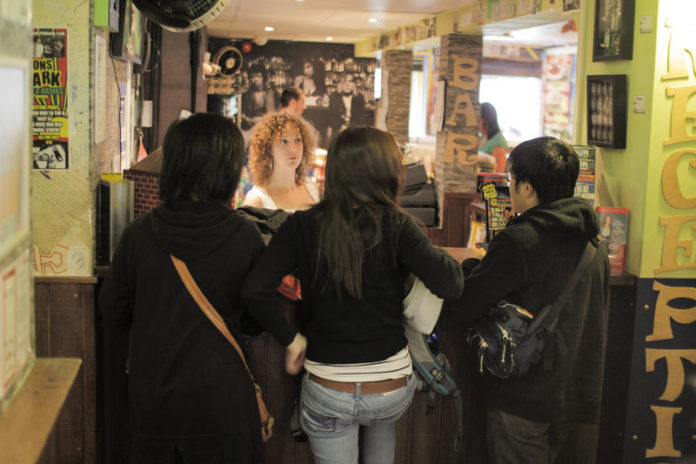 Infamous student/youth hostel overlooking the beautiful Vondelpark. Prices range, but are always a bargain.
The zuiderMRKT is a weekly, small cozy market organised by the locals and enthusiastic residents.
The shops on PC Hooftstraat & Cornelis Schuytstraat are something of an intriguing mix, from designers to mainstream, they deal in exclusivity.
The museum quarter is nearby; The Van Gogh Museum, which contains the world's largest collection of works by Vincent van Gogh, and the Rijksmuseum, in which the beautiful building houses a large collection of famous works.
Food-wise, there is an abundance of choice, from the Argentinian delicacies at Gauchos to the varied choices (and people watching) on the terrace of Cafe George.
Oostelijke Eilanden
A neighbourhood surrounded by water on all sides, the Oostelijke Eilanden (Eastern Docklands) is a great choice when choosing where to stay in Amsterdam.
It truly is a place where water and beautiful architecture meet. Perfect for those after a modern vibe, and lovers of the water – not recommended if you wish to be nearer the centre.
Where to Stay in Oostelijke Eilanden:
Lloyd Hotel & Cultural Embassy – Price: Expensive, mid-range and cheap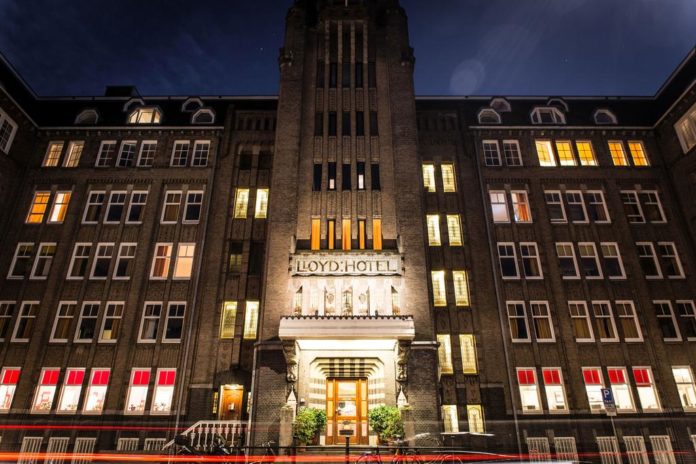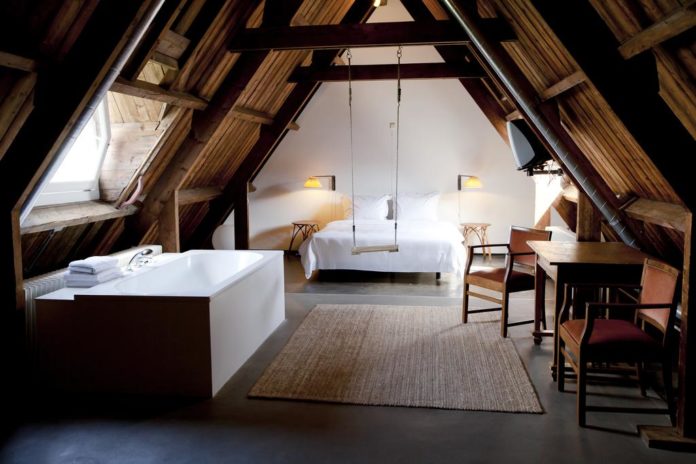 The Lloyd hotel offers a range of 1-5 star hotel rooms, along with stellar service in the Oostelijke Eilanden district. There is a popular restaurant on site, and also a library, meeting spaces and a number of different exhibitions are held on many of the open platforms.
Highlights include the beer brewery windmill, wharf side restaurants, Czaar Peterstraat for shopping and creative hangout Roest.
The Nemo Science Museum is in the area, as is the National Maritime Museum. Many tourists aim to visit the Python Bridge or spend an evening dancing in the Club Panama.
Noordelijke IJ-oever
A mix of urban dwelling and natural beauty, the Noordelijke IJ-oever district of Amsterdam is a treat for lovers of huge green expanses and alluring small villages. Of course, that's not all — there's also a mix of some of the city's most cutting-edge architecture, thrilling festivals, studios and sleek waterside hangouts.
A unique, different side to Amsterdam, it's worth noting that this area is best suited for tourists who wish for the best of both worlds — close to the city centre whilst being a stone's throw from forests.
Where to Stay in Noordelijke IJ-oever:
Camping Vliegenbos – Price: Cheap to mid-range.
One of the nearest campsites to the heart of the city, you'd be surprised at how peaceful this site is amidst a forest setting. On the outskirts of the site, you can easily access rural fishing villages such as Monnickendam or Volendam, while the free public ferries across to Amsterdam Central Station are 10 minutes away.
The area is known for its restaurants, some of which are the highest rated in the city.
Make sure to visit the confusingly named Hotel de Goudfazant. Not a hotel but a gigantic shed restaurant, with rustic, rugged decor and gorgeous food.
For a more affordable option, try THT, a sleek restaurant in an old canteen.
Make time for the North Waterfront and EYE Filmmuseum, and check out the A'DAM Toren for 22 floors of cafes, exhibitions, views and a revolving restaurant.
De Pijp
With its colourful mix of cultures and cuisines, you can lose yourself for hours in this lively Latin district.
It has been a popular meeting place for creatives, students and the bohemians since the 1960s, with its cosmopolitan vibe.
A short tram ride away from the bustle in the streets of central Amsterdam, De Pijp is one of the most cosmopolitan and vibrant districts of Amsterdam the perfect place for foodies, and beer lovers alike. This neighbourhood is also great for families.
Where to Stay in De Pijp:
NH Amsterdam Museum Quarter – Price: Mid-range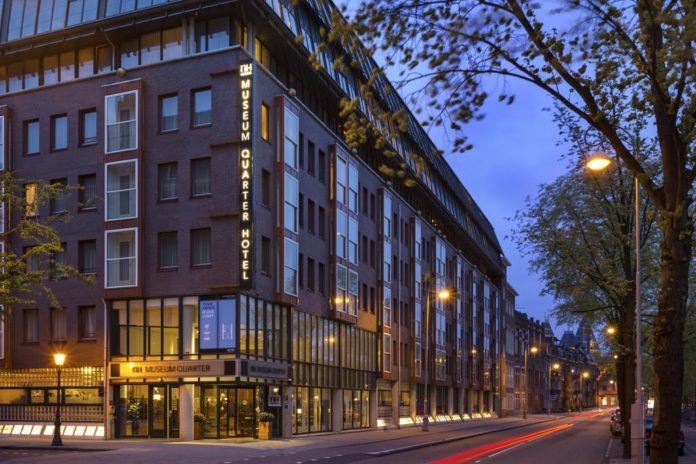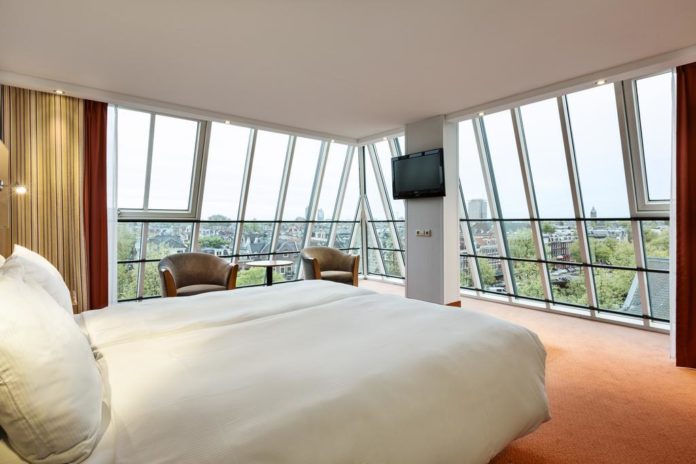 A functional and elegant hotel, without unnecessary flourish, the hotel is on the border between De Pijp and Oud Zuid. The hotel is decently priced, with a gym and breakfast available.
easyHotel – Price: Cheap (you can pay for extras)
A small room, each with anen-suitee, there is a flat base charge for each room with the option of extras like having the room cleaned and the bed linen changed.
The area is known for its lively atmosphere, family friendly restaurants and its varied yet exciting nightlife, perfect for families and young couples alike.
Take a break in Sarphatipark, a beautiful urban park, regularly referred to as one of the nicest in Amsterdam.
For lovers of a market, you can't miss the Albert Cuypmarkt, which is the largest and most popular outdoor market in the Netherlands, with 260 stands operating six days a week. For beer lovers, take a tour of Heineken's historic brewery.