Ryanair's new baggage policy means that if you're just taking hand luggage on your flight, it'll have to conform to a very particular set of dimensions.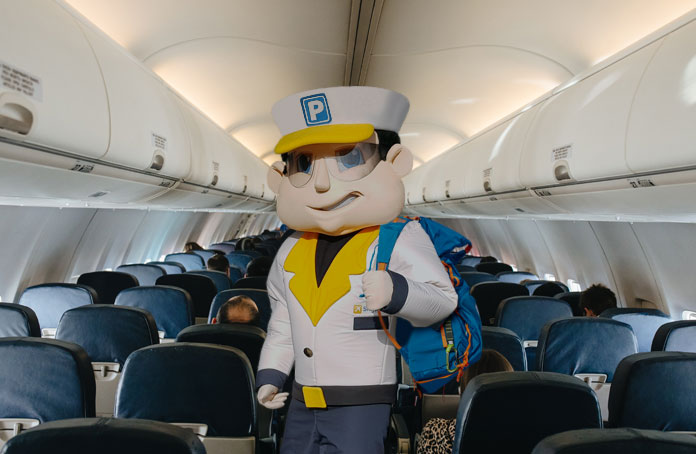 To give you a quick rundown again, the facts are:
You will be able to take one "small personal bag" into the cabin, as long as it fits under the seat in front. Ryanair defines a small personal bag as 40cm x 25cm x 20cm — slightly larger than the current definition.
With this in mind, we've scoured the Internet for the best deals on bags that you and your family will actually be able to bring aboard! So whether you're buying for a man, woman or child, we've got you covered!
Bear in mind that we've tried to keep the products relatively low priced to make them accessible for everyone, but if you've found a great travel bag that Ryanair will let you bring into the cabin, let us know!
1) Quality Holdall from ATENA
Exact baggage dimensions: 40cm x 40cm x 25cm
Designs Available: Checker
This strong, sturdy cabin bag has a 20-litre capacity and conforms to the exact dimensions of Ryanair's hang luggage policy, as well as easyJet and Wizz Air.
The bag has an adjustable shoulder strap, but also features a double carry handle on top so it's up to you how you wear it.
The belt on the reverse also means you can slide through the handles of a large suitcase for ease.
The flexible design also means it can be used as a work or sports bag as well.
2) La Desire Daypack
Exact baggage dimensions: 28cm x 23cm x 15cm
Designs Available: Black/Rose Red/Beige/Flower/Feather
This bag is fashionable, yet compact – both very important specifications for a cabin bag!
It's a little smaller than an A4 piece of paper, so you may struggle to fit your iPad in it, however for all those travel essentials like your phone, purse, keys, and book, it's perfect!
Available in a variety of designs, it's the perfect lightweight bag to carry around the airport without even feeling it!
3) Slimbridge Mora
Exact baggage dimensions: 35cm x 20cm x 20cm
Colours Available: Black/Dusk/Ocean Blue/Red/Taupe
We looked through dozens of bags suitable for men, but the vast majority — although cheap — had bad reviews for poor build quality, many breaking on their first journey out!
Not so with the Slimbridge Mora!
This lightweight bag is great for when you're on the go due to its separate compartments, allowing you to fit a variety of travel items in.
One reviewer said that the bag "will go under the seat with IPad, phone, sunglasses, 100ml liquids and cosmetics all to hand and room for my straighteners too."
4) HotStyle DISA Backpack
Exact baggage dimensions: 34.8cm x 22.9cm x 15cm
Designs Available: Black/Pink/Tropical Leaves & Chevrons/Macaroon & Stripes/Tropical Flamingos/Tropical Olive/Tropical Leaves/Millennial Flamingos/Polka Navy/Ethnic Colorful/Geometrics Black/Japanese Crane
This cute backpack looks awesome as well as being functional.
Holding 15 litres/8kg with ease, the variety of pockets and sections will make you wish the HotStyle DISA was yours!
Plus you're free to carry it either as a handbag or purse depending on preference, so although we've placed it as the best girl's bag, it really is suitable for anyone!
Add to that the whopping 12 different designs and a smart price point and you're onto a winner with this one!
5) Cerdá 3D Avengers Backpack
Exact baggage dimensions: 31cm x 25cm x 10cm
Designs Available: N/A
Who doesn't want a backpack with four of the most famous Avengers on?
Cerdá has knocked it out of the park with this design, providing young travellers with a bright and bold bag that they're never going to misplace.
It's large enough to fit everything a kid will need in the airport and on the flight, from their 3DS or phone, to books and travel games.
So for the kid who knows his Thor from his Thanos, this is the perfect cabin bag!